Last Time I'll be out for Breakfast for a Long Time!
September 07, 2010
School is starting tomorrow, and the thought of it is slightly depressing. I can honestly say that I really didn't have a summer this year. Most of it was spent studying for MCAT, and even though I wasn't taking a Spring/Summer course or even a prep course on campus, it was like I was in school all summer prepping for the MCAT! I really only had 4 days of summer including today, so I'm feeling kinda gypped! But I guess this will be good in the long run.. I'm used to studying all the time so it might boost my marks this year! :)

This morning, Vince and I headed over to Cora's for breakfast to celebrate our last day of summer. I got my usual eggs benedict, while he just HAD to try something weird and random! It was his first time at Cora's too, so I really didn't think it was a good idea. He has a part time job serving brunch at one of the hotels here in Edmonton, so he complains that he's super sick of breakfast foods! But he came with me for breakfast anyway :) Such a good boyfriend.



Spinach & cheddar crepe with fresh fruit
He ended up picking the Spinach & Cheddar crepe and the presentation just made me LAUGH. It was so bare looking, I didn't know what to make of it! While the crepe was still warm it wasn't bad, but rather dry. Combining the crepe with the little cheese slice on top made it a little better in terms of taste, but did not do a thing to solve the dryness. When the crepe turned cold, he ended up combining it with ketchup - solving the dryness and flavour issues. BUT this totally compromised the intended taste of the crepe, so we really wouldn't recommend ordering this one!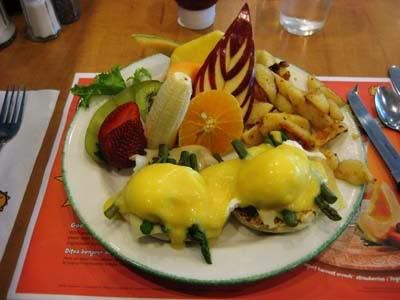 Eggs Benedict with fresh fruit
My eggs benedict was fantastic as usual, and is probably what I'll always order from this restaurant. I got the eggs with asparagus & swiss, so delish. Once I find something good, it's hard for me to break the habit and try something new - but maybe I'll venture the next time I'm here, who knows!
Also, Cora will be opening a couple different locations in the city within the next two months or so. One will be in the North side of Edmonton (12520 137 Avenue) and another in the West end (9977 178 Street). Check out the locations when you're nearby, whether for breakfast or lunch!
Cora Breakfast & Lunch
2920 Calgary Trail NW
Edmonton AB