Happy Birthday Jason!
September 27, 2010
I always like when friends' birthdays come up on my calendar.. its a good excuse to get dressed up and eat some good food! This weekend was Jason's birthday, so I was excited to go out to Cactus Club for dinner with everyone!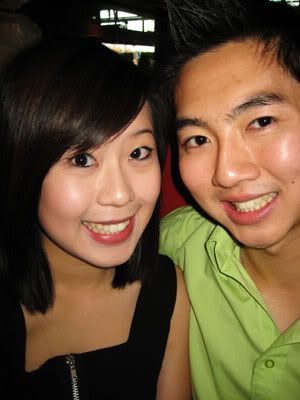 Excited to eat!
I've been to the Cactus Club Cafe here in Edmonton a couple times already, and I always get the same thing.. beef carpaccio to start, jambalaya rice bowl as my main, and finish off with the chocolate peanut butter crunch bar! Once I find something good.. I stick with it! :)

Beef carpaccio!
Vince wasn't feeling too great that night, so we shared everything like a real couple, haha. I always love the beef carpaccio because I find it so flavourful! And I like building it the way I like it! The herbed crostini it is served with comes soft, with the edges slightly crisp, making it a great bed for the rare peppercorn crusted tenderloin. Garnish with aioli, shallots, capers & parmesan, and you got yourself a delicious appy! However, I think I would enjoy this dish even more if the beef slices were a tad thicker!

My carpaccio masterpiece :)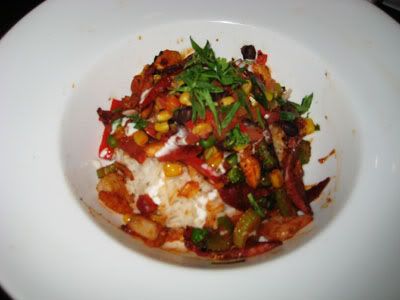 Jamabalaya rice bowl!
Now, are you wondering why on earth I would order a bowl of jambalaya at a place like Cactus Club? The first time I saw it on the menu, it was really intriguing for me! I've always loved jambalaya, and I wanted to know what it would taste like at a place like Cactus. It's not like its a recommended dish from their menu, but I actually really like this rice bowl! Sometimes the jamabalaya I try has the sauce completely saturating the rice, making it soggy, or the rice isn't cooked well enough and is covered in sauce. Surprisingly enough, here at Cactus club, the sauce is thicker and sits on top of a bed of rice that is perfectly cooked. The grains of rice aren't clumped together, and are actually somewhat separate from one another - I love rice like this! The sauce isn't too spicy, and packed with lots of veg, chicken, shrimp & sausage. Also, the rice bowl stays HOT for a very long time!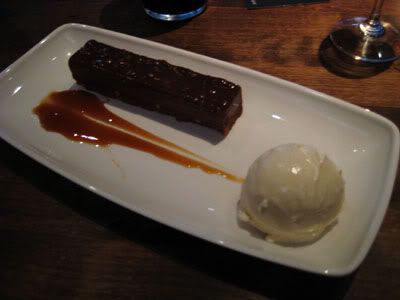 super delicious dessert!
There's always leftover space in my stomach for the chocolate peanut butter crunch bar! I'm not a peanut butter lover, but in this dessert, I find the peanut butter taste isn't too strong, and the saltiness actually compliments the sweetness of the dessert very well. The bar is served warm, and when you take a bite of it, there is a layer of chocolate mousse and peanut butter atop of crunchy chocolate pearls. The pearls remind me of rice krispies, but in their round form (like in real crunch chocolate bars!) Pair it with the ice cream and it's like pure bliss in your mouth!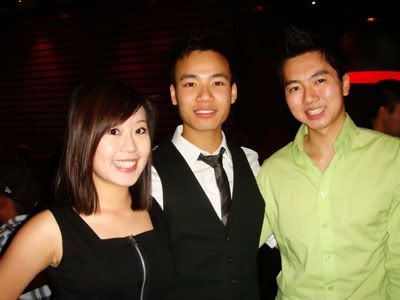 Vince, myself & the birthday boy!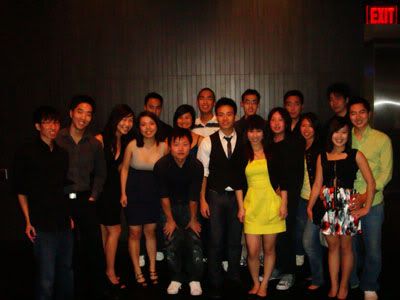 Everyone at dinner!
After dinner, we headed over to Ed's Rec Room for some neon bowling. Despite looking ridiculous in my dress it was lots of fun trying to beat the boys (which I didn't unfortunately...!) The bowling alley also looks really cool under the lights - it's blue, and music videos are playing on the screens in the back!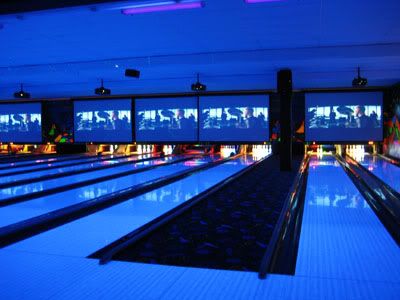 Neon bowling :)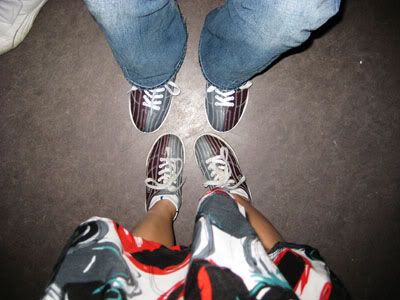 I'm only going to show you my feet, cause the shoes & my dress looked terrible!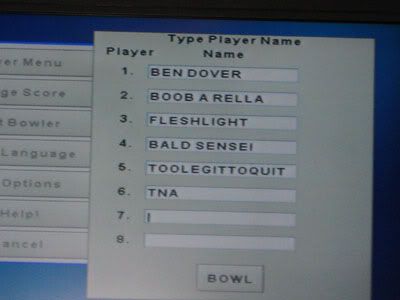 And this is what happens when you bowl with Vince's buddies!
Our night ended with an unfortunate puke fest from Jason, but hey, that's what birthdays are for, right? Hah! Happy Birthday, bud.