Closeby Korean Fix : Ga Ya
September 24, 2010
Lisa and I have lunch breaks together every Monday, Wednesday and Friday. The Asian in her LOVES to eat, but she has a preference for Korean food! I love eating with this girl cause she's just like me!

She's been craving Korean lately, actually, she craves it frequently, haha. To make her happy, we headed over to one of the Korean restaurants nearby Campus, called GaYa. I'm quite familiar with this place since I've been here a couple times, whether for lunch or dinner with friends, and it's always nice to visit because it's a cute, cozy family run restaurant.

In the past they had a small selection of items to choose from, maybe 10 different dishes. But in the recent months they have added various traditional dishes to the menu, and it's nice to see that they're trying to expand the amount of variety and change things up for their loyal customers.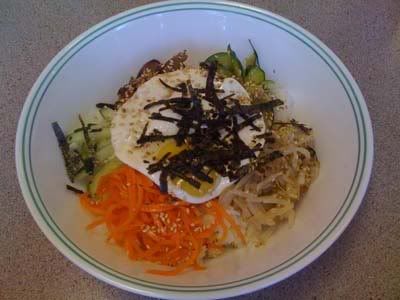 bibim bab!
Lisa ordered the bibim bab for lunch, which is a rice bowl topped with cucumbers, carrots, shiitake mushrooms, beanspouts and a friend egg, sprinkled with a generous amount of sesame seeds on top, and finished with strips of dried seaweed. For you carnivores out there, usually this would also come with beef, but Lisa is a vegetarian so she gets it without the meat. To this dish you can add hot sauce prior to stirring it all up! It tastes great here at Ga Ya, but I'm more partial to dol sot bibim bab which is served in a sizzling hot stone bowl. I love eating the crunchy rice that gets stuck to the bottom of the bowl - really changes up the texture & keeps the dish nice & hot from beginning to end!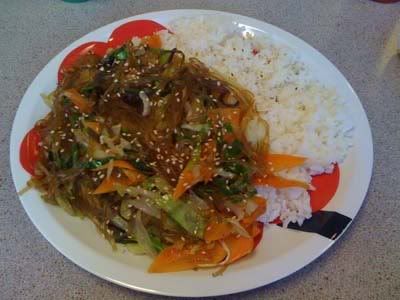 jap chae bab
I ordered the jap chae bab for lunch - which is basically the regular jap chae noodles served with a side of rice. I don't know how Koreans do it, eating so many carbs in one sitting, but I definitely felt the side effects of eating it all after... I didn't eat for the next six hours cuz I was so full! Jap chae here is vegetarian, loaded with vegetables such as lettuce, carrots, onions, spinach, and wood ear fungus, giving each bite a slightly different texture. But at this restaurant, the dish has a very strong sesame oil flavour to it, which I'm not very fond of. The noodles were, however, not clumped together which is nice when trying to pick up smaller bundles of the noodles to eat.
Overall, this place is a great restaurant, and the service is always great! The food comes out promptly, and the waitress (shes actually the manager...!) is very friendly and is always ready to bring you whatever you need, be it more kimchi, or water to wash down the delicious, spicy food!
GaYa Korean Restaurant
11147 87 Avenue
Edmonton AB