Quick Fix & Happy Birthday Philippe !
September 12, 2010
On the first day of school this week, Vince and I had a mandatory meeting to attend for work at 6:15 pm. The meeting was near the university area, so there was no point in heading home after class since we finished at 4. We did need a quick dinner fix, and I had chosen to go to the closeby Korean restaurant, Ga Ya. Unforunately, the restaurant was closed due to a family emergency (my condolences for your loss), so we headed over to Phobulous.

A lot of my friends always think I'm gross for liking the food at Phobulous. Why??? It still puzzles me to this day. I think their food is good. It isn't the best pho you can find in the city, but it's decent, flavourful, and awesome for being so close to the university campus. Say all you want, I love this place! And YES, familiar faces this time when we were there - our waitress was great!



Hu Tieu Original
I was feeling a little adventurous and ordered something different today - Original Hu Tieu. It's just like what Vince got last time. So, pho noodles cooked with pork, and served in a pork based broth, garnished with chives and shallots. I actually really like the broth, because it's clearer than the beef soup and has what seems like a richer flavour base in it. This might be my new 'go-to' food at Phobulous, just because my favourite pho is down at Basil Leaf!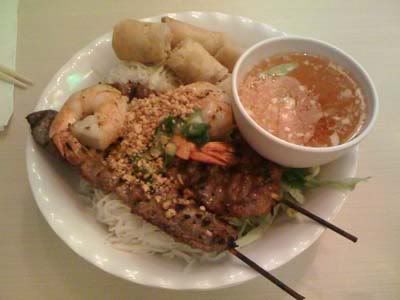 Vermicelli bowl with beef, shrimp & spring rolls
Vince had a vermicelli bowl today - served with shrimp, beef skewers and deep fried spring rolls. This dish was also really yummy - I like that the fish sauce it is served with isn't too sweet. I remember a terrible trip to Doan's one time (the only time I EVER went), and I ordered the vermicelli bowl. The sauce was loaded with sugar, I had to ask for concentrated fish sauce to mix the right proportions myself. And ever since then I have always been wary of ordering vermicelli... Gee, you wonder why. Anyways! The beef was a little overcooked for my liking, but otherwise the bowl was great. I especially liked the spring rolls! Very crisp and they had a generous amount of stuffing inside them.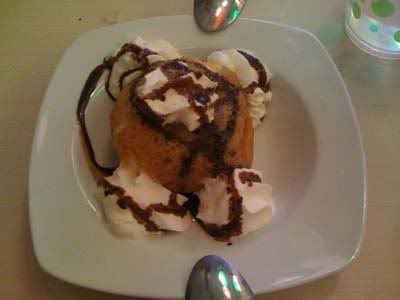 Deep fried icecream!
To finish off, we ordered the deep fried ice cream to see what it was all about! It was definitely different from the deep fried ice creams I've had before. It seemed like they coated the ice cream with a very thick batter - when I bit into it, it compacted in my mouth (somewhat like putting a ton of cotton candy into your mouth and having it compact into a ball of sugar), and I knew instantly that the batter was full of sugar! I'm thinking it was dipped into batter, coated with sugar, and the process repeated once or twice. Not to say it wasn't satisfying, but I prefer a lighter coat of batter. Next time I might check out the deep fried bananas :)
On Friday we headed over to Original Joe's on the south side of the city for Philippe's 19th birthday. Phil is like my little brother - we met back in high school and we always look out for each other. Love this kid. Anyway, Vince and I were CRAZY hungry, and we don't really like lounge type food. We settled for their tractor nachos that everyone was raving about.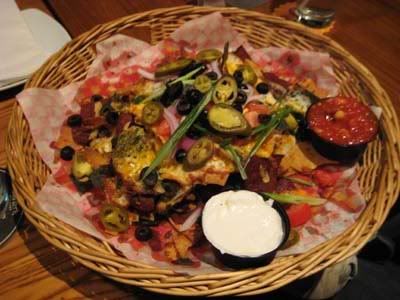 Tractor Nachos
The half order was supposed to be enough for both of us, and they definitely were! The plate was loaded generously with toppings, but the chips were heated to a crisp! You know how you can bake chips and heat them so much that they're almost burnt? They're really hard when you bite into them and you can kind of pick out a burnt taste. Well yeah, that's what the chips were like for the most part. The chips beneath the exposed top layer were spared and weren't terrible, but I was hoping they would be better. ALSO, here's a tip. For the full sized nachos, I think you pay maybe $3-4 extra dollars and you get double the amount of food, so order that if you're a big nacho fan! Original Joe's isn't a place I would go out of my way to eat at, but if it happens to be nearby when I'm hungry, maybe I'll check out some of their other options in the future!
Phobulous
8701 109 Street
Edmonton AB
Original Joe's
9246 Ellerslie Rd SW
Edmonton AB