Trick or Treat Yourself Gala : Benefit Cosmetics
October 19, 2010
I was so excited this past Saturday, as one month ago, I had booked a makeup consultation date with for myself and my girlies with makeup artists from Benefit Cosmetics. The Halloween inspired event, called the 'Trick or Treat Yourself Gala', was being held at the Magrath Shoppers Drug Mart location, and representatives from many other make up companies were in attendance. I had chosen Benefit because the artist was Korean, and is well known for her expertise in brows and Asian makeup.



B getting her makeup done

C getting her makeup done
When we arrived, we didn't quite know what to expect, but we ended up each having a individual makeup consultation based on what type of look we wanted to achieve. The makeup artists would complete a look for us, give us some tips and pointers, and educate us about the products they used. Since the artist, Hyejin, is well known for her brow shaping, she treated each of us to complimentary shaping.
I myself am a big fan of Benefit products, so I ended up picking up two products: the POREfessional, and the Confessions of a Concealaholic kit. The POREfessional is a pro balm, targetted to minimize the appearance of pores. At first I was skeptical that this would clog my pores and make me break out, but so far so good! It's a very lightweight, silky formula that does minimize pores. It doesn't make them completely vanish, but it's a good start! It can sit over or under make up, and seems to make the complexion much smoother!

POREfessional & Concealing Kit
The Concealaholic kit on the other hand is currently my FAVOURITE! 'That Gal' face primer is lightweight, and brightens the complexion. I don't use this on a day to day basis, but I use it when I'm going out, under my makeup! The 'Boing' concealer I use under my eyes to hide circles, and sometimes I use eyebright on the inner corners of my eyes. I like that the formula is creamy, and very easy to blend. However, I think the star of this kit is the Erase Paste! This concealer is fantastic! It's easily blendable on my skin and covers up any imperfections that I have to make my face flawless. This is now my go-to concealer!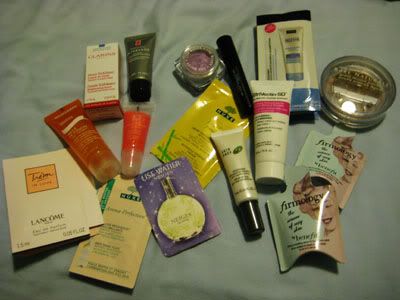 Goodies from the event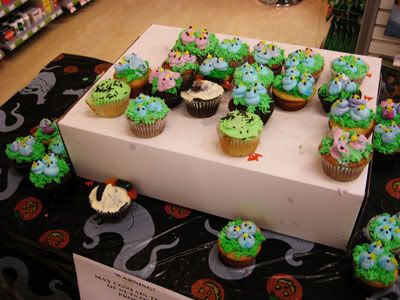 Cupcakes! Not too sure about the non-Halloween theme here, haha
At the makeup event, there were refreshments and snacks provided, and the associates in the beauty boutique created a little scavenger hunt to complete in the store. After collecting five clues, we were given a treat bag with candy and make up goodies to take home. With a $150+ purchase, we were also given lots of free, full sized samples to try out!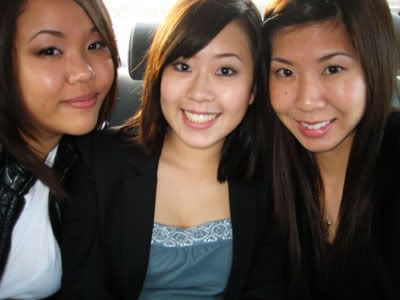 All made up and ready to go :)
With our makeup done, we decided to check out the new frozen yogurt place in the southside, called Twisted Yogurt Creations. I had heard about this place in Sherwood Park, but never had the chance to visit it as it was far away. Lucky for me, this location opened in the south side of Edmonton!

Twisted Yogurt now open!

me & B outside!
I absolutely love frozen yogurt. Ever since trying it out at Kiwi Kiss (located in Edmonton City Centre), I've always been craving it! It was a definite treat for me to have gobbled up my share while I was in Los Angeles in May! Just as I had expected - the process was to grab a cup, choose your yogurt and toppings, and pay according to the weight. The only difference between Canada and the US? The pricing. Here at Twisted Yogurt, the current selling price is at 49 cents per ounce, whereas Most locations in the states are selling at 29 cents.

Self Serve station
At twisted yogurt, they have a multitude of different yogurt flavours ranging from plain and pomegranate acai, to white chocolate and licorice, and with over 20 different toppings (fresh fruit, cereals, nuts, chocolate, gummies) to choose from, you can make hundreds of combinations to your liking!

My creation :)
My usual combination is the plain yogurt topped with raspberries, mangoes and mochi. I like the tartness of the plain yogurt, and the fact that it isn't very sweet. Here at Twisted Yogurt, there was only one disappointment for me - they didn't have mochi balls as a topping! I talked to one of the girls working, and she said she didn't know what I was talking about (Kiwi Kiss does have them though!), but would definitely take note of it and tell her boss!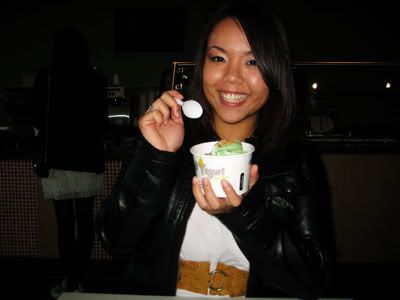 Crystal with her fro yo!
Between the two frozen yogurt places here in Edmonton, I definitely take favour to Twisted Yogurt, despite the lack of mochi. At Kiwi Kiss, you are restricted to ordering set sizes of yogurt, and limited numbers of toppings depending on the price you pay. For example, you can order a small frozen yogurt with a maximum of three different toppings. I enjoy being able to control how much yogurt I am eating, and have a variety of toppings, which is why I recommend checking out Twisted Yogurt. You aren't forced to consume a large amount, and you have the option of trying out the many flavours of yogurt that they carry in the store. And now that I found mochi at the Korean Central Market, I can have my favourite combination any time of the year!

love my girlies!
Twisted Yogurt plans on expanding and opening two more locations here in our city. One location will open in Terwillegar in April of 2011, and one on Whyte Avenue in the near future. I love that the frozen yogurt trend is finally making it's way to Canada. Make sure to check it out! You will not be disappointed :)
Twisted Yogurt Creations
#650 3803 Calgary Trail
Edmonton AB