#YEGcoffeeweek: Cafe Leva
March 12, 2015
It's the inaugural YEG Coffee Week, or what I am now calling the week where Edmonton gets buzzed on caffeine! From March 7-15th, 27 different cafes across the city are hosting different events and letting the quality of locally-roasted coffee beans speak for themselves.

Leva - 11053 86 Avenue - Edmonton AB


Throughout my university years I was never a real coffee drinker. Sure, I had a little caffeine here and there to get me through classes and writing those papers into the early morning, but I never really loved it. Fast forward to this new career where I work 12 hour days and nights, and coffee is slowly becoming my new best friend.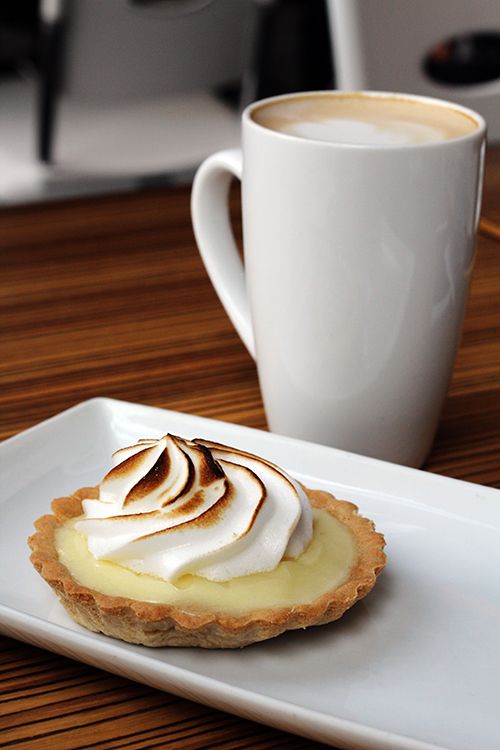 Lemon Meringue Tart
To kick off coffee week my boyfriend and I stopped by Leva for coffee and breakfast. What I particularly love about Leva is that it isn't on any major roads, making it a quiet place to visit during the day. It's tucked away in the heart of Garneau and really is a great spot to grab a bite to eat and get some work done!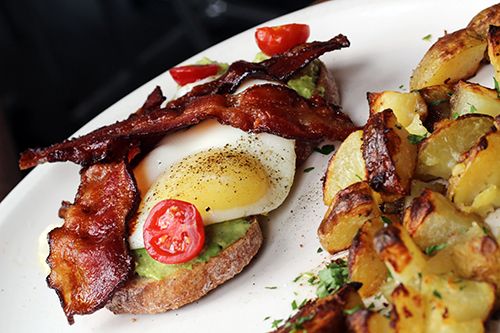 The breakfast menu at Leva has a variety of offerings ranging from yogurt and fruit salads to heavier items like breakfast sandwiches and pizzas. There's a little something for every appetite, and it's definitely a challenge to resist the tempting display case full of freshly baked pastries.
My boyfriend opted for the Smashed Avocado Open Faced Sandwich ($13.25) served with a potato hash. Avocado is mashed and spread over artisanal toast and topped with cherry tomatoes, maple bacon, and an over easy egg. The crisp bacon was the perfect combination of salty and sweet, and the runny yolk brought every ingredient together. The potatoes were soft with a crisp golden exterior, and with a bit more seasoning they would have been perfect.
Gluttony began early in the day for me as I chose to go with the Breakfast Prosciutto Cotto Pizza ($15). This was actually a margherita pizza topped with prosciutto, finished with an over easy egg and fresh basil. If there's an egg, it's breakfast! The crust on my pizza was nice and thin, whereas the underside was crisp and browned and the cornicone (outer ring of the pizza crust!) was crunchy and airy. Due to the heavy nature of the garlicky tomato sauce, prosciutto, and cheese, the crust itself didn't hold together well enough to be picked up, so I enjoyed my pizza with a fork and knife. It was a massive portion for breakfast, but I worked my way through it since it was so tasty.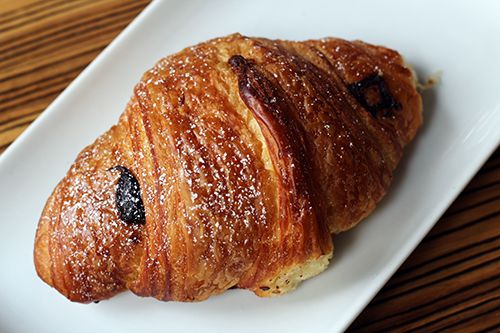 Chocolate Croissant
All meals have to end with something sweet, and when you're at a cafe with freshly baked pastries the rule definitely applies. I would have loved to try one of each item behind the display case but ultimately went with the beautiful lemon meringue tart and chocolate croissant. Leva's lemon tart is delightfully tangy, giving your lips a bit of a pucker, but is balanced out with just the right amount of sugar. The cream is velvety smooth and the tart crust is soft and flaky. If you're a citrus fan you definitely have to give the tart a try. Now if you're more of a chocolate lover, the chocolate croissant will do you no wrong. Layers of flaky, buttery croissant dough are wrapped around a stick of semisweet chocolate and baked to a point where the crust has the right crunch and airy texture. It is so, so good.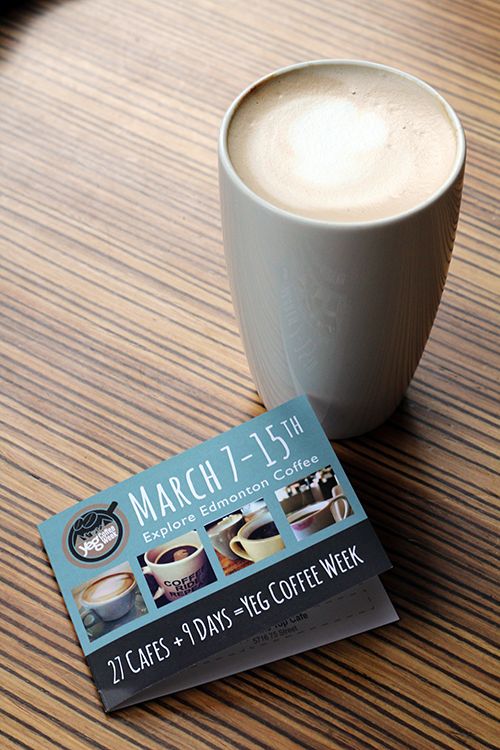 Great coffee, in-house pastries, a seasonal menu, and the use of local ingredients are just some of the things that make Leva one of the great cafes in Edmonton. With 27 different cafes participating in YEG Coffee Week, I urge you to go check out at least one you've never been to before. And even if you don't like coffee, YEG coffee week is meant to use coffee as a means of connecting with others and building community. Get yourself to a great cafe, meet up with a friend and enjoy your favourite non-coffee beverage!
For more info on YEG Coffee Week, visit the
website here
.