Aveeno Active Naturals Fresh Essentials
March 09, 2015
Growing up, my mom used Aveeno products on my skin exclusively. She swore by it. I never had any common childhood skin conditions like rashes or eczema, and she attributes it to the daily use of Aveeno's oatmeal based product line.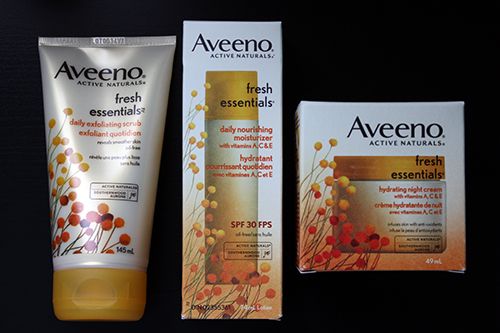 Throughout my elementary years, I remember using Aveeno on the daily, slathering it over my cheeks, hands and arms after every shower and bath. I always wanted to try out my mom's 'cool' products with beautiful packaging (she used Shesheido for herself), and after denying me multiple times, she took one of her gold & white Shesheido containers and put the Aveeno moisturizer in there for me to use. I was a happy camper with my so-called 'grown up' cream.
Junior high was a time in makeup experimentation and my parents allowing me to go to the mall independently. I said goodbye to Aveeno and started trying out higher-end makeup and skincare products, and to this day I haven't turned back. So when I was asked to give the new Aveeno Fresh Essentials product line a try, it was a nostalgic trip down memory lane for me.
Aveeno Fresh Essentials Daily Exfoliating Scrub
The line of Fresh Essential products boasts to replenish moisture to stressed skin by using Southernwood extract and vitamins A, C and E. There are many causes of stress in our lives, from poor diets and sun exposure, to a lack of sleep and a busy lifestyle. These tiny stressors definitely build up and cause damage to your beautiful skin, making it look dehydrated and dull. This is what Aveeno's products are designed to combat.
The Fresh Essentials product lineup includes a nourishing moisturizer with SPF 30, a hydrating night cream and an exfoliating scrub. I tested out the products for a month and generally enjoyed the results, so lets take some time to talk about each one.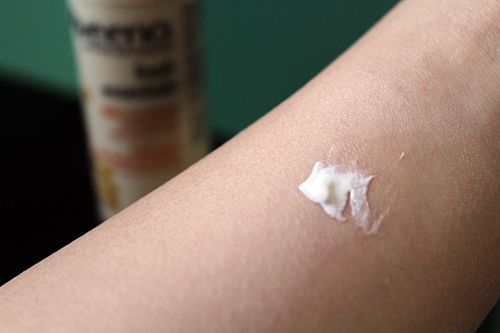 Aveeno Fresh Essentials Nourishing Moisturizer SPF 30
The Daily Exfoliating Scrub (photo above) promises to reveal fresher-looking, smoother skin with each use. Luffa and coconut pulp are two natural ingredients that make up the scrub, and it really feels like a micro-exfoliant when used on the face. The tiny particles lightly polish away at the skin to make it feel incredibly smooth afterwards. I'm not a daily exfoliating type of person, so I used this twice a week and found my skin to be less prone to dry spots.
Aveeno recommends using the Nourishing Moisturizer with SPF 30 to follow your daily facial scrub. The formula is quite lightweight and quickly absorbs into the skin, giving a soft, smooth result. The product didn't make my skin overly oily, and I love that the product wasn't heavy given the higher SPF rating.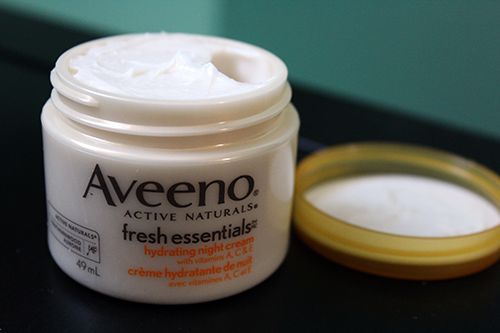 The last product in this range is the Hydrating Night Cream. This cream is designed to restore moisture to the skin while you're sleeping so that you wake up with skin that is refreshed and renewed. I actually quite enjoyed this night cream because like the daytime moisturizer, it was moisturizing without being heavy. I found that it was easy to spread, making a small amount of product go a long way.
The Aveeno Fresh Essentials product line worked really well for me, but the one thing I am not keen about is the scent. The scent is a mix between florals and fresh laundry. While I didn't mind it, I find the scent is very strong and overpowering. With each application of the moisturizer and cream, I found the scent tended to linger and took quite some time to dissipate from my skin. Given that I work in a scent-free environment, I couldn't continue using the products before heading to work. It is a pleasant scent, but if you're adverse to anything strong smells you may want to stay away from this product line. It's really unfortunate since the products work really well! Otherwise if you're still interested, the Aveeno Fresh Essentials line can be found at your local drugstore.
*These products was sent for consideration of a review