Underground Dinner: The Salt Room
March 20, 2015
It's rare, but every once in a while I have a meal and think "WOW, what did I just eat?!" because my tastebuds are blown away by the amazing dining experience. This very instance happened last week when I had the opportunity to participate in an underground dinner hosted by Chef Tony Krause of The Salt Room.

The Salt Room - 10251 109 Street (Mothers Market) - Edmonton AB


Tucked in the corner on the upper floor of Edmonton's
Mother's Market
, Chef Tony Krause serves food to the weekend Market crowd (Friday-Sunday) and is now venturing into hosting underground dinners during the week when the market is closed to the public. With a passion for foraged food, nose-to-tail dining, and housemade charcuterie, Krause (previously of The River House and Privada Wine & Tapas in St. Albert) is offering five course meals with non-alcoholic beverage pairings at $70-$100 per person, depending on ingredients.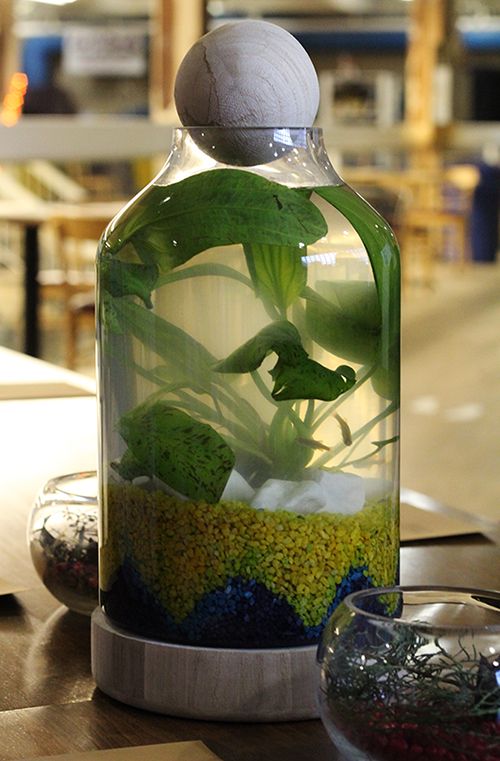 The Three Fish: Tom, Tom and Tom
Dinner was to start promptly at 7PM, and I fully expected to be amongst many diners. To my surprise I was seated with 8 other individuals at a communal table. Much more intimate than expected, but the smaller setting allowed for inclusive conversation and a chance to get to know everyone. The dinner menu had expanded to include two extra courses, and all seven dishes focused on using local ingredients. Certain ingredients were foraged from the Edmonton and St. Albert forests while the remainder were sourced from the various vendors at Mothers Market.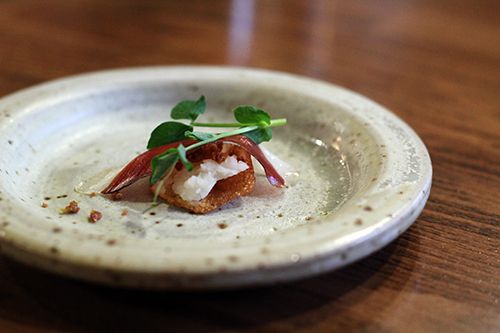 Dinner started off with an amuse bouche made with variations on potato, olive, and duck. A potato chip was topped with smashed Russet potato, dehydrated olive dirt, yeast purée, a thin slice of duck prosciutto, and a pea tendril. The contrasting textures of the smooth mashed potato and crunchy chip went well with the salty cured prosciutto and fresh pea tendril. I couldn't quite taste the olive, but regardless, this small morsel of awesome had everyone at the table excited for the courses to come.
The next course was a presentation of beautifully baked breads. On the plate sat rosemary focaccia, a potato bun, and a half portion of a pretzel bun. Served with a quenelle of whipped brown butter topped with bacon bits and Maldon sea salt, this course was deadly - we were all going to be full by the second course! The breads themselves were fantastic. All of them were soft and airy, but different in their own way in texture and flavour. The butter had a wonderful aroma and enhanced the flavour of each bread. Lucky for us all, mason jars full of brown butter are available for sale at the market on the weekends for $7.
Our third course was a play on shrimp cocktail, featuring langostine from
Sgambaro's Seafoods
, and beets two ways. The langostine was lightly grilled over charcoal and placed on a splash of pickled beet purée. A yellow beet sponge accompanied the langostine and the entire dish was finished with a garnish of radish and daikon microgreens from Harvest Microgreens. The purée had a delightful tang, while the beet sponge had a dense foamy texture. Both flavours and textures combined well with the natural sweetness of the langostine, and I really enjoyed the different textures on the plate. The dish was also paired with a great housemade ginger ale!
Next up was my favourite savoury dish of the evening, and it came as a shock to me when we were told what was on the plate: beef heart cooked to a medium rare and coated in mustard jus served with a play on a Lyonnaise salad. The tangy salad was made with charred onion and red leaf lettuce hearts, and the dish was accompanied by a dollop of purple carrot purée for some sweetness that we all cleaned off the plate. The heart was so incredibly moist and tender that I never would have known what cut of beef I was eating had I not been informed. The dish was paired with a housemade iced tea which we adjusted to our own tastes with some simple syrup.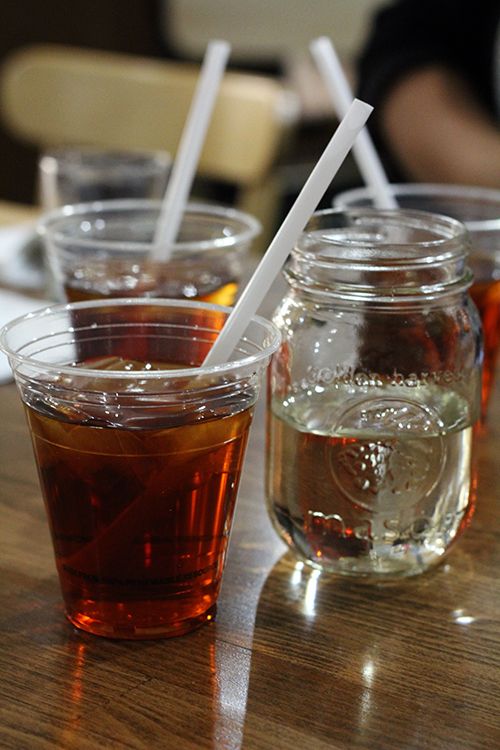 Iced Tea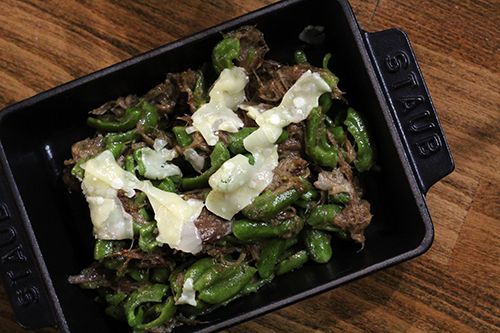 Our fifth course of the night was a kale pasta with a generous serving of braised lamb neck and
Sylvan Star's
Old Grizzly Gouda. This dish combined some of my favourite things all into one: pasta, lamb, and old grizzly gouda. There could be no wrong. Chef Tony takes freshly pressed kale juice and mixes it into his pasta dough to give that fresh green colour. From there an extruder forms the zucca, which is pasta in the shape of a squash stem. The fall apart braised lamb was moist and flavourful and the cheese made the dish rich and comforting. It was a little saltier than I prefer, but the Juniper Italian soda served on the side was perfect to mellow out the flavours. Oh, and I must mention - Chef Tony and his partner Chelsea made the soda with Juniper branches that they foraged in St. Albert. It was my favourite drink of the night, hands down!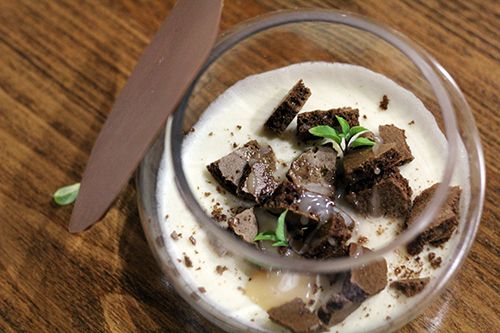 Dessert that evening was stunning. Mimicking a terrarium, the glass vase was filled with a blood orange bavarois topped with dehydrated chocolate mousse chunks, drizzled with a light caramel sauce and finished with cinnamon basil. When smashed, the chocolate lid released the fragrant smell of orange blossom. It was such a decadent dessert with hints of citrus, and it really showcased Chef Tony's artistic abilities and wide culinary skillset.
We were provided with a box of petit fours to take home, but I have to admit that they did not make it into my house. I ate them on the drive home! We received a popcorn caramel, smoked alder chanterelle chocolate truffle, and a sour cherry gummy, and none of them disappointed. The caramel was rich and gooey, the gummy tart was sweet, while the truffle was rich and decadent. This was hands down one of the best meals I have had in a long time, and I'm already so excited for the next dinner.
There are plans in the near future to turn The Salt Room into a full-fledged restaurant, but for now you can visit Chef Tony at the Mother's Market on weekends to sample his menu items and eye up his housemade charcuterie. The next underground dinners are planned for March 31/April 1, but unfortunately they are already sold out. Keep an eye out and follow on
Twitter
for an announcement for the next dinner - be sure to be quick to submit your reservation request!