#YEGNoodleSoups: Prairie Noodle Shop Pop Up #3
March 23, 2015
Yeah, you read the title right. Another Prairie Noodle Shop pop up was hosted on Thursday night, this time at the Pourhouse Bier Bistro on Whyte Ave. After three long months of waiting, the team behind Prairie Noodle Shop announced that a vegetarian ramen was up for tasting this time around.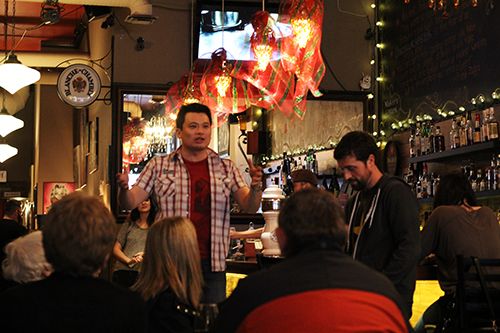 One week prior to the big night 100 tickets were released to the public and they were sold out in under five minutes. If that doesn't say that Edmonton is dying for some good ramen, I don't know what does.
I will admit I was a little skeptical about a vegetarian ramen, wondering where the richness and depth of flavour would come from, but I was game for trying out a bowl of garlicky, cheesy, miso ramen. A miso based broth is actually my go-to choice when I go out for ramen, so that part I was definitely looking forward to. But cheese? That was a completely foreign territory and I didn't know what to expect.
As guests were settling in that evening Arden gave the quick low-down about the third ramen bowl they created. After eating bowl after bowl of ramen in Vancouver, the Prairie Noodle Shop team realized just how rich the ramen broth is. The heavier bowls are well suited to cold, rainy weather on the West Coast, and that was what the team aspired to make for their next bowl. Instead of using pork bones to get a rich, fatty broth, they headed in a completely different direction with the guidance of their consultant Chef Wendy Mah. She knew that a combination of miso and cheese (lots and lots of it!) could attain a rich broth with lots of flavour, and thus was born the vegetarian ramen.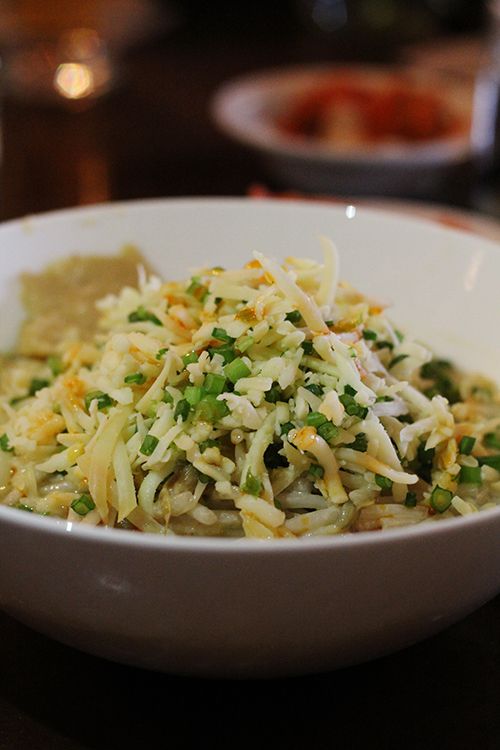 Starting off with a Chinese style vegetable broth made with suey choy, a red miso paste was added to give umami and depth of flavour. The ramen noodles were made two days earlier from their secret Chinese lady, and had that great bite and texture. Toppings this time around were Chinese pickled radishes, fermented bean sprouts, fresh chives, and a mountain of Sylvan Star smoked gouda. There was so much cheese you literally could not see anything else, but that's not a bad thing in my books. A generous portion of raw garlic paste sat on the edge of the bowl to allow everyone to adjust the garlic flavour to their liking. Each table was provided with a small plate of kimchi and pickled leeks to cut through the rich broth every few bites.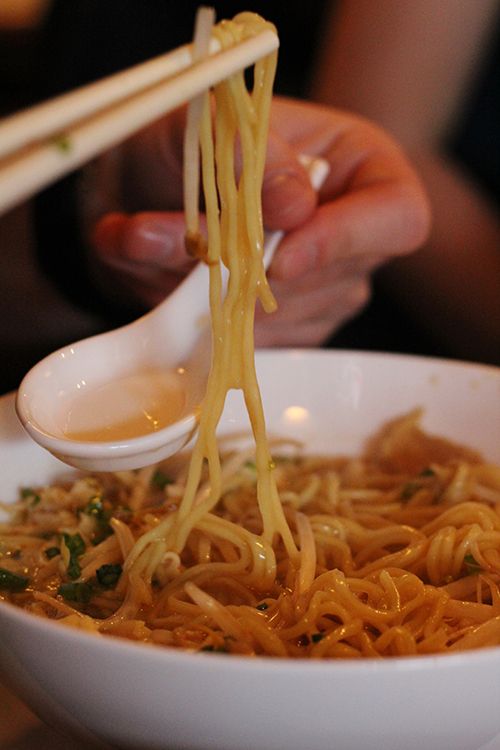 Being vegetarian ramen, this bowl definitely exceeded my expectations. Upon mixing all the ingredients together the heat from the broth slowly melted the cheese, making the ramen creamier with each bite. Given all the different components in the dish, I loved that each bite had a different texture. Whether it was the crunchy radish, fresh snap of the bean sprouts, or the soft, gooey cheese, every bite was a little different. The acidity from the kimchi and leeks was definitely appreciated, and it really did cut through the fattiness of the broth. As I made my way through the bowl the raw garlic slowly mixed itself in and made the ramen increasingly spicy. By the end of it, the bowl was quite salty and garlicky. I was a vampire's greatest nightmare.
I love the direction that the team took with this third bowl. It's going to be a great option for vegetarians compared to other offerings in the city given the substantial portion size and deliciously creamy broth. Looking forward, Prairie Noodle Shop is looking to host their next pop up at NAIT if all goes well. The bigger venue means more space and possibly more bowls, 300 of them to be precise! The next pop up will feature a fourth bowl, and the previous three ramen bowls (
Pork
,
Chicken
, Vegetarian) if all goes according to plan. I'm incredibly excited to see where Prairie Noodle Shop is headed, but for now we wait until the next pop up. Keep your eyes peeled on Twitter/Instagram
@YEGNoodles
for the next announcement!