#YEG Ramen: Prairie Noodle Shop Recap & Sneak Peek
November 05, 2014
Unless you've been living under a rock you may have heard about some ramen causing quite a stir in the Edmonton food scene. Two weeks ago a ramen pop-up was hosted at the Get Cooking Edmonton studio, drawing in over one hundred people hoping to get a slurp of some soup noodles.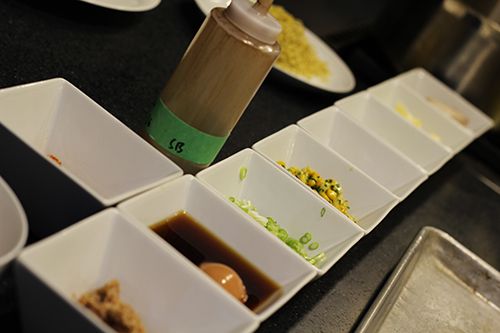 As of right now there is no dedicated ramen restaurant here in the city. Arden Tse, a finance/investment professional, and his friends felt the need to fill the void and started making ramen from scratch at home. Batch after batch it slowly became better, eventually reaching a point where it was good enough to serve to friends. But how could they share the ramen with the public?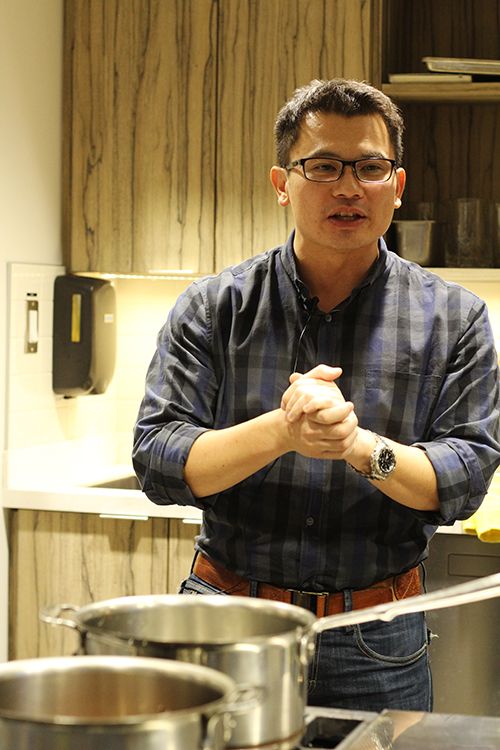 Arden Tse on the history of Prairie Noodle Shop
After meeting Kathryn Joel of Get Cooking Edmonton during a pasta making class, Chef Stephen Baidacoff loved the idea of making ramen and jumped on board. In collaboration with the other chef instructors at Get Cooking, the perfect bowl of ramen came to life and Prairie Noodle Shop (PNooSh) was born. PNooSh is the new kid on the block, and is looking to bring the people of Edmonton ramen done right with locally sourced ingredients. Noodles, broth, and toppings from scratch - it is no small task!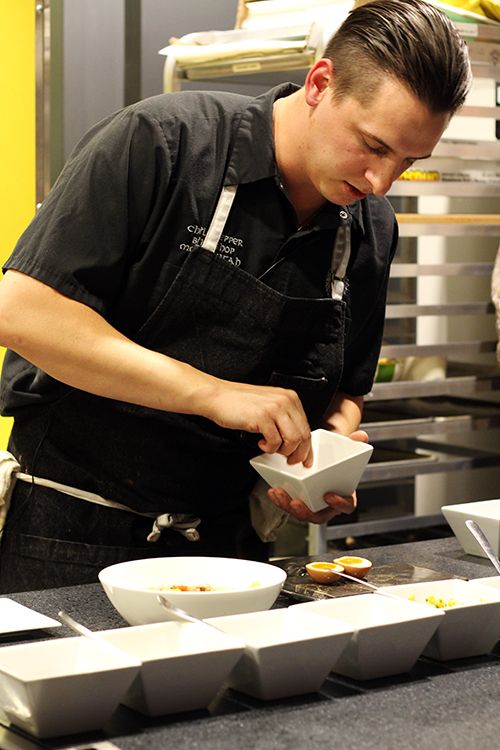 Chef Stephen Baidacoff
The inaugural Prairie Noodle Shop pop up featured an Alberta Pork Ramen made with all the parts of an Irvings Farm Berkshire pig that Arden helped butcher with his own hands. 100 bowls at $15+GST. No more, no less. So what was in the bowl? The shio (salt based) broth was made with smoked bones and dashi with Asian dried shrimp. The noodles themselves are not made by PNooSh, but rather sourced locally from a secret Chinese lady with a factory in the south end of the city. Toppings included an umeboshi (Japanese salted plum) pickled egg, sweet corn, green onions, and the Alberta pork featured three ways: shredded, pork belly char siu, and a togarashi spiced chicharron. It was important to include the crisp, fried pig skin to signify their use of the entire pig. Nothing went to waste in this Alberta-style ramen!
Can I just say this flat out? The bowl of ramen was killer. The broth had a nice depth of flavour, and the ramen noodles had a great elastic-bite that held up their texture right down to the last slurp. The pork was tender and flavourful and the corn gave a refreshing sweetness in each bite. What impressed me the most though was the egg and chicharron. Wow…I could eat these two things endlessly. The egg with the perfectly cooked yolk was tangy and savoury, while the crispy pork skin added yet another textural element. If you don't like eggs, please give me yours at the next pop up!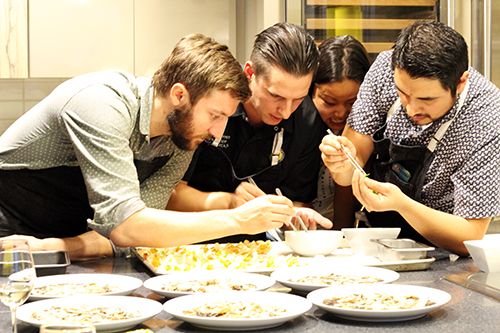 Prairie Noodle Shop is hoping to host these ramen pop-up shops at Get Cooking Edmonton every 6-8 weeks to gauge interest and build excitement. Each pop up will ideally feature a different type of ramen, and if there's enough support they may move forward and look for a permanent location. Edmonton definitely needs this.
Are you salivating yet? Lucky for you the next pop up has been scheduled for Friday, November 21st, and I have a bit of a sneak peek for you! From Arden himself:
For our next bowl we knew we wanted it to be chicken based. Partly because a lot of people who don't eat pork would still love to try our noodles, and partly because we just love chicken. What's the Prairie twist? We started thinking about the savoury flavours of beer can chicken which became our inspiration for incorporating a few types of barley into the tare soup seasoning. It's subtle, but it gives our soup a nice warm and earthy note to it. A perfect dish for the cold weather we're heading into! Fans can expect to see a couple of familiar elements returning this time: the use of our dashi in a double soup (broth is pure chicken, no pork), the same great noodles made by our "ancient Chinese secret" lady, and of course, the umeboshi egg. We're also frying up a delicious piece of chicken skin to accompany the egg. We're still experimenting with a few cuts and preparations of chicken and vegetables but noodle lovers can be assured that it will be tasty. We're also considering a couple of different local farms to source our chicken from and will announce that once we've made a decision.
So there you have it. I'll be out there on November 21st fighting to get my hands on a bowl - don't expect me to play nice either! For details, make sure to follow Prairie Noodle Shop on Twitter
@YEGNoodles
. See ya there!