Crafted to be Different: Lunch at Ampersand 27
November 15, 2014
On the weekend following Halloween, Edmonton's newest local restaurant opened to the public with an unadvertised soft opening. When I first found out about Ampersand 27 a few months back I was extremely excited to see what Chef Nathin Bye had up his sleeves.

Ampersand 27 - 10612 82 Avenue - Edmonton AB


So what's the hype around Chef Nathin Bye? He has extensive experience in the culinary world, with experience as the previous Corporate Chef for the Lazia group, he has been an Avenue Edmonton Top 40 Under 40 award recipient, and he's the youngest competitor to have won Gold Medal Plates competitions twice. With Ampersand 27 being his first solo adventure, there were definitely high expectations for him to meet.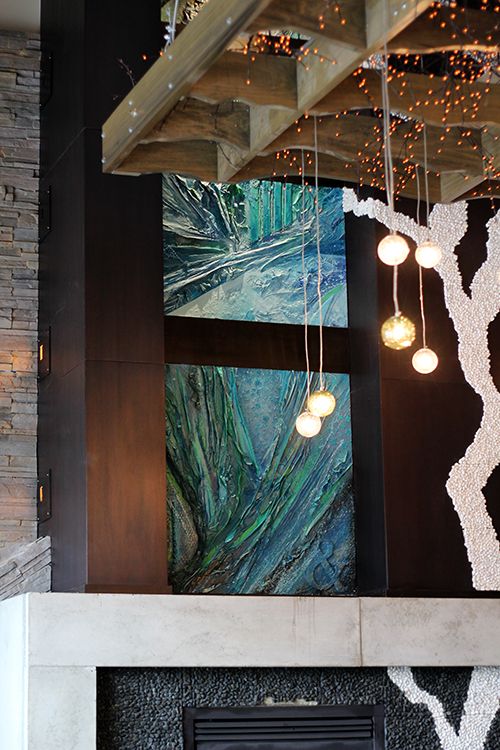 Ampersand 27 has taken over the space previously occupied by
Murrieta's Bar and Grill
and the interior has undergone a major facelift. The restaurant is much brighter due to the open concept dining space and the chic, modern decor brings aesthetic appeal. I'm absolutely in love with the main dining room, where two large communal tables sit beneath low hanging bulbs and a lattice of lights. The room is beautiful and can host many different party sizes.
Earlier this week I stopped by for lunch with a friend, but I had a quick glance at the menu online beforehand. The lunch menu is split into three parts: flatbreads, sharing plates, and larger plates. The sharing plates are a bit larger than your average appetizer, but small enough that you can order a few to share amongst your table to try out more of the menu. There is substantial variety and inspiration from different cuisines from around the world, so I'm sure there is something to satisfy even the pickiest eater.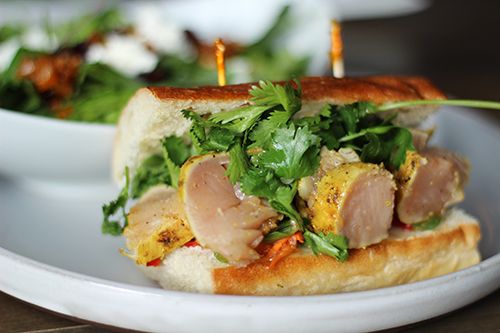 For lunch I wanted to pick something that wasn't available on the dinner menu. The Albacore Tuna Banh Mi ($16) fit the criteria with it's honey chipotle tuna, cilantro, carrot, cucumber, and nuoc mam cham. I love a good Vietnamese sub and was hoping this version would be just as good as my go-to Vietnamese cold cut combo. Unfortunately this dish left me thinking I should have ordered something else. The banh mi itself looked beautiful on the plate, but my biggest problem with the sandwich was the bread. Vietnamese subs are known for the warm, toasted baguettes with a crunchy crust and soft interior. The crust crumbles with each bite, making your shirt a ridiculous mess, but it's totally worth it. Ampersand 27's version had a cold, heavy, dense bun which really took away from the experience of tasting the sandwich toppings. The bread really sucked the moisture out of everything and the nuoc mam cham dipping sauce couldn't save it. The tuna was fresh and had great flavour, but there was so much cilantro that it accounted for about half the toppings, meaning there wasn't much of the carrot or cucumber to give the sandwich the fresh crunch it needed. With a little bit of work this sandwich could be pretty tasty.
My friend ordered the Kale & Spinach Salad ($14) as her main, and I ordered it as a side to accompany my banh mi. After we made our order our server informed us that it is their most popular salad at the moment. Rightly so, it is delicious. Baby kale and spinach are combined with crunchy toasted barley, dried cranberries and apricots, ricotta, and mint, then tossed with an Italian dressing. The greens are fresh and the salad is light, and the different textures keep things interesting. It probably wouldn't be filling enough on its own, but it would be great to accompany another sharing plate split between two people.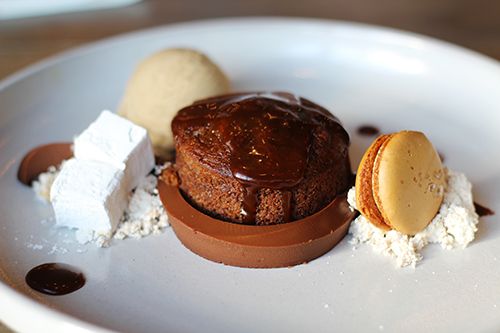 Just like dinner, lunch is not complete without something sweet. Ampersand 27's pastry chef, Tim Androschuk, makes five different desserts and they're all pretty enticing. We ultimately opted for the Neaveau Misu ($8), which is a toffee pudding with flavours of coffee, caramel, amaretto, hazelnut, and brown butter featured in different elements on the plate. The presentation is beautiful and there are so many different elements on the plate that you won't know where to start! The toffee pudding is light, moist, and not too sweet, which made it a winner for me. The house-made amaretto ice cream is smooth and not overly creamy, and both the macaron and marshmallows had a slight chew, just the way I like them. A ribbon of stiffened chocolate pudding ties the whole dish together, and I love that each portion of the plate features a different texture. I'm not surprised that this is the most popular dessert in the restaurant.
This restaurant proudly supports Edmonton's producers, artisans, and craftsmen, which is to be admired. Although lunch wasn't perfect, I'm still looking forward to my return to Ampersand 27 for dinner. The dinner menu features many dishes that sound fantastic, and a section of the menu is dedicated for customers to DIY their own charcuterie board. As it is a fairly new restaurant that is still working out the kinks, we still had a great dining experience with well spaced dishes and a knowledgeable server. I'll be celebrating my birthday in the dining room a week from today - and that Pig Ear Pad Thai is calling my name.