New Look, New Chef, New Dishes: North 53
November 09, 2014
The executive chef at North 53, Chef Ben Staley, said goodbye to the restaurant at the end of October in order to start his own venture. Chef Staley was known for his "progressive Canadian" cuisine and knack for producing one of the few tasting menus available in Edmonton. I had the chance to check out the tasting menu mid-October and I must say I can't wait to see what his new restaurant brings to Edmonton's dining scene.

North 53 - 10240 124 Street - Edmonton AB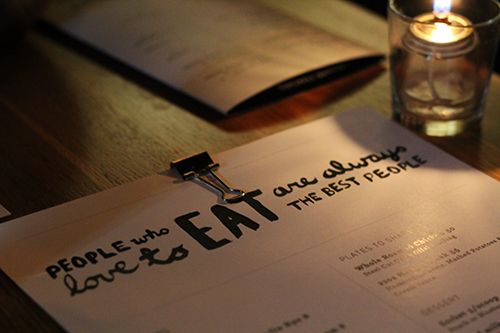 But enough about the past, let's talk about the here and now. North 53 took a week off at the beginning of this month to prepare for a grand re-opening. There was quite a buzz stirred up with their promises of a "new look, chef and dishes." With a countdown to the evening of November 7th, my boyfriend and I knew where we would be spending our Friday night.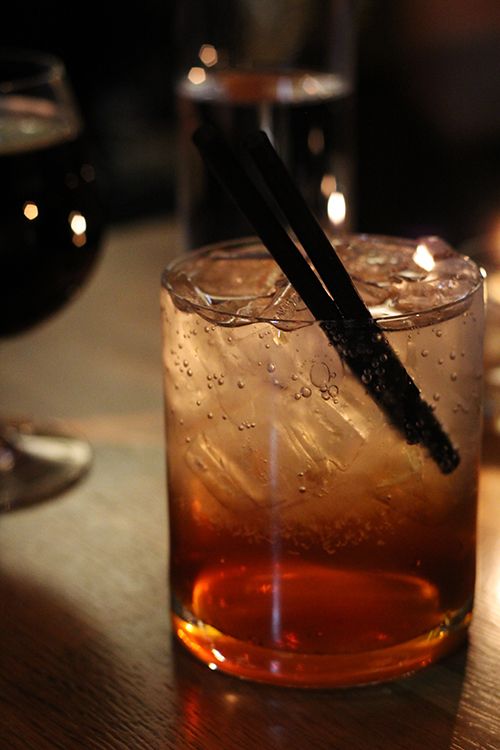 Nutty Ice Tea
Arriving at the restaurant 3 hours after their re-opening, the place was packed! To be honest I didn't expect the restaurant to be quite so busy later into the evening, so it was great to see all the excitement around the new menu offerings. "People who love to eat are always the best people" - this phrase at the top of the menu immediately caught my eye and I was drawn into what the menu had to offer. Gone are the days of tasting menus, as North 53's new dishes are separated into three categories: snacks, plates, and plates to share. Since we wanted to try as much as we could, we opted to share some snacks and plates, leaving the larger plates to try on a future visit.
First up to the table were the Chicharrones ($6) seasoned with dried scallops, mussels and salmon. Pembina Valley pork skin is cooked, dried and deep fried before seasoning, and a surprising amount of work goes into making this dish. Scallops and mussels are dried and ground as part of the seasoning, which also incorporates salmon katsuobushi, which is essentially salmon that is dried, cured and grated. I love the airy, crispy pig skin and contrary to what you may think, it isn't oily at all. There was a generous portion to be shared between two people and notes of umami flavours from the dried seafood came through.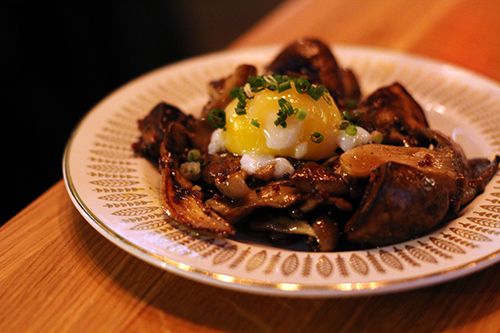 The Marinated and Griddled Mushroom ($8) was our next snack of choice, served with a poached egg. A combination of crimini, shiitake, beech, and oyster mushrooms are featured in this dish and I really enjoyed the different textures of each. The mushrooms are first brined with Maggi sauce, grilled, then tossed with a pickled brown mustard seed and cold pressed canola oil from Mighty Trio Organics. A house made curry blend made with spices sourced from Edmonton's new Silk Road Spices is used to season the dish before a 63 degree egg yolk is placed on top. On their own I found the mushrooms to be a bit on the salty side, but the creamy egg yolk bound everything together made it a fun dish to poke at and eat with skewers.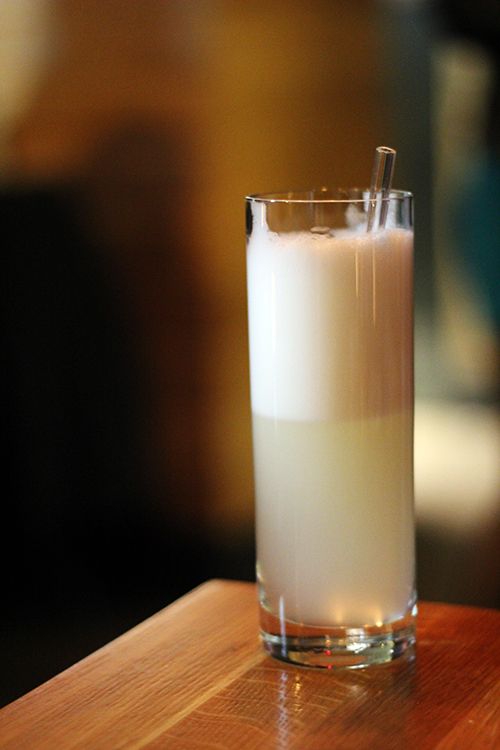 Orgeat Fizz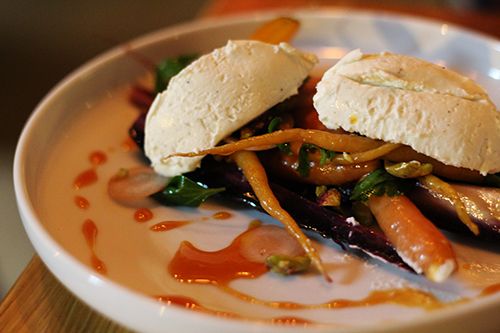 For our mains we chose three plates to split between the two of us. First to arrive was the Carrot Salad ($12) with green cardamom goat cheese and pistachios. Locally sourced carrots are steeped and pickled for this dish, and I love visual appeal of the colourful carrots. The dish is tossed with olive oil and Saskatoon berry vinegar and topped with parsley, pistachio, and a carrot caramel made from carrot juices. Fairway farms goat cheese is mixed with green cardamom and a generous helping makes it on top of the salad. I wasn't expecting the cardamom to be prominent in this dish, but you can really taste it in every bite. I've always paired goat cheese with beets, so this creamy cheese paired with carrots was a fresh take for me.
Shrimp Chorizo ($15) was the next dish to our table, served with fried potatoes and ham broth. I had to do a double take then the dish arrived, because the shrimp almost resembled scallops to me! For this dish, half the shrimp is ground while the other is chopped, then seasoned with spices and formed into what would resemble a slice of a sausage. Each piece had the characteristic texture of shrimp and flavours like that of chorizo. Little fried potato chunks surrounded the plate and underneath the shrimp was a bed of braised savoy cabbage. The ham broth was made with prosciutto oil, stock, and sherry vinegar, but I wish there was a bit more in the dish as I couldn't quite taste it.
Our last plate was the Short Rib Glazed in Beer ($22) served with navy beans and bone marrow. This 12 oz. bone in short rib is cooked sous vide at 67'C for 24 hours and glazed with beef stock, Blue Buck Beer, Worcestershire Sauce and caramelized onions. The glaze was flavourful and gooey, but the real star of this dish is the melt in your mouth short rib. The navy beans that line the dish are cooked with bits of parsnip, carrot, onion, celery, butter and Dijon mustard. The beans are incredibly buttery (so, so good) and I love the change in texture with the different vegetables. The dish is finished with raw bone marrow, maldon salt and fresh thyme.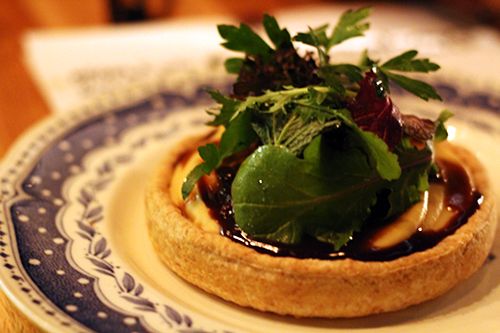 Rutabaga & Oxtail Tart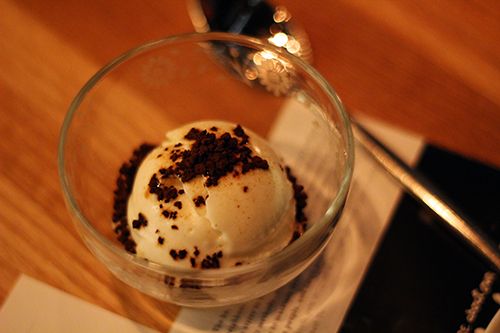 To round off our meal we picked out two desserts - the Blue d'Elizabeth ($12) and Iced Milk ($3/scoop). The Blue d'Elizabeth (not pictured) featured a beautifully marbled blue cheese from Quebec, a roasted BC Bosc Pear and a quick salad from greens grown in the Urban Cultivator. If you're a blue cheese lover, definitely go for that one. The naturally sweet flavours of the pear go incredibly well with the savoury blue cheese and the greens are there for some freshness. For myself, I personally enjoyed the Iced Milk as it was simple and light and dusted with Italian instant coffee for a fragrant kick.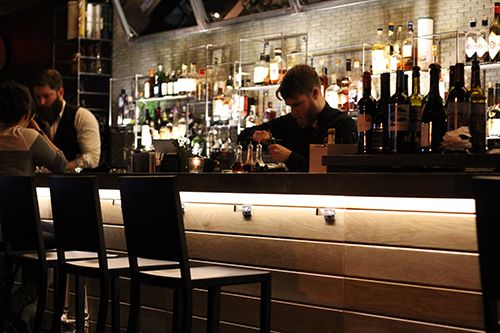 At the end of my meal I was able to take a behind-the-scenes tour of the kitchen. It is extremely well organized and literally everything is labelled. There are so many neat gadgets and kitchen tools used on a daily basis, I feel like it would be fun environment to work and experiment in.
With a wider range of food options available at North 53, there's something for everyone here. For a restaurant that fully embraces supporting local producers and sustainability, prices are very reasonable for the amount of work and attention to detail that goes into every plate. The list of craft cocktails alone can be a reason to visit, but it's always the food that's on my mind. Service is attentive without being overbearing, and all the servers know the menu very well. North 53 also offers a late night menu starting at 11:15 PM, and there's some fried chicken on the menu with my name on it. Whether you're going for dinner or a late night bite, check them out and let me know what you think!