#YEGNoodleSoups: Bun Bo Hue @ Trang Tien
November 30, 2014
Holy moly there is a lot of snow outside on the ground in Edmonton. We got a whole 20-25cm of the powdery stuff over 24 hours! Lucky for me I am enjoying the so-called "balmy" weather in Vancouver right now, taking in the Grey Cup festivities in town.

As I promised last week, I want to spend this winter sharing some of my favourite bowls of noodle soup here in the city. There is nothing more comforting to me on a cold winter day than a slurp of noodles with hot soup.

Trang Tien - 9449 Jasper Avenue - Edmonton AB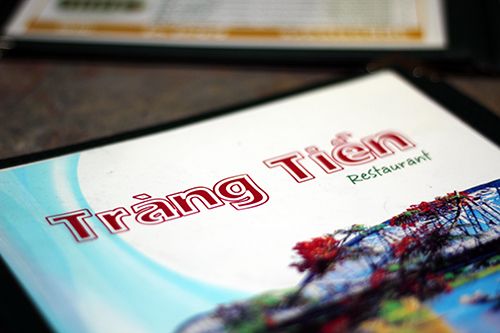 One of my favourite noodle soups is the Vietnamese bun bo hue. Everyone always talks about pho, but I like bun bo hue better. This spicy Vietnamese speciality originated in Central Vietnam, and features pork, beef, and thick rice noodles. Lemongrass is the predominant flavour in the broth and the heat from the chillies just opens up the sinuses when the cold weather hits.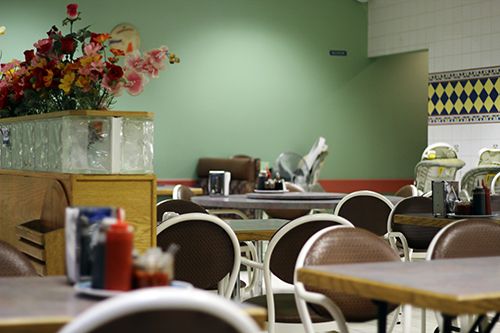 My go-to spot for bun bo hue in Edmonton is Trang Tien. This little family-run restaurant claims to have the best bun bo hue in the city - and I won't argue with that claim. The location is a bit sketchy with a hole-in-the-wall feel to it, but I love it. The restaurant has never been full on any of my visits, but there's always a smiling little boy that takes my order and serves me my food.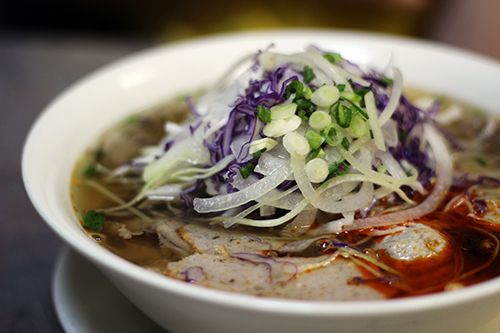 This massive bowl of Hue's Beef Noodle Soup (#22, $10.25) always arrives steaming at the table with a plate of basil and bean sprouts to add into the bowl. Not that it needs any, though - the bowl is filled to the brim with noodles, beef, pork balls, fish cake, raw onions, green onions and shaved red cabbage. The soup has an amazing aroma and the depth of flavour in the broth comes through with every bite. The rice noodles are a great al dente texture and I like the contrasting crunch you get with the vegetables. Seriously, it is such a great bowl of noodles to warm the soul on a cold winter day.
So there you have it. Best bun bo hue in the city. Do you have a different opinion? Please let me know, I'd love to try your suggestions. Come back next week for the next #YEGNoodleSoups adventure!
Edmonton is a cold, snowy city for the majority of the year. During the winter months I'm always looking for ways to warm up from the cold, and nothing is more comforting to me than a bowl of steaming noodle soup. I'm going to be highlighting some of my favourite noodle soups in the city, and I'd love for you to share yours with me so I can try them too. Follow along with #YEGNoodleSoups and let the fun begin!