#YEGNoodleSoups : Prairie Noodle Shop Pop Up #2
November 22, 2014
Edmonton is a cold, snowy city for the majority of the year. During the winter months I'm always looking for ways to warm up from the cold, and nothing is more comforting to me than a bowl of steaming noodle soup. Starting today I'm going to be highlighting some of my favourite noodle soups in the city, and I'd love for you to share yours with me so I can try them too. Follow along with #YEGNoodleSoups and let the fun begin, starting with this post!


------------------------------------
Noodles with bite. Broth full of flavour. Know what I'm talking about? Prairie Noodle Shop's (PNooSh) second pop-up! I
gave you a sneak peek
of what PNooSh had in mind for the second pop up a few weeks back, so hopefully you had a chance to get your hands on a bowl. If not, keep on reading!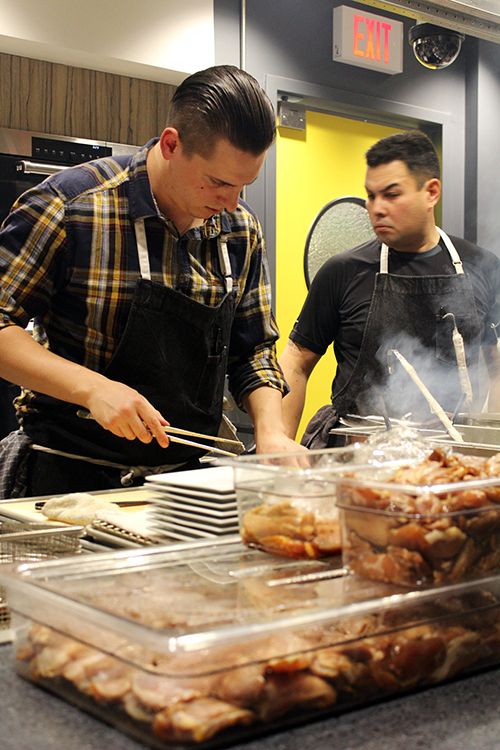 On the evening on November 12th Prairie Noodle Shop tested out a new method for customers to get a taste of their ramen. Through the ticketing service Eventbrite, tickets could be reserved for one of four seatings at 6, 7, 8, or 9 PM. In just 8 minutes the tickets were sold out. I honestly can compare the excitement and anxiety of securing a ticket to being a teenager trying get One Direction concert tickets. So stressful, but so satisfying when you know you've secured your ticket!
Prairie Noodle Shop stuck to their roots and pulled inspiration from beer can chicken for their second bowl, because what's more Albertan than that? The soup, like last time, was made up of two components: dashi (konbu, dried shrimp, anchovies and bonito flakes) and chicken stock. The tare was meant to give the palate those earthy flavours found in beer, as it was made using three different types of toasted barley and sweetened with local Albertan honey. As with the first pop up, the chicken was highlighted in the bowl three different ways: a deep fried chicken wing marinated with the tare, a tare marinated yakitori chicken thigh, and a piece of baked chicken skin. Other toppings included some pickled pearl onions, smoked kale, green onions, and that delicious umeboshi egg.
Just like the first bowl I ever had, one bite and I was done for. The soup had depth, umami tones, and hints of the earthy flavours thanks to the barley. The noodles are still sourced locally and have a great bite that lasts through the entire bowl. All of the chicken was flavourful, cooked perfectly, and I loved the sweetness from the honey in the marinade. It was quite the surprise to see kale and the pearl onions in the bowl, but they both provided different texture and flavour elements to the bowl. The pickled onions gave a crisp punch of tanginess, while the kale imparted smoky flavours to the bowl. And as always, that egg with soft whites and an oozing yolk was killer. Every bite of ramen was full of flavour, and reaching the end of the bowl made me just a little sad.
Congrats to the PNooSh team for another successful pop-up and for knocking the socks off everyone's feet. This bowl of ramen was fantastic and the team is really setting the bar high for ramen here in the city. If you missed this pop-up, never fear! The next pop up should be scheduled sometime in March of 2015, so keep your eyes peeled on Twitter and Instagram through
@YEGNoodles
(and me of course!). With all the demand for a good, hearty bowl of ramen, I think they should just open up shop! It's time for this city to have a dedicated ramen shop. What do you think?
*Disclosure: This bowl of ramen was provided to me free of charge by Prairie Noodle Shop to celebrate my birthday.

This post is 100% my opinion, and as always, my priority is to you, the reader, to present an unbiased, thorough review.