Catelli Healthy Harvest Ancient Grains [GIVEAWAY]
March 27, 2015
Who loves pasta? I do, and I would probably cry forever if I could never eat it again. Yeah, I love it. Maybe not as much as soup noodles, but pasta definitely ranks high on my list of favourite foods. Last week I had the amazing opportunity to spend a night with Chef Lynn Crawford to learn a bit about Catelli's new line of pasta, and to cook some dishes alongside Chef Lynn. How fun!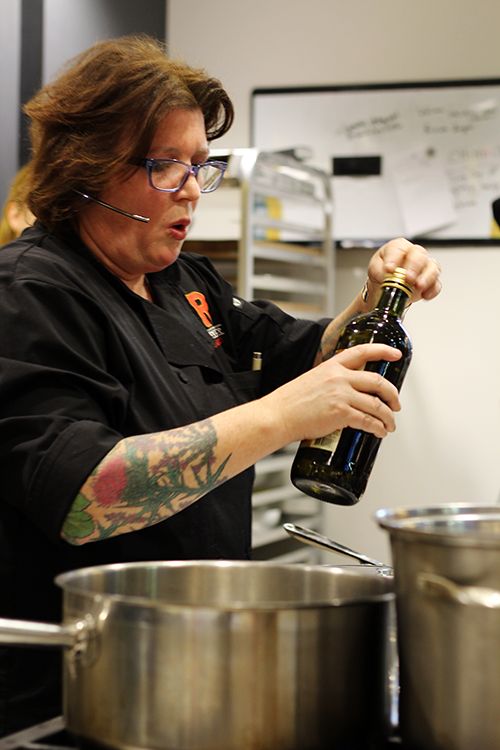 Chef Lynn Crawford is an award-nominated cookbook author, chef-owner of Toronto-based Ruby Watchco restaurant, host of the Food Network Canada's Pitchin' In, judge of the Food Network Canada's Chopped Canada, and the first female Canadian invited to participate in the Food Network's Iron Chef America and Top Chef Masters Season Five. Since the launch of the Catelli Healthy Harvest Ancient Grains product in January of 2015, Chef Lynn has been promoting the product and even uses it at Ruby Watchco.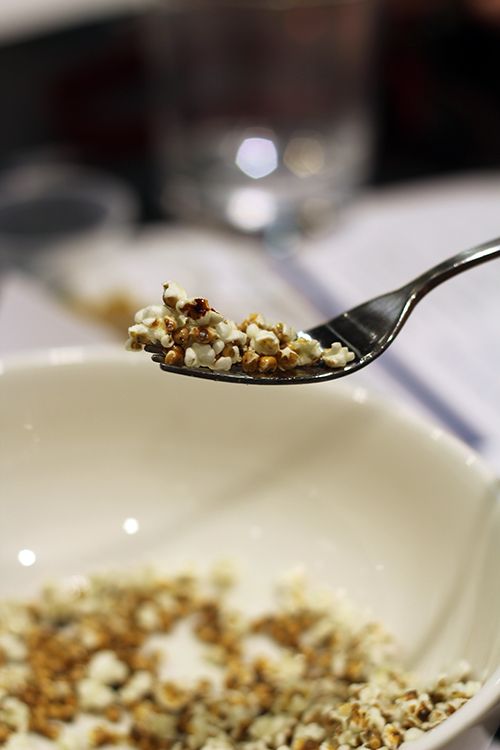 Sorghum Popcorn
Catelli's Healthy Harvest Ancient Grains pasta is the first of it's kind. Being released only in Western Canada, the pasta combines 100% Canadian whole wheat with five different ancient grains: quinoa, teff, amaranth, millet and sorghum. The result of blending all these grains together is a great tasting product packed with wholesome nutrients and health benefits in each bite. I personally cook with quinoa on a regular basis, but some of these ancient grains are completely new to me. For example, I've never had sorghum, but now that I know it can be popped like popcorn, I'm totally going to make it and snack on it!
So what exactly is so great about these specific ancient grains? Here's a couple quick facts:
Quinoa: Dating back to the 13th century South American Inca Empire, quinoa is high in fibre, protein and minerals – including magnesium, potassium, zinc and iron – and low on the glycemic index.
Amaranth: Native to the Americas and prized by Aztec civilization, amaranth is rich in protein, containing all the essential amino acids, key vitamins, and minerals such as calcium, magnesium, potassium, phosphorus and iron.
Teff: Originating in Ethiopia and Eritrea between 4,000 BCE and 1,000 BCE, this poppy seed-sized grain is high in protein, fibre, calcium, thiamin and iron.
Sorghum: Domesticated in Northeastern Africa more than 5,000 years ago, sorghum – a good source of vitamin B6, riboflavin, thiamin and magnesium – is known to support digestive health, help fight cardiovascular disease and help control blood sugar levels.
Millet: Cultivated 4,000 years ago from wild West African grass, this nutty-flavoured grain is known to be heart healthy, containing a high level of protein, magnesium and niacin. Alkalizing to the body, millet is considered one of the most digestible and non-allergenic grains available.
I try to be health conscious and it's important for me to know that the food I am eating is nutritious. I was pretty impressed by the high protein and fibre content in just one serving of pasta. Whether you try the spaghettini, rotini or spaghetti, the health benefits are the same. Way to go, Catelli!
The evening with Chef Lynn was so much fun. From coaching a participant to make pesto in record time, to mixing vinaigrette by shaking it to Taylor Swift's 'Shake It Off', Chef Lynn is hilarious and such a great host. Using the Ancient Grains pasta, she cooked up rotini in her signature marinara sauce and spaghettini in pesto. Both pastas were delicious, and I almost couldn't tell that the pasta was whole wheat. There's a slight difference in texture, but otherwise it's great and I would recommend the pasta for the added health benefit.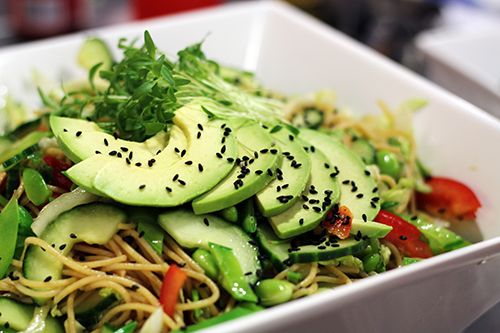 To end off the evening, Chef Lynn gave a demo on one of the recipes she developed for the Catelli Healthy Harvest Ancient Grains pasta - Chilled Noodle Salad with Ginger Wasabi Dressing. After the demo we split into groups to make the salad ourselves. FYI it's delicious, so make sure to make some for yourself. You can find the noodle salad recipe via Google, and you can find some of her other recipes for Catelli on the
website here
.
Now since you didn't get to spend a fun night with Chef Lynn Crawford, I'm hoping I can make up for that by giving you a chance to
win a year's supply of Catelli Healthy Harvest Ancient Grains Pasta
! That's 60 boxes and endless possibilities for pasta dishes. See the details below!
------------------------------------------------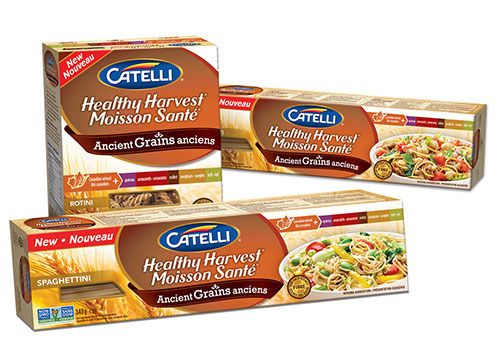 THE GIVEAWAY
One Year's Supply of Catelli Healthy Harvest Ancient Grains Pasta
(60 boxes, $200 value)
DETAILS
To enter, you must comment below and tell me what dish you would make with your ancient grains pasta. Please make sure you leave a
valid
email address in the giveaway widget as this is how I will be contacting you.
ADDITIONAL ENTRIES
1. Follow me via Twitter (
@littlmissandrea
) (+1)
2. Tweet about the giveaway: "Enter to win a year's supply of #Catelli Ancient Grains pasta from @littlmissandrea! #yeg #yegfood" and link back to this post (+2)
3. Follow me via Instagram (
@littlmissandrea
) (+1)
4. Visit my
Facebook page
and
share the contest post
with your friends! (+5)

a Rafflecopter giveaway

This giveaway is open to anyone 18+ years of age in Canada. You have until April 6 to enter and the winner will be selected by random and be contacted via email. Good luck!