NAIT Chef in Residence 2015: Michael Statdländer
March 14, 2015
This past Thursday I had the pleasure of attending the 7th annual Northern Alberta Institute of Technology (NAIT) Hokanson Chef in Residence Luncheon. Each year NAIT's School of Hospitality and Culinary Arts treats students with the rare opportunity to learn from some of the best chefs in North America.


The past years have featured Susur Lee, Lynn Crawford, Rob Feenie, Massimo Capra, David Adjey, and Chris Cosentino. This year the program welcomed Chef Michael Statdländer into the kitchen. I'll admit that I didn't know too much about Statdländer, but after some research I was pretty excited to have the opportunity to eat one of his meals.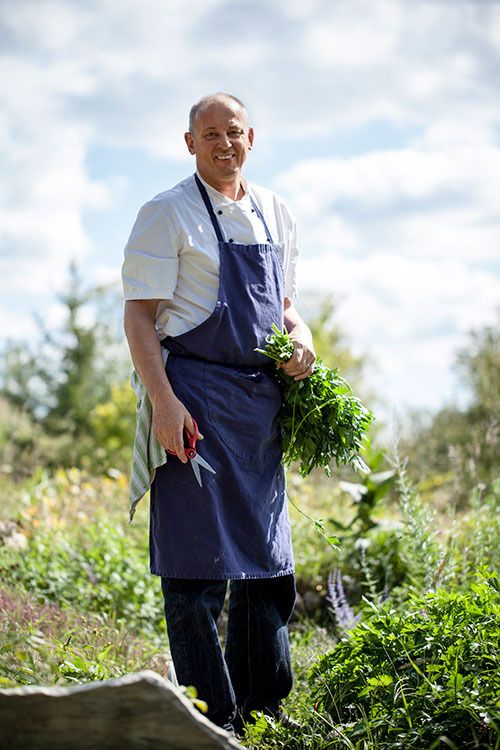 Michael Stadtländer grew up on a farm in Germany among his family of bakers, chefs and farmers. After immigrating to Canada from Germany in 1980, Stadtländer and colleague Jamie Kennedy made their mark on the Toronto restaurant scene at Scaramouche. In 1993, Stadtländer and his family moved to a 100-acre farm near Collingwood, at the top of Ontario's Niagara Escarpment, where they could live on the land. Eigensinn Farm has become an internationally celebrated destination for gourmets. Always an advocate for locally sourced food, Stadtländer recreates the farmyard classroom of his childhood at Eigensinn. In 2009, Stadtländer and his wife Nobuyo opened Haisai restaurant and bakery in Singhampton, Ontario. Haisai is an extension of Eigensinn Farm's philosophies and practices using locally raised and foraged ingredients. -
Excerpt courtesy of NAIT
Prior to the start of the meal the room was abuzz with guests waiting to see what lunch had in store. The kitchen was busy with culinary arts students putting the final touches on plates, with Stadtländer's encouragement. Our meal started off with assorted breads, some of which I never thought I would ever try. The basket was filled with beet bread, mushroom bread, and sourdough. I loved the pink colouring of the loaf with chunks of soft, sweet beets. Having some root vegetables in there makes you a little less guilty about all the carbs you're consuming!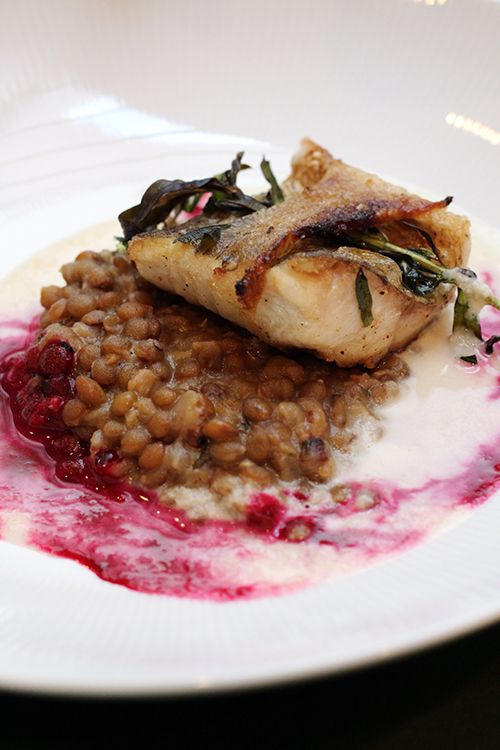 Our first course was a Panfried Alberta Whitefish cooked with in house smoked pork back fat, served with creamed lentils and red beet horseradish sauce. Chef Statdländer based this dish off one of his at Haisai, where fish is wrapped in speck then smoked. The lentils were cooked and flavoured using thyme, bay leaves, and dijon, making them tender and flavourful. In what would otherwise be a pretty dull dish, I loved the beet sauce giving the plate both colour and vibrancy.
Next up was a Rare Rosemary Roasted Beef Tenderloin with a root vegetable cake and wild Canadian mushroom jus. Although the beef wasn't cooked to a perfect rare, it was so tender and juicy. The beef was seared quickly in sunflower oil and was honestly perfect in and of itself. The root vegetable cake was layered with a creamy onion thyme sauce and finished with a three year old cheddar. Although there were additional flavourful components, I could still taste the natural sweetness of the vegetables. The dish was delicious!
To round off the meal, Chef Statdländer served us one of his favourite desserts: Vienna Apple Strudel with Chantilly Cream. He had joked that he wasn't so sure about how this dish would turn out since the dough can be incredibly difficult to stretch out as thin as it should be, but he was quite impressed with the students attention to detail and the finished product. The dessert was made with apples grown locally in North Edmonton and cinnamon sugar almonds. The naturally sweet apples made for a lightly sweet dessert and a perfect end to our three course luncheon.
Although most people do not get the opportunity to attend the Hokanson Chef in Residence luncheon, knowing that the culinary arts students take the knowledge from these renowned chefs and go on to cook amazing food in some of the best kitchens here in the city is awesome. Edmonton's food scene is growing and I can't wait to see how it develops over the next few years. A huge thank you to NAIT for inviting me to the luncheon this year - I can't wait to see who the chef in residence will be in 2016!