Our Okanagan Wedding: First Look, Ceremony & Reception
November 18, 2018
As our tea ceremony came to an end we had a quick moment to breathe before continuing on with our day. In sharing this second part of our wedding day I also wanted to share some insight to the destination wedding planning process and share some reviews of our amazing vendors for future Okanagan brides!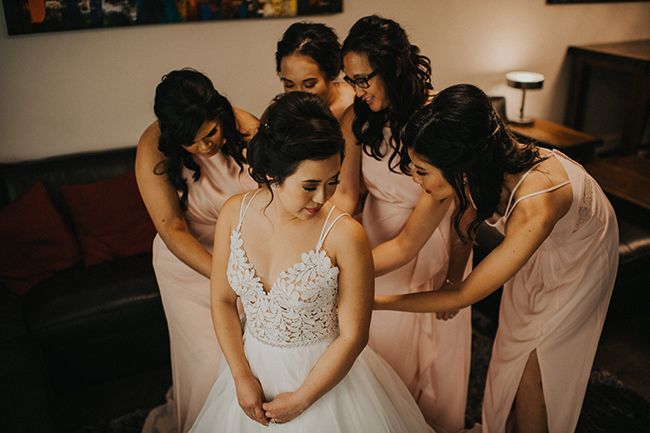 The Dress.
When it came to dress shopping I didn't know where to start. After hours of combing through Pinterest boards and Instagram hashtags, I was determined to find an A-line wedding dress with flowy layers and a low back. Having an August wedding in the Okanagan meant I needed a dress that wouldn't trap heat and had breathable material. I had great experiences shopping at
Delica Bridal
and
Novelle Bridal Shop
, but I ended up falling in love with this beautiful Mikaella dress (
style #2158
) I eyed at
The Bridal Boutique
. The lace was unlike any other, the straps crossed beautifully into a low back, and the horsehair trim on the gown was a nicely added touch. Better yet, this beautiful dress had pockets (for snacks!) and I was happy to support a Canadian designer!
Little Details.
I do believe every bride needs a little sparkle so I was so glad to have discovered
Davie and Chiyo
, a Vancouver-based designer (select styles available through Delica). I loved that there were so many delicate bridal accessories that came in gold, silver, and rose gold, and I ended up adding a bit of flair to my dress with the Cleo belt. I kept jewelry to a minimum so as not to take away from the lace bodice of my dress, and found the perfect crystal earrings from
LottieDa Designs
in rose gold to tie in with my wedding band.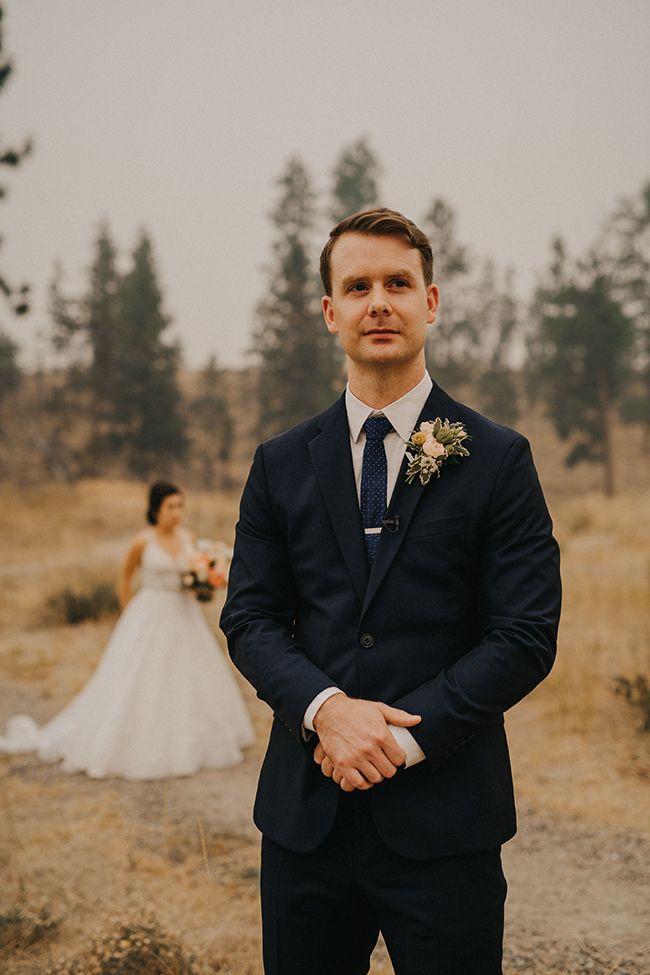 The First Look.
There's nothing like seeing the groom's reaction when he sees his bride for the first time when she walks down the aisle. I've always considered myself pretty traditional when it comes to weddings, so having a first look prior to the ceremony never even crossed my mind. However, we didn't want to rush through photos of us and our wedding party and also had to consider what our guests could occupy themselves with if we were to take photos between the wedding ceremony and reception.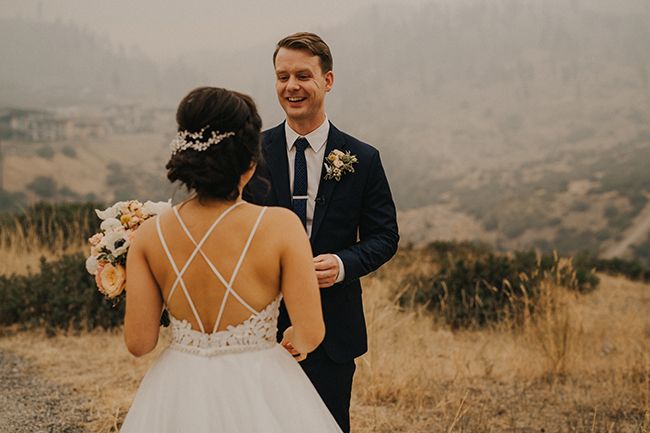 We ended up opting for a first look at a location in the Upper Mission, and in hindsight it was one of the best decisions we made. The first look gave us the privacy to enjoy the intimacy of that moment, shed a few tears (one of us cried, and it wasn't me!), and helped shake off some of the wedding nerves. It was such a beautiful moment we shared together and it didn't take away from the ceremony.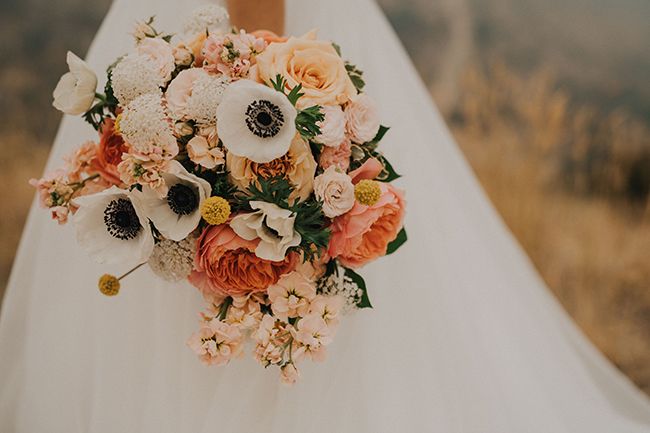 Floral Design.
Since our wedding was far away from home the last thing we wanted to do was travel to and from with decor and centerpieces. As a result we chose to use lots of florals and greenery as the main focus for our decor. Our wedding planner
Kaitlyn Ellis
had experience with florals and offered to double as our florist. Not only was it convenient, but it just made sense since she was involved in the wedding design process. I had given her a general idea of what I wanted, along with a colour palette, and she ran with it. Her passion really showed through in the expertly crafted arrangements and we got so many compliments on our flowers. I may be biased, but my bouquet was absolutely stunning and so much more than I had dreamed!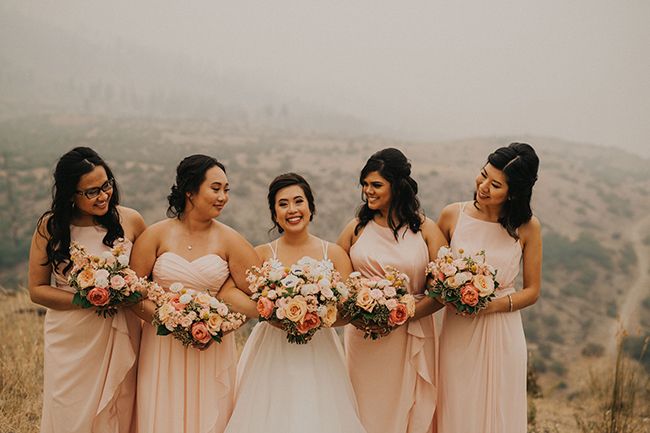 Bridesmaid Dresses.
From the moment we got engaged I knew that navy blue and blush pink would be the two colours used in our wedding. Pink for the girls and blue for the boys, a classic pairing for a summer wedding. I didn't have a specific dress in mind for my bridesmaids and maid of honor because my main concern was for them to be comfortable in the Okanagan heat. After searching multiple online vendors and perusing local boutiques we ended up purchasing dresses at
David's Bridal
. given that there were so many silhouettes available in the shade of pink I wanted. We had a great experience with the stylist assigned to our group, and the ordering and pickup process was a breeze for the girls.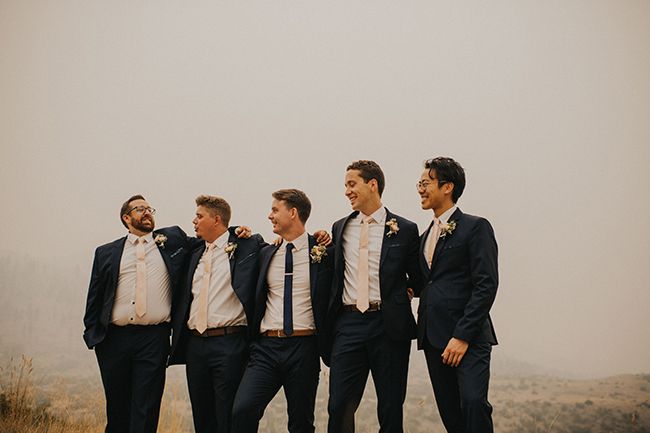 Groom & Groomsmen Outfits.
I had given the task of dressing the guys to Gordon but I somehow still ended up shopping for suits and ties for them. For their suits we went with
RW & Co.
given their extended sizing options (slim, tailored, athletic), and we found a great assortment of affordable skinny ties in almost every colour at
Le Chateau
.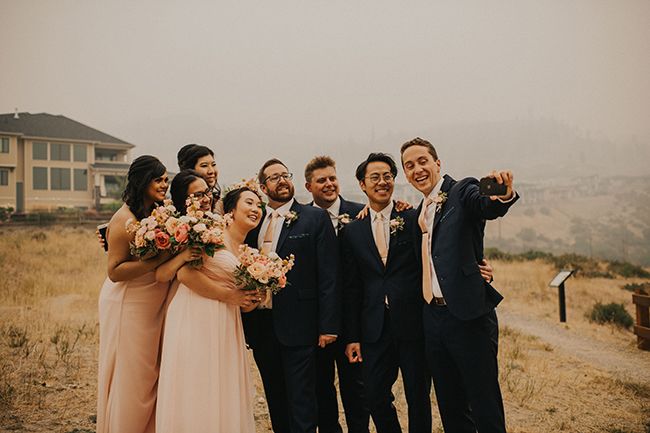 Wedding photographer.
After securing our venue came the search for our photographer. After some discussion Gordon and I felt it would be best to find an Okanagan-based photographer that was familiar with the area and our venues. We are so happy we found
Joelsview Photography
and couldn't imagine having anyone else capture our day. Joel is so passionate about his work and the excitement he has while shooting photos is just such a joy to witness. Every image carries so much emotion and he captured every moment perfectly. Reviewing our collection of photographs brought us right back to our big day and we will be cherishing these photographs for the rest of our lives. Joel was an absolute pleasure to work with. We can't say enough good things!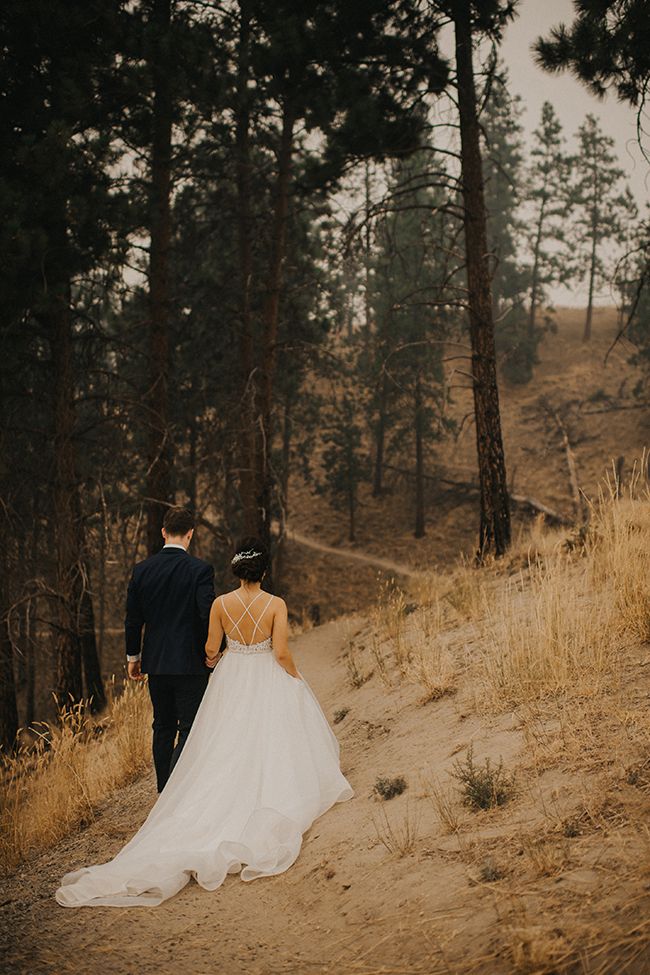 Wedding videographer.
Hiring a videographer never crossed our minds, and I feel it is a vendor that is often overlooked. In talking with our friends one of their biggest regrets was not hiring a videographer. I was convinced we needed someone additional to capture the emotions of our day and after enough asking, Gordon caved and said yes. We reviewed some Kelowna-based videographers and fell in love with the work done by Nick of
Fresh Finish Media
- I can't tell you how many of his videos brought me to tears. Nick was professional and so fun to work with. We can't wait to see our finished video and to watch it every year on our anniversary!
The Venue.
The Hotel Eldorado is one of our favourite places to visit in Kelowna. The hotel is situated on Lake Okanagan and has beautiful views as far as the eye can see. Although the smoke didn't allow us to see much that day, we love the vintage charm of the building and the history behind it.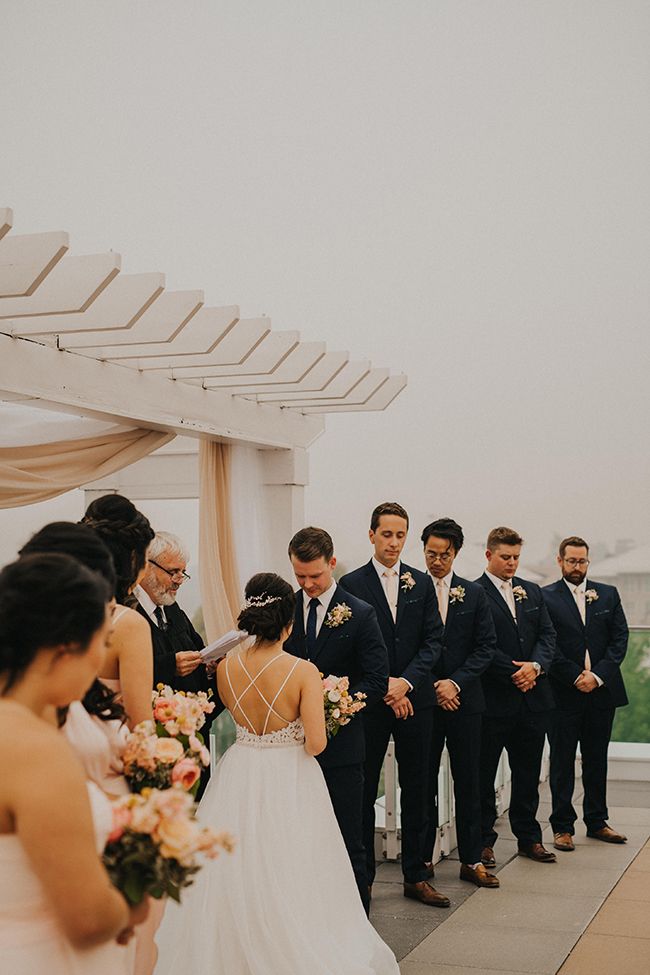 The rooftop ceremony space is stunning (especially with blue skies) and you almost don't need to decorate when the views are that beautiful. Planning a wedding with their events team was a breeze and the entire crew made our day amazing.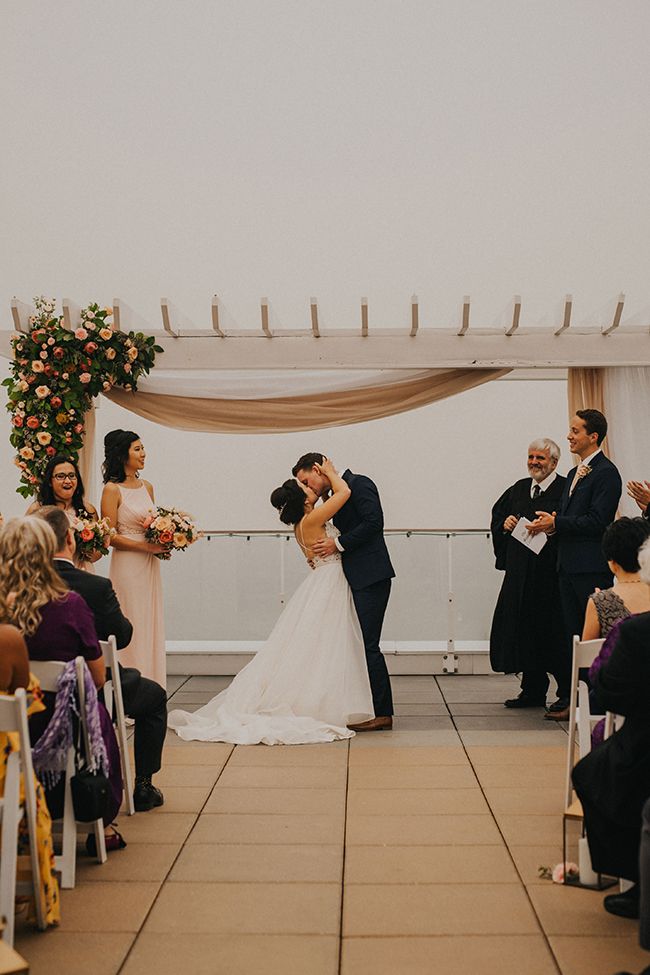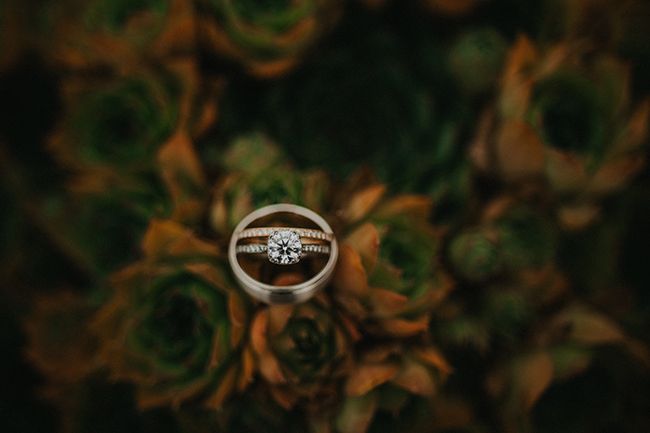 Wedding Rings.
If you follow me on Instagram, you'll know that I had a really tough time deciding on my wedding band. I was torn between the white gold to match my engagement ring, or rose gold to switch things up a bit. I'm happy to say I went with my gut and chose a rose gold band and I absolutely love the pairing.
Reception Design.
One of the difficulties in planning a destination wedding is in sourcing decor, setting it up, and tearing it all down at the end of the night. As we couldn't be in Kelowna for all major decision-making moments, we were happy to seek the help of a wedding planner to bring our wedding to life. There are many different planning services out there - from full planning services, to decor only, or month/day of coordination - and given my Type-A personality I needed to find someone to guide me in the right direction but allow me to feel in control.
Little Details.
I was so happy to find
Kaitlyn Ellis Events
because her philosophy and aesthetic were aligned with mine. She loves gorgeous flowers, clean lines, and strives to design a wedding reflective of her couples. After a year of chatting and getting to know us, she helped us design a beautiful wedding that really spoke to us. She took into account little details we had mentioned about ourselves, and pulled together a team of local vendors to bring our dream to reality. We could not have pulled off one of the biggest days in our lives without her and are truly grateful for all the help she gave us. We highly recommend Kaitlyn to all Okanagan brides-to-be!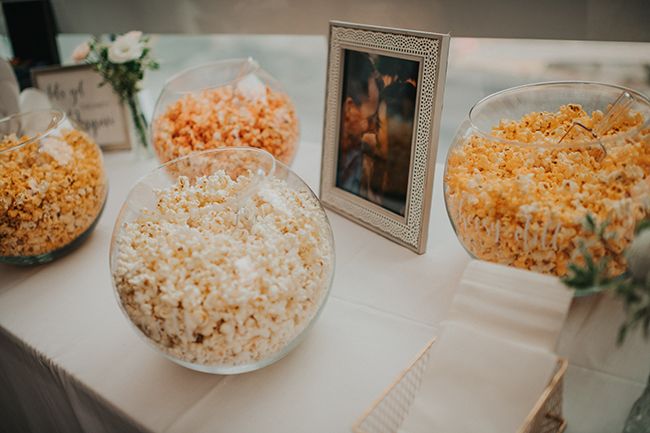 Popcorn Bar.
When Gordon and I have some down time, we love watching our favourite shows on the couch with a big bowl of popcorn! So we couldn't imagine our wedding day without our favourite snack on board. We made sure to have some of our favourite flavours available (hello cheesy dill!) as well as some classics for our guests to enjoy.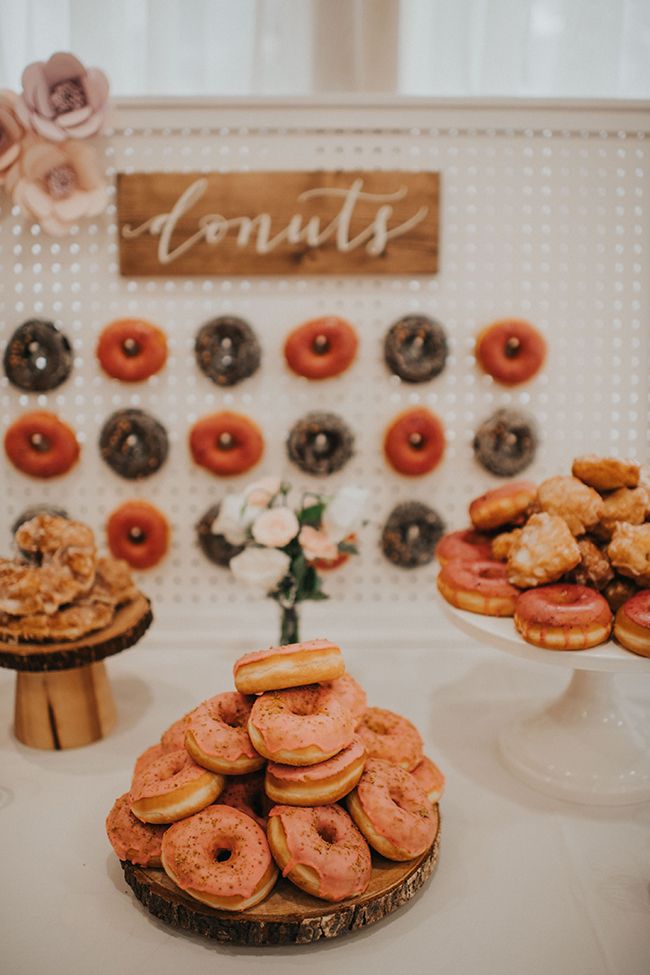 Donut Bar.
As much as I enjoy desserts, cakes really aren't my jam. I wasn't keen on ordering a wedding cake, especially because I've attended too many weddings where guests don't even touch the cake because they're so full from dinner. Rather than spending lots of money on something no one would enjoy, we chose to have a donut bar that doubled as a wedding favour for our guests. The donuts were a hit, thanks to
Sugar Sweet Cake Company
! The flavours were incredible: Mango Coconut, Blackberry Lime, Bourbon Peach Fritter, Salted Caramel and Strawberry Shortcake.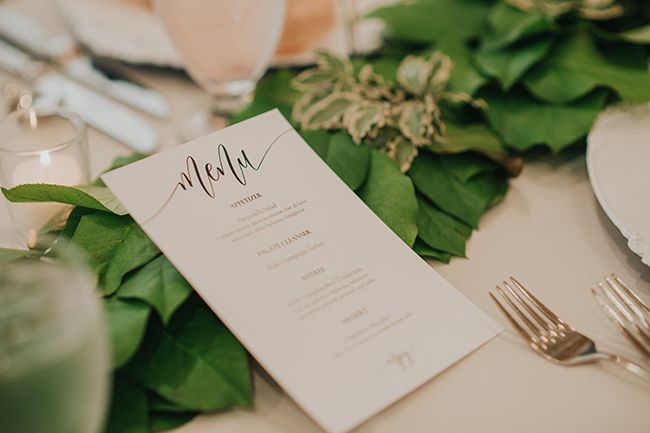 The Food.
Planning our menu was the most stressful thing on the list for me. So many of our guests told me they couldn't wait to see what we planned for our dinner since I clearly have a love affair with good food. The pressure was on. The Hotel Eldorado didn't offer menu tastings, so I had to trust in knowing I've never had a bad meal at the El. We planned our a four course plated meal consisting of a panzanella salad to start, followed by a pink champagne sorbet palate cleanser before the main course of beef tenderloin. The meal was rounded out with a beautiful chocolate marquise that everyone enjoyed. Let's just say this - people are still raving about our dinner to this very day.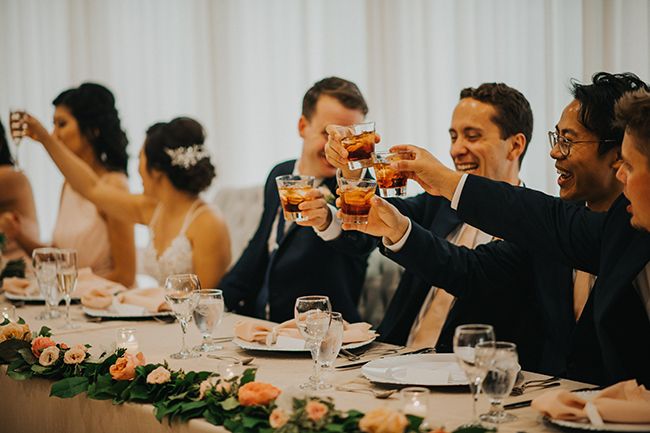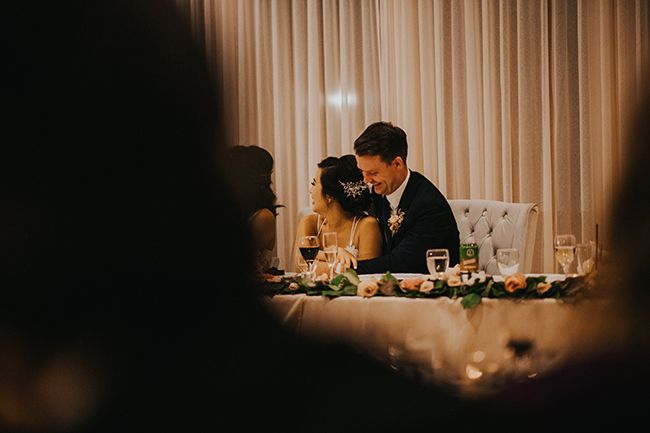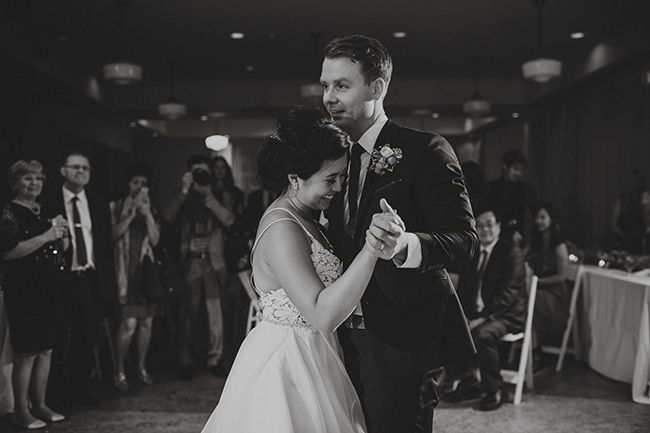 Wedding DJ.
Searching for a DJ was another one of Gordon's tasks for the wedding and he made a fantastic decision hiring DJ Almighty, who works with
DJ Haymaker
. DJ Almighty and his team were so great at helping us plan the wedding ceremony and reception, especially when it came to playing a few games to keep the room entertained. You could tell he genuinely loves keeping people in the room on their feet and dancing! We had so much fun on the dance floor and our wedding guests couldn't stop talking about how much fun they had with all the hits he was playing!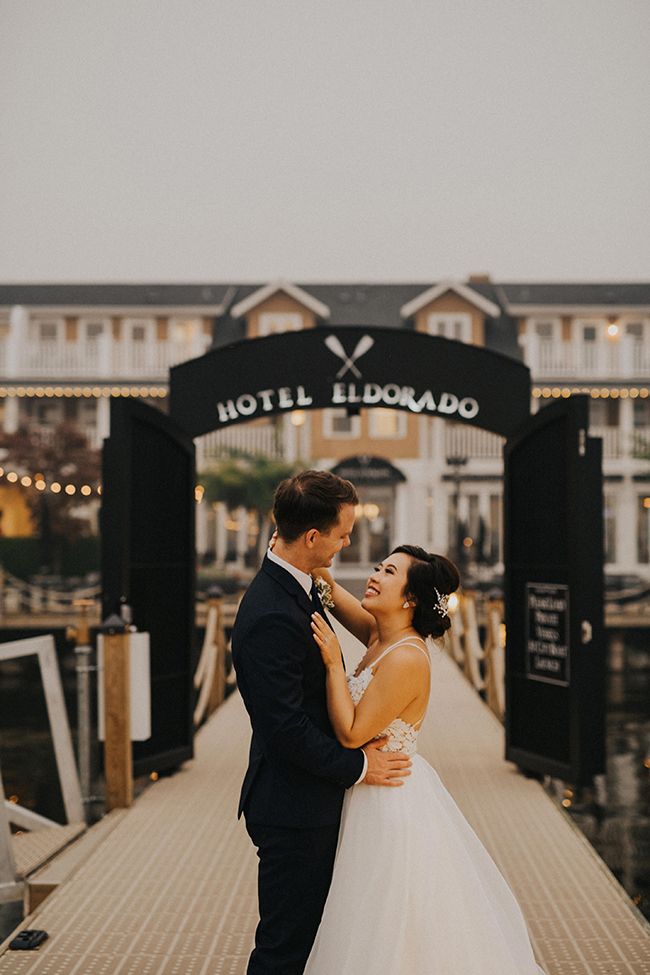 August 18th was truly the best day of our lives and we wouldn't change a single thing, except maybe the smoke (haha). It was incredible sharing our love surrounded by our closest family and friends, and we couldn't have pulled it off without our amazing team of vendors. If there's one piece of advice I can pass on to future brides, it's to let go of the small stuff. During the wedding planning process things will pop up and will be incredibly frustrating, even infuriating at times, but try not to let it get to you and remember to enjoy the process.
Thank you for letting me share our wedding with you, and thank you to everyone for the kind messages and congratulations! It means so much to us.
Previous wedding related posts: our Chinese tea ceremony