Revamped: Lan's Asian Grill
February 22, 2014
If I venture out to the north end of the city for food, it'd better be good. I've visited Lan's Asian Grill in the past, but as it is so far from where I live it's definitely a treat when I can go! Last week was the perfect opportunity to stop by for a quick lunch with a friend before the cheese-making opportunity at NAIT. When we arrived at 11:30 on a Thursday the lunch rush was just starting up and we were glad we didn't arrive any later.

Lan's Asian Grill - 11828 103 Street - Edmonton AB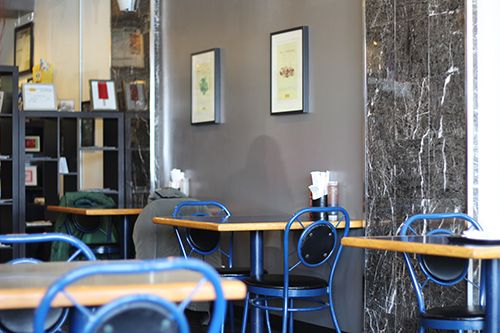 Located in a strip mall in an older part of the city, Lan's Asian Grill is always welcoming from the moment you step in through the door. Tables and chairs are scattered around the restaurant, while a large service counter at the front draws your eye to the open kitchen. The service style at Lan's is simple and straightforward: find your table and head up to the front counter to make & pay for your order, or vice versa, whatever you prefer.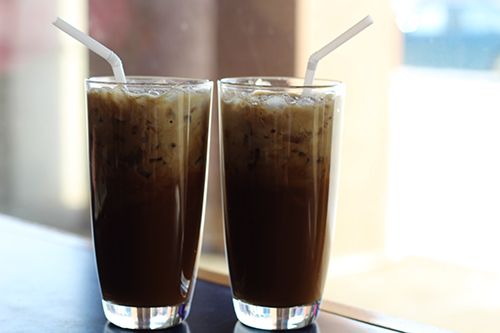 Iced Vietnamese Coffee ($4)
Having just released their menu on February 6th, I was excited to see what new dishes were available. At Lan's the philosophy is simple: by using only the freshest ingredients and traditional dishes as inspiration, you're bound to make tasty food. The new food menu features appetizers, six different main dishes, and one seasonal dish. At first glance it may seem as if there isn't much variety, but there are options for each dish to create endless possibilities, so something is bound to suit your tastes. Whether you're vegetarian, gluten free, or picky about your food, you are able to customize your dish to your liking.
One of the dishes we ordered was the Thai Basil Stir Fry & Jasmine Rice ($10), the feature of the month. Thai basil, lemongrass, fresh thai chilies and bell peppers are stir fried with ground pork and laid on a bed of rice. A kick of heat from the chilis came through the sweet and savoury flavours while the bell peppers gave a nice crunch to contrast the soft textures of the meat and rice. It's an absolutely fragrant dish and I could sit and eat this forever.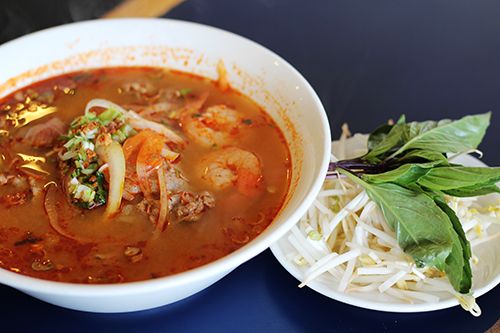 For myself I had to order the Tom Yum Pho ($12) made with beef, prawns, tomatoes, green onions, onions and cilantro. Rice noodles cooked al dente were waiting in the bowl of steaming broth, slowly absorbing the flavours of the fragrant herbs. The prawns were large and meaty, and there were plenty in the bowl to make this a filling meal. Make sure not to leave a drop of the soup behind - but knowing how delicious it is, I don't think you would anyway.
Lan's Asian Grill really is a hidden gem in our city. Not every meal we eat has to be fancy or complex, and this restaurant is able to show that sometimes simple really is best. Don't overlook the restaurant based on the area in which it's located! The food is affordable and you definitely know that you get your money's worth after your first bite.