Doubletree #YEG: Stages Kitchen & Bar
February 15, 2014
When you go on vacation do you typically dine at the restaurants featured in your hotel? I will admit that 90% of the time I do not - unless that restaurant happens to be on the itinerary of the culinary portion of my trip. Furthermore, how often do people actually seek out visiting a restaurant that is inside of a hotel?

Stages Kitchen & Bar - 16615 105 Avenue - Edmonton AB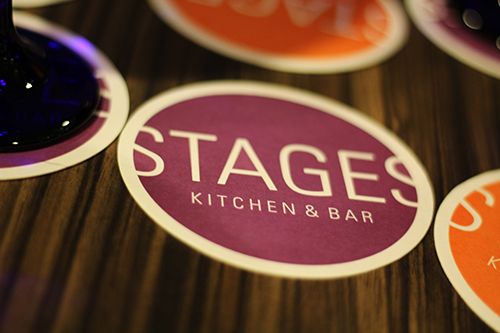 After undergoing extensive renovations and rebranding, the old Mayfield Inn & Suites has transformed into Edmonton's first Doubletree by Hilton. When it came to my attention that the hotel chain was coming to Edmonton all I could think about was the warm chocolate chip cookies that they are known for. But cookies aside, I was invited to check out the property and have a tasting of the menu at Stages Kitchen & Bar, the new restaurant that has taken the former location of Vic's Steakhouse.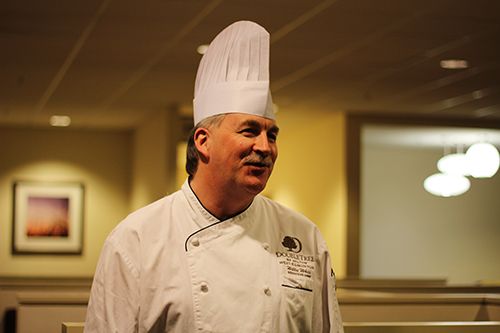 The culinary vision behind Stages Kitchen & Bar is lead by Executive Chef Willie White (formerly of River House Grill in St. Albert). With an extensive background in culinary hospitality, Chef White is bringing his passion for local and regional produce to the menu. It's not very often that you see hotel restaurants actively supporting local producers, but I personally think that is the direction that many establishments need to head towards in order to be successful.
In an effort to showcase the farm-to-table philosophy, a handful of the producers that are partnered with Stages receive recognition on the menu. Alberta Bison Ranch, Sunworks Organic Farms, Sylvan Star Cheese and Mighty Trio Organics are just a few of those mentioned. But what's even more impressive is that approximately 70% of wines available on the wine menu are made in Canada. It's a great sight to see and I love knowing that travellers will get exposure to all that Canada has to offer.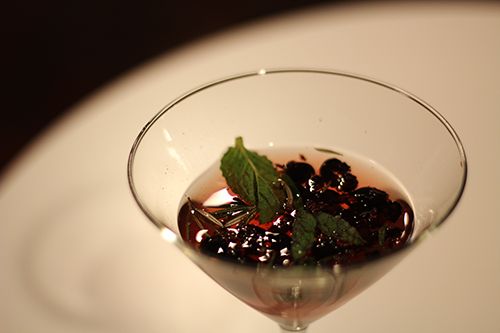 Before we were introduced to any food all the guests at the tasting were invited to try out their signature martini, made with Victoria Gin, saskatoon berries, muddled mint & fresh rosemary. The management team presented the yet-to-be-named martini and hoped that someone would be able to come up with the perfect name for it. I called it "The Valley Affair," pulling inspiration from the beautiful river valley here in the city. And to my surprise that's the name that has been chosen for it. Pretty neat! The martini was light and refreshing, and my only wish would be for the mint and rosemary to be infused into the drink. It would enhance the "drinkability,",making it smoother and decrease the likelihood of drinking a salad of herbs.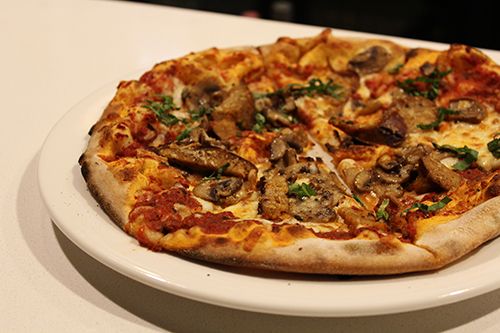 On this particular evening Chef White wanted to showcase a variety of dishes available on the dinner menu. We started off with their thin crust pizzas, which are made in house in a pizza oven (not wood fired). The high heat and the use of a pizza stone allows all the pizzas to be cooked within 3 minutes, and I was quite impressed with how the pizza turned out. First up was the Sunworks Organic Chicken Pepperoni & Mushroom pizza ($14) which was packed full of flavour and a kick of heat. What I do like best about the pizzas though is the crust. The crust is thin, crisp, and keeps its structure. There's nothing I dislike more than a soggy, flimsy crust.
The next pizza I tried was the Jerk Shrimp & Pineapple pizza ($14), which is inspired by Chef White's daughter. This combination is something I've never thought of pairing together, but it worked. The heat from the shrimp was offset by the sweetness of the pineapple, and when placed on a thin, sturdy crust, I am not one to complain.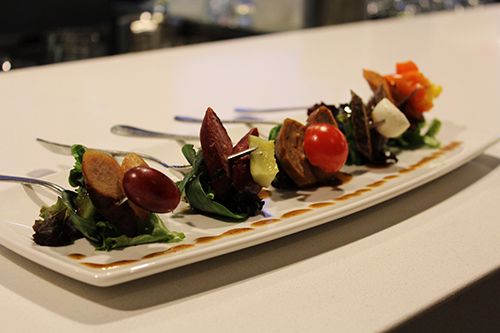 Next we were introduced to the Five Fork Banger ($10) appetizer, which features a selection of local sausages and greens drizzled with balsamic vinegar and olive oil. We were given the elk sausage and bison sausage to try, both of which were lean and mildly seasoned. The elk was paired with a serving of bocconcini while the bison was served with a pickle. Both were nice combinations and the dressing added some moisture and flavour to the one-bite "salad".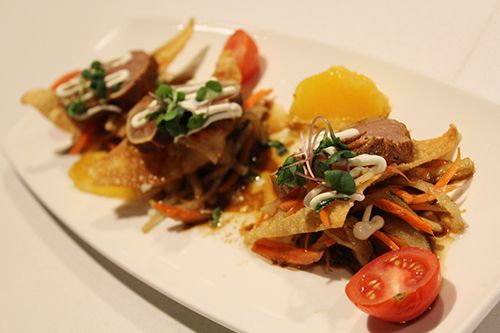 Our last appetizer was probably my favourite dish for the entire evening. The Tuna Tataki ($13) featured lightly seared blue rare tuna atop a wonton crisp and Asian slaw, and topped with microgreens and creme fraiche. The tuna was buttery smooth, but I loved the slaw in this dish the most. Extra crunchy vegetables are marinated for 5 minutes in a flavour packed dressing with notes of soy, citrus and ginger. I feel like I could sit and just eat the slaw for days. I wanted more when I was done and regretted gobbling it down so quickly!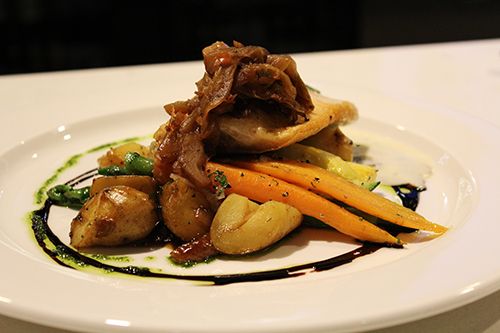 My first entree of the night was the Pan Seared Arctic Char ($28) served with a tomato, ginger and fennel chutney and a side of baby potatoes & vegetables. The fish was perfectly cooked, flaking off with each bite. The seasonings worked well together to flavour the dish and still highlight the natural flavour of the arctic char.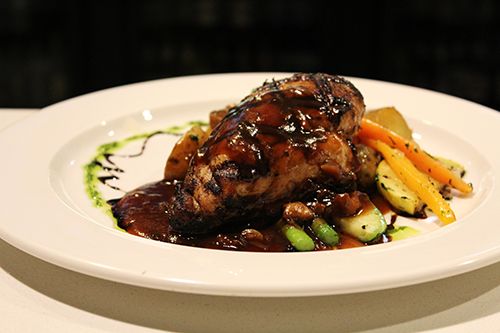 Our next entree was the Seared Prairie Chicken Breast ($21) served with a field mushroom sauce. Chef White mentioned that the sauce was made using a combination of fresh and dried mushrooms to infuse the earthy flavours into the dish. The chicken breast was marinated and cooked nicely, and stayed moist with the help of the peppery sauce.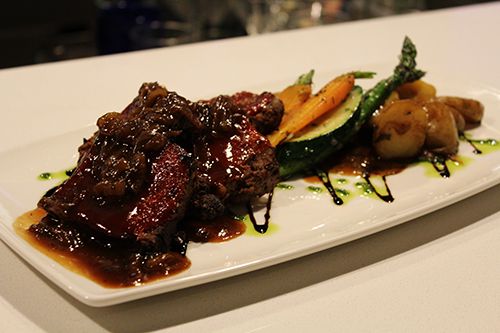 Last but not least was the Local Alberta Bison Ranch Meatloaf ($18) which unfortunately was my least favourite dish of the evening. The meatloaf itself was a simple recipe with spices, egg and bison meat compressed together and cooked. It can be really difficult to bring moisture into a meatloaf made with a protein that is very lean to begin with, so I was hoping that the kitchen team would have been able to overcome producing a dry dish. The meatloaf was topped with a sweet caramelized onion and Rickard's Red beer sauce which gave the dish more flavour and moisture, but it wasn't enough for my liking.
Surprisingly, I made it through the meal to still have room for dessert, so the kitchen brought out a sampling of three desserts available on the menu. Stages brought in a pastry chef from Dubai so I was curious to see what had been created. The Dark Chocolate Molten Cake ($8) was accompanied by cappuccino ice cream on a bed of 'salted chocolate earth.' The molten cake was nothing like I imagined - no thick oozing centre, but rather the centre had a smooth mousse-like texture to it. For someone who doesn't normally enjoy the richness of the typical lava cake I would gladly have this version any day. The ice cream on the other hand was rich and creamy with a light sweetness when paired with the salted cookie crumble.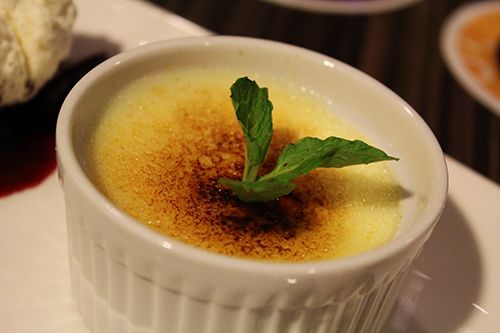 Next on the plate was a Maple Ginger Creme Brulee ($8) which was light and creamy. The maple and ginger were not very noticeable and I would have liked to taste those flavours more. However, the custard was so smooth and had a light sweetness so it was all around a great dessert.
Last but not least was the Vanilla Bourbon Cheesecake ($7). Served with a wildberry compote, this dessert was the most interesting for the evening as it featured a 'poached' cheesecake gently coated with a fine cookie crumb. The scoop of cheesecake was light with an interesting texture. I can't really describe it, but if I had to, the cheesecake felt smooth, fluffy, yet dense at the same time. I told you it was hard to explain.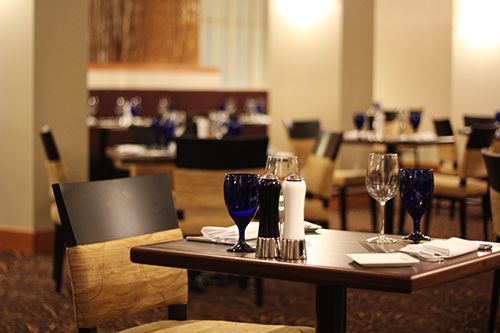 All in all I had a wonderful evening at Stages Kitchen & Bar, sharing delicious food with great company. I commend the restaurant for taking the farm-to-table concept to heart, highlighting the work of local producers in Alberta and featuring some of the fantastic wines that can be found in Canada. Although the restaurant is brand new, hospitality is clearly important to both the hotel and restaurant, so the servers work hard to meet every need. I know this was a tasting event, but I do hope that all patrons are able to experience the same level of service and quality food. So stop by and check out Stages - and please get the tuna tataki! I will definitely be returning for that... and for the Doubletree chocolate chip cookie.
Disclaimer: as this was a media launch event, views expressed in this post are solely mine. I was not expected to feature this restaurant on my blog, nor obligated to do so. This post is 100% my opinion, and as always, my priority is to you, the reader, to present an unbiased, thorough review.