Cheese-making 101: Fresh Mozza at NAIT (+ Recipe)
February 20, 2014
Who loves fresh cheese? Who's made fresh cheese? I for one have, and it really is a fun and satisfying activity to carry out in the kitchen. The Northern Alberta Institute of Technology (NAIT) has recently launched its own line of cheese and last week I had the opportunity to stop by the campus to learn more about their new cheese-making initiative.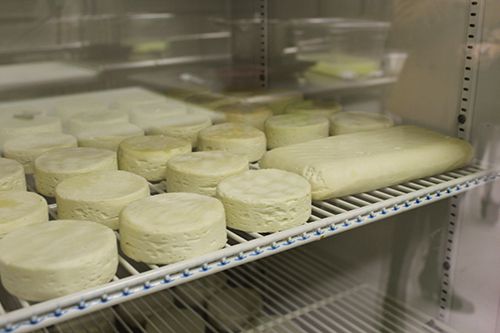 The Culinary Arts program at NAIT is now teaching students how to make artisanal cheeses from scratch and selling the product in their Retail Meat Store on campus. Currently, a selection of brie, feta and mozzarella is available for purchase, and many of the cheeses made on campus are featured in dishes cooked by the students at Ernest's, NAIT's fine dining restaurant.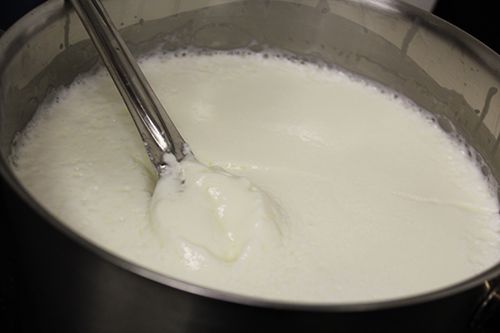 In partnership with Alberta Milk and the Alberta Livestock and Meat Agency, NAIT has purchased a 200 litre cheese vat for its cheese lab. First year Culinary Arts students now take a course in the fundamentals of artisinal cheese-making and NAIT is looking towards putting together a one-day hands on cheese class for the general public. This is really exciting stuff!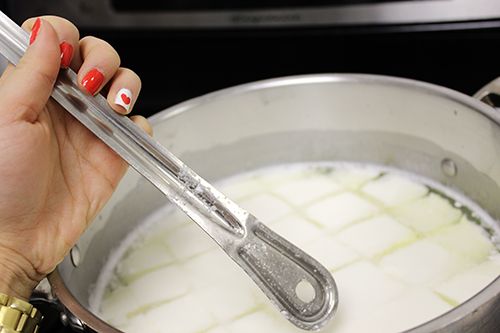 I feel like a lot of people don't pursue the science of making cheese at home because it seems like a daunting task. I used to think so, until I made mozzarella for the first time two years ago. It's easy peasy. As long as you have the proper ingredients and enough time & patience (mozzarella takes about 30 minutes from start to finish), the possibilities are endless.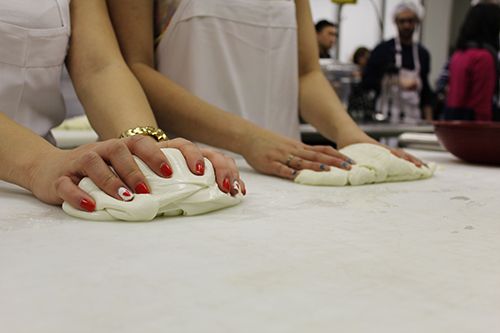 On this particular day, myself along with other media and food bloggers were invited to make a 30 minute mozzarella with Chef Allan Roote, one of the instructors at NAIT. Seeing as it was the day before Valentine's Day, I got a little goofy and made a heart shaped cheese for you all (awwww). To make your own mozzarella is simple, just gather the ingredients and follow the instructions below!
-----------------------------------------------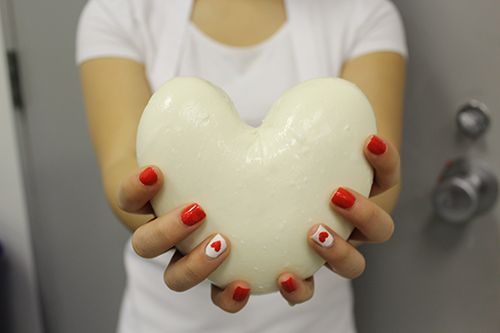 30 MINUTE MOZZARELLA


(recipe courtesy of NAIT)



4L 1% or 2% milk (not skim and not ultra-pasteurized)
¼ rennet tablet
1½ tsp citric acid, powdered
Non-chlorinated water
Salt

RECIPE
1. Crush ¼ tablet of rennet and dissolve in ¼ cup of cool non-chlorinated water and set aside to use later.
2. Add 1½ tsp) of powdered citric acid to 1 cup cool non-chlorinated water. Stir to dissolve.
3. Quickly pour cold milk and citric acid into a pot so they are well mixed. Next, slowly heat this mixture to 32'C/90'F - this should take about 10 minutes. Stir gently and slowly and do not touch the sides or bottom of the pot.
4. At 32'C/90'F, remove the pot from the burner and slowly add the dissolved rennet to the milk and stir in a top-to-bottom motion for approximately 30 seconds. Cover the pot and leave undisturbed for 5 minutes.
5. Check for a clean break in the curd by slicing and lifting the 'cheese'. If too soft or the whey is milky, let set for a few more minutes.
6. Cut the curd into a 1" checkerboard pattern. If a drier cheese is desired, carefully cut into smaller curd sizes and gently stir to release more whey.
7. Place the pot back on the stove and heat to 40'C/105'F while slowly stirring the curds with your hands, using a gentle lifting motion. Once that temperature is reached, take off the burner, cover and let the curd release more whey undisturbed.
8. Strain the curds through a mesh strainer or scoop them with a slotted spoon into a microwave-safe bowl.
9. Press this curd gently with your hand, pouring off as much whey as possible. Reserve this whey to use for cooling the mozzarella.
10. Microwave the curd on high for 1 minute. You will notice more whey has run out of the curd. Drain off the whey. Season the cheese to taste with salt. Quickly knead the cheese with a spoon or your hands until it is cool enough to touch (rubber gloves will help – the cheese is almost too hot to touch at this point).
11. Microwave 2 more times for 30 seconds each and knead. Drain all of the whey as you go. Knead quickly now as you would bread dough, until the cheese is smooth and shiny. (If you want a softer texture, work the curd less when draining and kneading. This will make a moister cheese.)
12. Taste it for seasoning and add more salt if necessary. This is where you can add other spices or herbs.
13. At this point the cheese should be soft and pliable enough to stretch like taffy. It is now ready to eat or you can add ice to the reserved whey and cool your cheese in the whey. When cold you can wrap in plastic and it will last for several days, but is best when eaten fresh.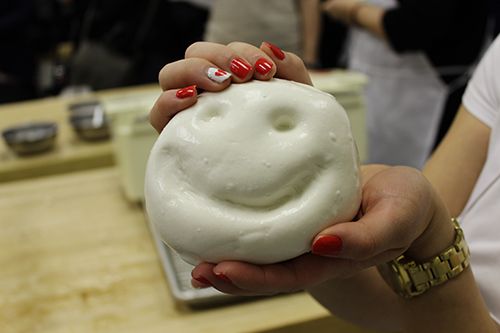 So now you must be thinking, where on earth am I going to find citric acid and rennet?! Well, I can start by telling you that citric acid is fairly common. I've picked it up at London Drugs in the pharmacy, and at Bulk Barn. As for the rennet, you can find it in a box at the Italian Centre - but you get a fair amount, so share with your friends!

NAIT's Retail Meat Store
For step by step instructions on how to make your cheese, check out
this awesome video demo
put together by NAIT. If somehow you're still not convinced that you can do it yourself at home, keep an eye out for the class that NAIT will be putting together in the near future!