Brunch in the Park: Square One Wye Road
February 01, 2014
Sherwood Park isn't always a place I like to venture out to. As I live deep in the south of Edmonton, I'll venture out to the park just for Sumo Sumo's sushi. Mmm. But last month a new restaurant opened up in Sherwood Park that offered "meticulously casual" cuisine in a "contemporary speakeasy" environment. The description was confusing but I was definitely curious to say the least.

Square One Wye Road - #32 993 Fir Street - Sherwood Park AB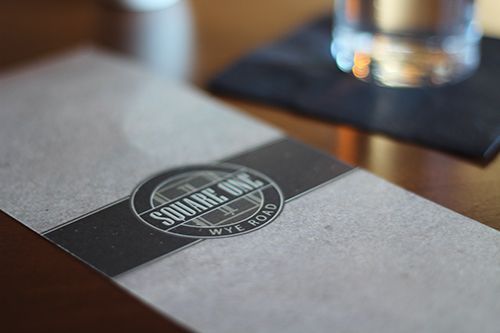 One of the owners, Marko Mastoras, reached out to me and invited me to their grand opening. I'm not one to give up the opportunity to try out restaurants that support local producers, so I brought my sister along with me for brunch to celebrate her birthday.
Square One has taken over the old Rogers Video space and the renovations are beautiful. Big windows allow for lots of natural light to stream into the restaurant to brighten up the space filled with wooden decor. A large bar outfitted with colourful bar stools sits in the middle of the dining room, and what really caught my attention was the beautiful baroque ballroom-esque ceiling over the bar. The space is a mix of cosy and casual, but likely has a more upscale feel in the evenings.
Square One offers their brunch menu on Saturdays and Sundays from 11AM - 2PM so you can sleep in and still catch brunch on those lazy weekend mornings. With every brunch they will be offering a freshly squeezed juice depending on seasonal availability. I opted for the freshly squeezed orange juice ($4.50) and it was a nice refreshing start to my day.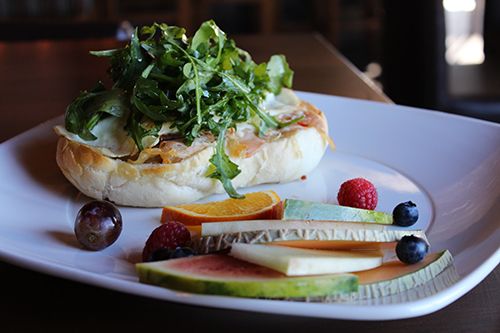 The menu at Square One is internationally influenced and features flavours from around the globe. This is especially evident in the brunch menu where all the dishes are named after different countries. I chose to go with Italy ($15):
open face sandwich, sourdough, prosciutto, arugula, mozzarella, fried eggs, tomatoes
. The sandwich was presented beautifully with a side of fresh fruit and I was excited to dig in with my fork & knife. All the ingredients were laid on top of pillow soft sourdough with a crunchy crust. The flavours were well balanced and a nice ooze of egg yolk tied the dish together.
My sister on the other hand ordered Russia ($16):
smoked salmon, crème fraiche, cream cheese, onions, pickles, latkes, blinis
. When it came to the table I was actually quite surprised to realize that the smoked salmon (along with other charcuterie) is made in house! Square One cures and smokes Lois Lake salmon and I loved that it was served up in chunks. I appreciated the flaky, meaty texture since I cannot stand the sliminess of other varieties at times. It was definitely on the salty side but the flavours were toned down when paired with the latkes and blinis. It was a nice dish all around and definitely filling with the side of fresh fruit.
With a primary focus on supporting local, Square One is a nice addition to the culinary scene in Sherwood Park. Lois Lake, Spring Creek Ranch, and Irvings Farm are just a few of the names you can find mentioned on the menu, and it's great to see more restaurants giving recognition to local producers. The dinner menu also offers tons of intriguing options. Butter chicken wings? Gochujang edamame? Calamari with togarashi? Executed well and this could become a favourite for many that live in the area. The dishes do run on the pricier side, but this is generally the trend seen when a restaurant is enthusiastic and willing to support local. Square One features drink specials daily and even has performances during happy hour from time to time. I wouldn't drive all the way out to Sherwood Park just for dinner, but if I were in the area I would definitely consider dropping by to check out some of the more inventive dishes. Check them out if you're in the area and let me know what you think!