Taste of Taiwan
November 26, 2010
Today after school, I was excited to try out this place I spotted not too long ago called Hong Kong Cafe. It's a little hard to spot when you're driving down 82 Avenue, but it's right next door to the Mandarin Restaurant.

I was hoping for this place to be a Hong Kong style cafe, with things like macaroni in soup, vermicelli noodles, and french toast, but boy was I wrong. Walking in through their doors, the feel wasn't quite right. The walls were bare, and there was nothing Asian-feeling about this place. They had a sheet of paper with their menu written on it, and once I saw the first thing, I was ready to leave. The first item on the menu was a hamburger! Like, what is that?! That has nothing to do with Asian cuisine if you ask me.. so out the door we went. As we left, I noticed there was a doorway in the wall, which led into the Mandarin Restaurant. Guess it's owned by the same people.. and catered to Caucasians.

Being completely frazzled, I had no idea as to where we should go to eat. We were running out of time since we had to work at six, so the only thing that came to mind was Taiwan Express! It was somewhat similar to what I had in mind, and I had been meaning to sit down and try out the food that they offer. This place has also been changing a lot in the past couple months. They've been changing their interior decor and doing renovations. Not to mention, they have also changed their name a couple times! Right now, I think they're going to take a break from all that.



Inside Taiwan Bbt
When we walked into the restaurant, we were greeted by their interesting decor. The place is dimly lit, with a black & red theme, giving the impression that the owners are trying to give this place a romantic vibe. Each table also has a vase with a red carnation sitting in it. Forget the colours, I'm not convinced it's a place to go for a romantic date.. I still see it as Asian central.
As we sat down, we looked at the food menu and the various items they had to offer. It wasn't a lot, but the selection was way better than what was available at Hong Kong Cafe. We ended up ordering one bubble tea and one bowl of noodles each, and the Taiwanese crispy chicken, as per Carson's recommendation. I don't quite remember the exact name of the noodles, but I'll try my best!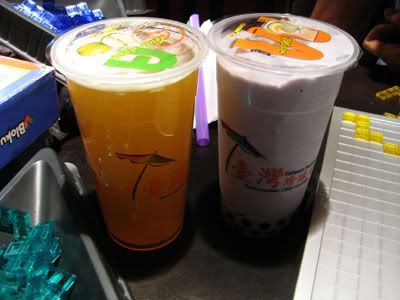 Yummy drinks!
I got my usual lychee green tea, but with aloe vera. Aside from Tea Bar in Chinatown, I haven't come across a bubble tea cafe that had it as an option. I love that the chunks are juicy and crisp, yum! Vince ordered the 'Sweet Kiss' whcih was a mix of taro & coconut. I've never been a big fan of the powdered, artificial tasting drinks, because they're so bad for you! Full of sugar, cream, and sweeteners, the powdered bubble teas really shouldn't be consumed on a regular basis. Good thing he gets one every 3-4 months, haha.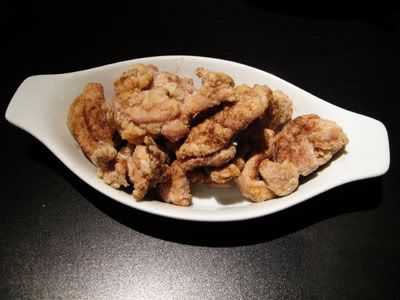 Crispy Chicken
The first dish to arrive was the crispy chicken. It wasn't extremely crisp to the point that the batter encased the dough so much that it wasn't flexible (think KFC popcorn chicken & chicken fingers/nuggets), but the outside had a softer crisp, and the chicken was 'flexible'. The chicken was marinated with a unique mix of spices, reminiscent of those used to season BBQ pork. It was quite yummy, but a little on the salty side. The dish remained hot even after sitting for a couple minutes, so we were able to enjoy it at our own pace instead of chowing down before the food became cold!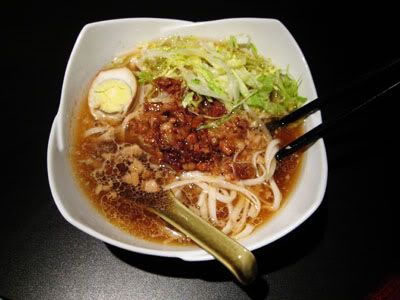 Taiwan Soup Noodles
I ordered the Taiwan Express Soup Noodles, while Vince ordered the BBQ Duck Soup Noodles. When they arrived, the looked quite different from one another, but tasted very similar. I don't really know what exactly was in my noodles, because there were various little chunks of meat, and multiple chunks of fat mixed in. It was unbelievably oily! Without the chunks of fat, I'm sure this noodle bowl would have tasted equally as good. Thank goodness for the shredded lettuce, it helped absorb A LOT of the oil. Man, I felt like my face was drenched in oil!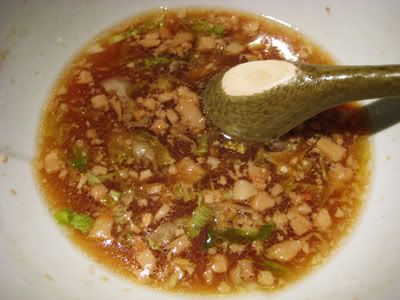 Oily aftermath
One thing that I didn't really like, which has nothing to do with taste of the food, was the chopsticks that came with the bowl. They were extremely wide set on the top end, and extremely narrow on the other end, making them SO difficult to use!

Ridiculous Chopsticks
Vince's duck noodle soup was different fron what I imagined it to be. I thought it would be presented like a chewy BBQ duck "lai fun" (noodles), but the noodles were relatively soft, and the broth was quite peppery, with other spices mixed in. His bowl was much less oily, but I wasn't a big fan of it's taste.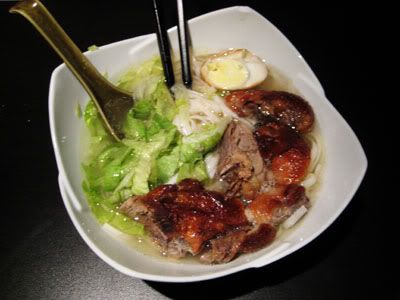 BBQ Duck Noodles
I think this place has a lot of potential to develop into a popular bubble tea place in Edmonton. The owner is very friendly, and it's a nice lounge type environment to be in to hang out with friends. There is a wide variety of board games available to play as well. The best part of this place is that they have many food options available for those who are hungry. Unlike Dream Tea House that has stopped serving hot food for well over a year now, this place definitely has a competitive edge. Check them out too, at www.taiwanbubblezone.com
Taiwan Bubble Zone
8025 104 Street
Edmonton AB