Sephora Holiday Haul 2010
November 23, 2010
It's always so disappointing for me every year when the Sephora Friends & Family event happens around November. The Friends & Family event entitles individuals with an invite from a Sephora employee to receive 20% off their entire purchase. Now you would wonder, why exactly would I be upset if I receive 20% off? WELL, the problem is that there is a code that can be used online to receive 20% off the entire purchase, and it is available to anyone and everyone that uses the internet. But here's the catch: only people living in the USA can use it! Despite giving Canada the capability of ordering Sephora's great products, we are inelligible to use the discount. On top of that, we need to order a minimum $120 worth of product in order to get free shipping (versus the $50 customers must order in the USA for free shipping). I can't help but be sad and upset!

Luckily, things turned around and Sephora sent me a 20% off Weekend Saving's pass to use as many times as I want at Sephora stores from November 10-15. Thanks! The only downside is that not all the items I want are always in the stores. Boo. But that didn't stop me from picking up some items for myself & picking up Christmas presents for my friends & family!

If you know me, you'll know I'm a shopaholic and spend waaaay too much of my time inside Sephora buying their things. I'm hooked. With my 20% off I picked up the following:



Philosophy Apricots & Cream Body Lotion
This is HANDS DOWN my favourite lotion in the world!! It smells simply amazing and is so moisturizing, I love it! Heck, I love everything Philosophy!

Benefit Cosmetics Brow Zings
Ever since my meeting with Hyejin at the Trick or Treat Yourself Gala, this has been my go-to for my brows! She used this kit on me and it's so easy to use to maintain my brows. Love it!

OPI for Sephora Flurry Up Top Coat

OPI for Sephora Only Gold For Me Top Coat
These two top coats are so pretty, and might not be what you think! It's not thick with sparkles and chunky glitter, but there is a fair amount of top coat polish within the bottle to make the chunks of glitter sparse or crowded together depending on how you maneuvre the brush. This top coat STAYS like crazy, doesn't move at all, and takes quite a while to remove. I would suggest using it only once in a while because it takes me a good 2 minutes per finger to remove every piece! But they are perfect for festive holiday nails!

Philosophy Holiday Greetings Set
Did I mention I love Philosophy? Oh yes, I did. I love the gift sets they bring out during the holidays because they are housed in such cute little boxes! This one is like a mailbox, and when you open it up inside, the three products are standing there inside like they were mailed to you! Super cute and a great gift idea :) Also, they smell so yummy with vanilla undertones!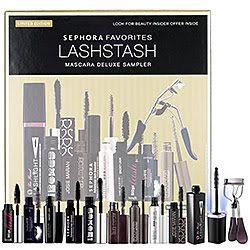 Sephora Favourites LashStash Mascara Deluxe Sampler
Biggest bang for your buck! This set includes 10 best selling mascaras, an eyelash curler, plus a special offer inside. You get to try out a ton of different mascaras, and find out which one is your favourite. It's recommended that you use each tube 2-3months maximum for hygenic reasons, so.. guess how long this set will last you? I'll let you do the math :)

Philosophy Mouthwatering Watermelon Shampoo, Shower Gel & Bubble Bath
Yet another Philosophy product. Told you I can`t get enough! I love the 3 in 1 function of Philosophy`s products, and who doesn`t love watermelon scent! It reminds me of watermelon Jolly Ranchers :)

Sephora Collection Nail Care
I`ve been turning to the Sephora nail care collection for about 3 years now, and the one product I`ve been using all this time is the purple one, which is a nail hardening and strengthening serum. I love this product and use it as a base coat under polish, and it works VERY well to keep my nails hard and healthy! It's on clearance now, so try to snag it up before it's gone! It came out to $1 with my 20% off, such a steal!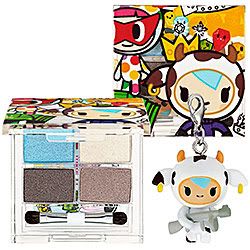 Tokidoki Cromatico Eyeshadow Palette in Mozzarella

Tokidoki Cromatico Eyeshadow Palette in Adieu
I'm a sucker for anything and everything that's cute, so Tokidoki is no exception. I have the other two eyeshadow palettes that have been released already, and I love that the colours are super pigmented! Plus they come with a little charm inside, so I can't say no!
If you've got the 20% off savings pass, better use it before it expires!