Sandwiches & Savoury Pies: D'Amores Mercato
July 04, 2014
It's been a busy week for me but that hasn't stopped me from venturing out for an Italian fix! I have heard a lot of great things about a new Italian market here in Edmonton and finally had some time to check it out with a friend.

D'Amore's Mercato - 4612 99 Street - Edmonton AB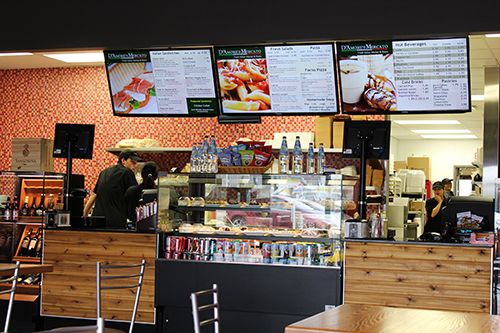 D'Amores Mercato opened up in the south side of Edmonton in February of this year. I expected the space to be pretty big considering all that it offers, but the market and bistro are both in a small 100 sq. foot space. When I walked through the door the bistro side immediately caught my attention with the wood burning oven in plain sight.
It was about 12:30 last Wednesday when we arrived and it seemed like we just missed the lunch rush. We walked up to the front counter to see the menu displayed on three different screens and found a wide range of offerings ranging from salads to sandwiches to pizzas and pasta. It was difficult to pick, but we settled on sharing a sandwich and pizza since we also got tempted by the pastries in the display case.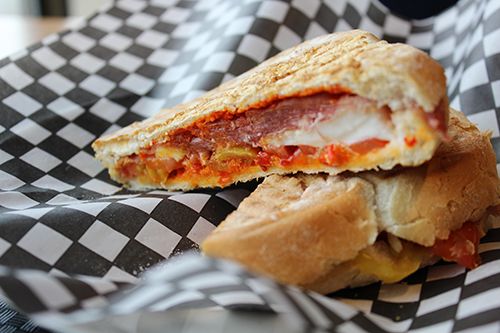 Our Prosciutto & Bocconcini Sandwich ($6.50 medium size) was up first, available on white or whole wheat. Grilled up on a panini press, this sandwich came out hot with melted gooey bocconcini. The sandwich didn't skimp out on the prosciutto, as the multiple thin layers stacked together to give the sandwich some substance. The addition of pickled peppers and veggie spread gave the sandwich a tangy kick and the light crunchy bread held everything together. Their menu boasts a wide variety of sandwiches, and if they're all as good as this one I'll need to come back and try them all out!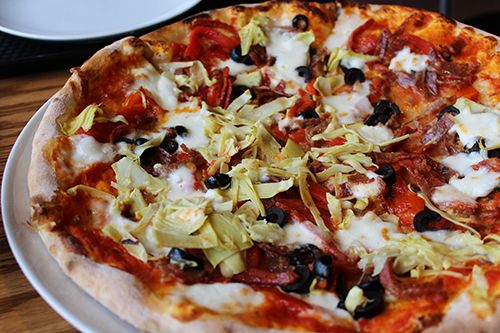 We ordered the Mercato Pizza ($12.95), which is topped with artichoke hearts, hot soppressata, peppers and mozzarella. This pizza looked pretty impressive when it arrived at the table. The light, thin crust was perfectly cooked without any charred bits and had an abundance of toppings scattered overtop. It was larger than I had expected for the price and the flavour was bang on.
Out of all the pastries and desserts in the display case the sfogliatelle was the most interesting. I've never actually had one in the past so it was exciting to see that D'Amores Mercato makes them from scratch in house. This particular pastry is shell shaped and made of many thin layers of dough and butter, giving it the distinctive layered appearance. It takes quite a lot of skill and patience to make sfogliatelle so it's definitely nice to have a place to purchase them from. I took a bite of the cold pastry and instantly knew it would be much better served warm. Bringing it home and toasting it up in the oven made the pastry golden brown and crispy and warmed up the lemon ricotta mixture inside. It was a little on the oily side, but the filling was fragrant and the creaminess worked well with the pastry.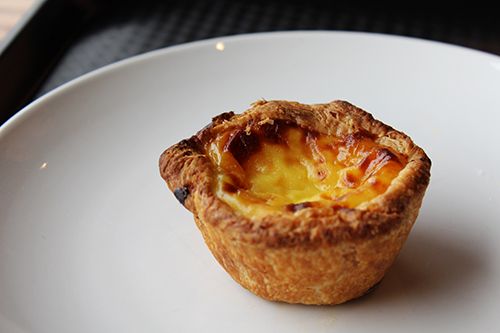 A pastry that I absolutely love is Portuguese egg tarts. Everytime I'm in Macau I pick up a ton and just binge on them 'cause they're absolutely amazing when they come hot out of the oven. D'Amores Mercato also offered one and unfortunately this couldn't compare to the real deal. The pastry shell was quite dense and not crisp and flaky the way it should be. The custard in the middle was also too sweet for my liking, so I would stay away from this one.
D'Amores Mercato is a great addition to Edmonton. The bistro side served up delicious food and I definitely would return again to try out some other offerings. I'm looking forward to trying out the fresh pastas made in house and I've heard great things about the tiramisu. On the market side there is a deli with a wide variety of cured meats, but what caught my eye was the freezer section. Many of the dishes served on the bistro side are packaged up into different sized portions for you to take home and enjoy! How great is that? They also support Edmonton's Pinnochio Ice Cream by carrying an array of flavours in the freezer. The small space has quite a lot to offer, so if you have the chance definitely stop by for a bite! Orders come out quickly and you can be in and out of there in no time.