Korean Chinese: Rae Mi Hyang
July 16, 2014
After the opening of Mama Lee's Kitchen in the south side I was surprised to hear that another Korean restaurant was opening up in the same strip mall. I'm not the biggest fan of Korean style Chinese food but figured it was worth checking out since it is so close to where I live.

Rae Mi Hyang - 10625 51 Avenue - Edmonton AB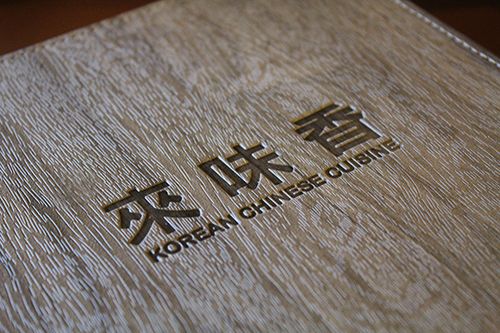 A bunch of us food bloggers decided to get together and check this restaurant out on a Thursday night. The restaurant doesn't take reservations so arriving at 6pm allowed us to get seated at a large enough table for us all. That fateful night was one of the hottest in Edmonton so far for the summer and lucky for us the restaurant has no air conditioning. The combination of the outside temperature, number of people seated inside and the heat coming from the kitchen made it crazy hot in that small little restaurant.
In most Asian cuisines, dishes are served family style so you're able to have a little bit of everything. We were disappointed to find out that none of the cold seasonal dishes were available, especially given how hot it was in the restaurant! But we decided to start with Jab Chae (#19, $20) which is one of my favourite Korean dishes. The dish is comprised of chewy sweet potato noodles stir fried with a variety of vegetables and pork. I really enjoyed the version at Rae Mi Hyang as there was plenty of fragrant sesame oil for flavouring which also prevented the noodles from sticking to one another. There was a generous portion of vegetables, everything was seasoned well, and it even had a kick of heat!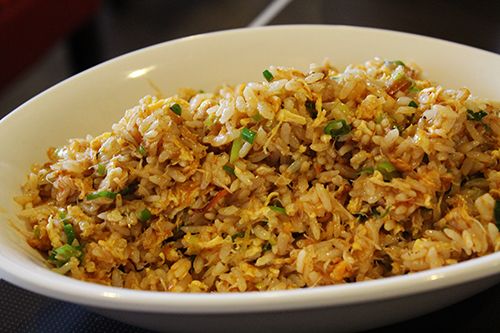 Next up was a crab meat fried rice with XO sauce (#46, $15) which came piping hot to the table. There was a good amount of real crab meat in the rice, some vegetables, and fried egg. A bit of heat came from the XO sauce, but otherwise I found the dish to be quite ordinary.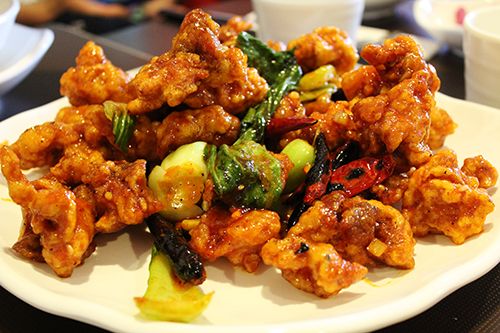 With a thin, deep fried coating and a smothering in sweet chili sauce, Korean fried chicken seems to be all the rage these days. The Kan Fung Gi (#25, $23) at Rae Mi Hyang is described as deep fried chicken with a spicy and sour sauce. A huge plate of deep fried chicken strips arrived at the table coated in a sweet and very spicy sauce. I'm not a huge fan of sweet & spicy so I was a little disappointed when the dish arrived different from the description on the menu. Everyone else seemed to enjoy the dish though, working hard to eat through the heat of the chilis.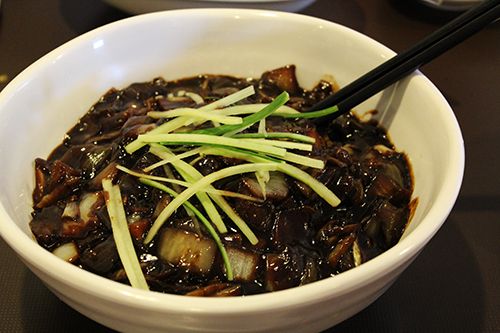 Next up were our noodle dishes, and the first to arrive was the Jajang Myun (#37 - family size, $18). This dish is very popular in Korean Chinese restaurants as it is a dish that originated out of China. A thick sauce is made out of salty black soybeans and Rae Mi Hyang has the flavour spot on. It has a perfect balance between sweet and savoury, and the sauce isn't overly thick. The wheat noodles resting below the sauce were al dente with a slightly chewy texture, and there was a good portion of onions, cucumbers and radish to accompany the dish.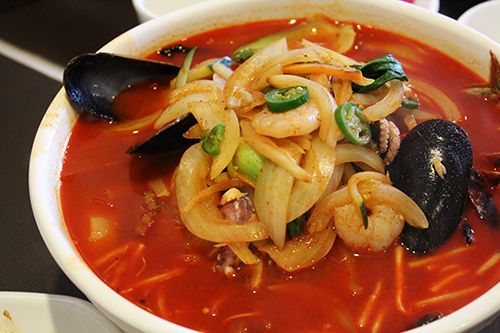 Last but not least came the Jjam Bong, and we ordered the spicier version (#38, $14). Jjam bong is a popular korean dish that is basically spicy seafood noodle soup. We may be crazy for ordering a hot noodle soup on a hot day, but jjam bong is a dish that I love and I wanted to try out Rae Mi Hyang's offering. A big bowl of noodles came out to the table, topped with some jalapenos to give additional heat. The broth itself was quite spicy and peppery with some garlicky notes in there as well. Mussels, shrimp and squid sat atop of the dish, and some digging around revealed half of a small crab in the bowl as well. Surprise! Had I known how spicy their dishes would be, I probably would have gone for the mild version, but the noodles were cooked well and all around it was a solid dish.
Rae Mi Hyang is a cute little Korean Restaurant situated in the south side of Edmonton. It offers up something different from Mama Lee's Kitchen three doors down and the service is quick and friendly. I did feel that some the dishes tended to be more on the expensive side compared to their counterparts at other Korean restaurants, so I hope that extra profit is going towards installing some air conditioning in the restaurant! I enjoyed the noodle dishes and would return for the jjam bong when the weather cools down and I'm craving some Asian comfort food. Check them out and let me know what you think!