Italian Street Food: Via Cibo
November 05, 2015
Roaming through the streets enjoying gelato, followed by indulging in a giant pizza and charcuterie... Oh, what I wouldn't do for a trip to Italy this instant! While I can't get my hands on Italian street food right now, there's a new eatery opening up promising to deliver just that.

Via Cibo - 222 Baseline Road - Edmonton AB


The Crave It Restaurant Group that brought Burger's Priest to Edmonton in March has brought
Via Cibo
, an Italian fast-casual restaurant, to Sherwood Park. This is the third Via Cibo to open in Canada, with the other two locations being in Calgary and Toronto. The restaurant opened it's doors on November 1st, and I had the opportunity to check it out on opening day.
Via Cibo occupies a fairly large space off of the busy Baseline Road in a great location that is easily seen while driving by. The space is clean, modern, and designed to be a quick dining option. As you walk in, you're greeted by the
large menu boards
behind the counters and a staff member at the register. After placing an order, you are given an order number and lead past the open kitchen to a beverage station before finding a seat in the restaurant. I love this self-lead form of service in casual restaurants, as each experience is tailored to your needs. Whether you're in to grab a quick bite to eat, or planning to spend time sitting down for a longer meal, the servers are available when you need them, and they're not rushing you with constant visits to the table either.
To start off our meal we had an order of the Tuscan Fries ($5) which are tossed with a mixture of rosemary, sea salt and truffle oil before being topped with a light shaving of Grana Padano Cheese. The fries were golden and crisp and the spicy garlic aioli gave the fries a nice punch. Although the rosemary tended to overpower the delicate truffle flavour with most bites, the fries were a nice little snack I would order again.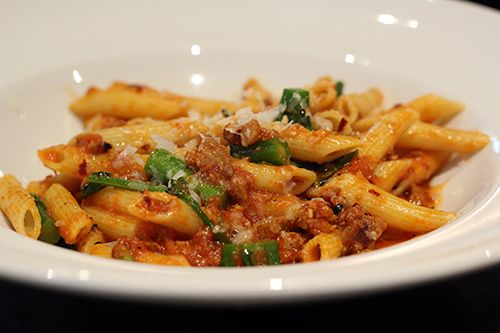 Next to arrive at our table was the Broccolini and Sausage Penne ($14) that was recommended to us by Roxanna Martins, one of the operating partners at this location. All pasta options on the menu (with exception of the gnocchi) can be served with your choice of penne or linguine, and gluten free options are available too. Pasta used at this location is brought in dry from Italy and cooked al dente. Our dish featured broccolini, house made Italian sausage and the pasta tossed in a chili garlic olive oil, tomato sauce and was topped with Grana Padano. The pasta had a good portion of toppings and was fairly portioned for the price.
At Via Cibo all the sandwiches (there are 5 available) are constructed between housemade calabrese bread. We tried the Ossobuco Panino ($14), because who can resist fall of the bone braised veal? The meat is combined with caramelized onions, arugula, provolone cheese and roasted garlic aioli. The sandwich may not look like much, but the tender meat was well seasoned and gave the sandwich a punch of flavour to contrast the sweet onions. The bread was soft, but I would have preferred for it to be slightly toasted for some added crunch.
Last but not least came the Prosciutto E Arugula Pizza ($15). Prosciutto and arugula are two of my favourite toppings on pizza, so I just had to order this one. Via Cibo uses prosciutto, arugula, Fior Di Latte, slow roasted tomatoes, Grana Padano and a fig-infused balsamic reduction on their version. While I didn't like that the prosciutto on the pizza was cooked (I prefer mine just cured), there was a fair portion on the pizza along with the other ingredients. The crust to the pizza was thin, but held itself together well structurally, meaning that it didn't fall apart or become mushy from the toppings. According to one of the operating partners, the staff are trained to place a majority of toppings towards the outside of the pizza so as not to put too much moisture or weight on the middle. So that's the trick! The crust was evenly cooked with some blistering, and I would be open to trying some of the other options.
When it comes to sweets, Via Cibo has brought Calgary's Fiasco Gelato on board to offer 10 different gelato flavours to customers after their meals. Flavours will rotate from time to time, and it's great to see that Via Cibo is supporting a great Albertan gelato maker!
Throughout the dining experience, I couldn't help but compare Via Cibo to Famoso Neapolitan Pizzeria, an Alberta-based fast casual chain of restaurants. I'm sure many others would come to the same comparison as the dining format and some menu items are similar, even down to the gelato and alcoholic beverage service! While both serve Italian food, there are some distinct differences in their menu offerings and dining environment. I think it will be interesting to see how business will be at both Famoso and Via Cibo, as they are literally down the street from one another!
Via Cibo is a great addition to the lineup of dining options out in Sherwood Park, and I'm sure people are welcoming it with open arms! The service was friendly, food came out quickly, and the food was both tasty and affordable. Catering options are available too, so it will be a nice option to change up the usual office lunches! A second location is set to open soon in South Edmonton Common, but in the meantime, stop by the Sherwood Park location for a traditional piadina and a little taste of Italian street food.
*Disclosure: I was invited to try the Via Cibo on their opening day. Views expressed in this post are solely mine. This post is 100% my opinion, and as always, my priority is to you, the reader, to present an unbiased, thorough review.