Fall Comfort: Good Earth Coffeehouse
October 31, 2015
Edmonton has transitioned into fall with the brisk mornings and orange leaves scattered about. When the cool weather comes I crave foods that warm me up. Soups, stews, and anything that falls under the comfort food category works for me!

Good Earth Coffeehouse - 8623 112 Street - Edmonton AB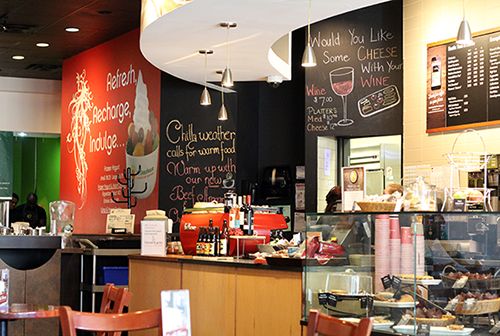 Good Earth Coffeehouse is a Calgary-based coffeehouse franchise with 40+ locations across Canada. Back in my university days, Good Earth was a spot I visited from time to time to catch up with friends over coffee and pastries. There's a comfortable, casual vibe and it's a great spot on campus to sit down and get some work done. During my undergrad, I never quite ventured into their savoury dishes, but I recently heard about their fall menu and stopped by with my boyfriend to check it out. With soups and stews to warm up, I couldn't say no. After all, it's what I've been craving lately!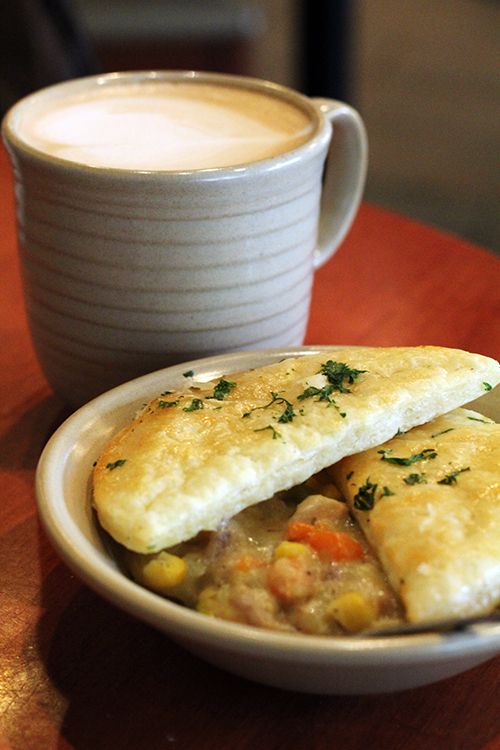 As described by Good Earth, the fall menu features dishes with classic flavours and some uncommon touches. New on the fall menu this year is a Chicken Pot Pie ($4.75 sm/$6.75 lg), served deconstructed with two pieces of herbed pastry on top. Chicken pot pie is a comfort food classic and Good Earth's version hit the spot. A generous portion of chicken and vegetables sat in a well-seasoned gravy sauce. Combined with the flaky pastry, this was hearty dish to warm up with.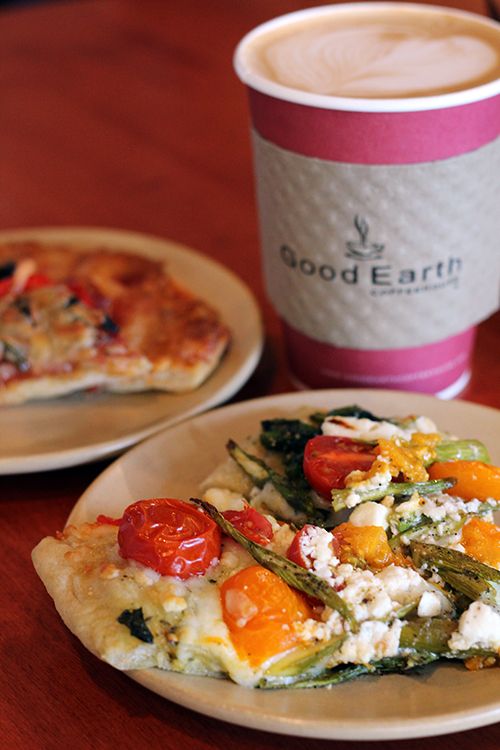 Next we tried the two flatbreads available on the menu. The Kale Pesto Flatbread ($5.25) is topped with a kale and basil pesto, roasted asparagus, heirloom tomatoes and feta. The Sicilian Flatbread ($5.25) features three types of Italian salami, roasted red peppers and olives. While the Sicilian Flatbread had great flavour reminiscent of those in a pizza, I was partial to the kale pesto version given the contrasting textures and vibrancy of colour and flavour.
The flatbreads were paired with a Pumpkin Spice Latte ($4.75 med), which had just a hint of pumpkin spice. The spices were not overwhelming and the latte not too sweet, which is what this fall-themed drink should be!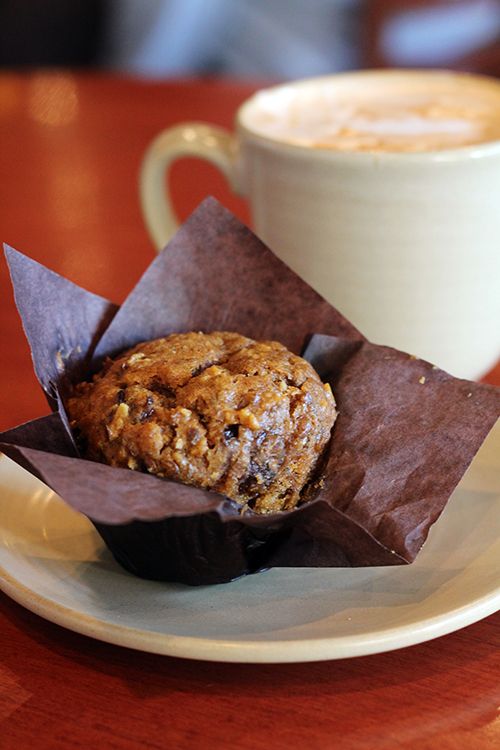 To finish off the visit we enjoyed a Pumpkin Spice Muffin ($2.25) paired with a Vanilla Rooibos Latte ($4.10 med). The pumpkin spice muffin at Good Earth is vegan-friendly and the most popular muffin at the cafe year after year. I can see why - the muffin is incredibly moist, not too sweet, and chock full of dried fruit and seeds. The muffin is filling and pairs well with the fragrant vanilla scented tea latte.
Sitting down at Good Earth for a quick lunch brought a bit of nostalgia, but I'm in no rush to resume any post-secondary education any time soon! Regardless, it was great to take in the surroundings and enjoy some of the new items on the Fall Menu. I love that Good Earth is affordable and a great option around the city for coffee and a quick, hearty meal. Stop by to grab a muffin and a latte, or sit and have a bite to eat. The Fall Menu is available for a limited time, and as we all know, pumpkin spice will be gone in a flash!
*Disclosure: I was invited to try the Fall Menu at Good Earth Coffeehouse. Views expressed in this post are solely mine. This post is 100% my opinion, and as always, my priority is to you, the reader, to present an unbiased, thorough review.