Sugar & Fire: Burnt To Order
October 22, 2015
Cream, eggs, sugar, fire. Put them together and you have your basic creamy custard-based dessert. While the base to all custards are composed of the same ingredients, the ratio in which they are combined can result in drastically different desserts.

Burnt To Order - 1235 26 Ave SE (Crossroads Market) - Calgary AB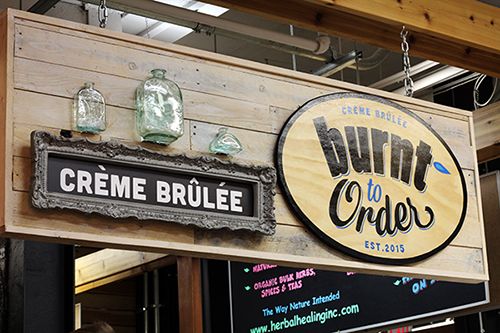 Creme Brulee is one of my favourite classic custard desserts. I prefer mine where the custard is creamy but not overly sweet and the caramelized sugar cracks away beautifully when broken. This past summer I was introduced to the specialty creme brulees crafted by Chef Jesse at Burnt To Order, and I haven't been able to eat any other creme brulee since.
Burnt To Order can be found on weekends at the Crossroads Market in Calgary. The menu serves up granola and breakfast brulees, but I'm mostly interested in the specialty creme brulees. Burnt to Order offers 4 core flavours on their creme brulee menu that change every season, and each weekend there is a special feature as well. The creme brulees are gluten free and there's even a vegan option available, meaning there's a dessert here for everyone.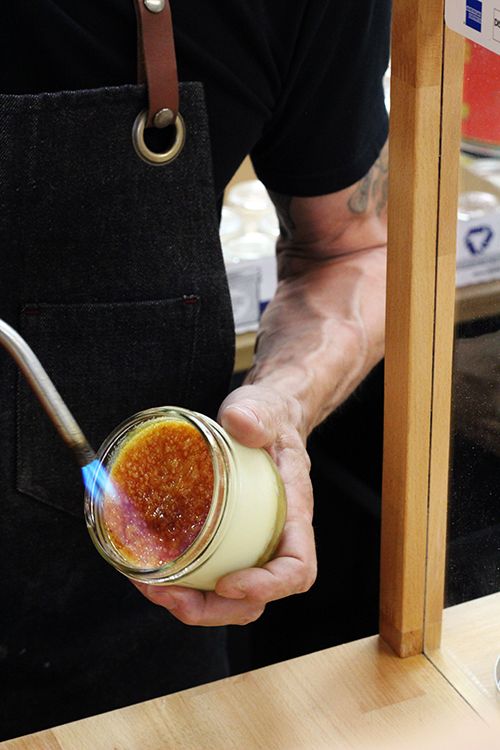 Although the flavours of each brulee are different, the custard base is just about the same. The creme brulees are smooth, creamy, and it is literally impossible to have just one bite. At $8.50 each, or 3 for $24, the prices are incredibly reasonable for the quality of dessert that you receive.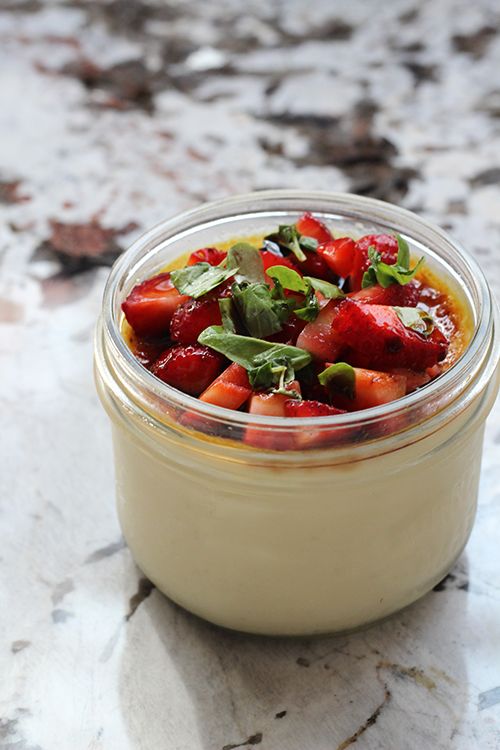 During the summer time the Bean & Basil was, unexpectedly, the flavour combination I fell in love with. A vanilla bean creme is bruleed and topped with fresh strawberries, microbasil, and a drizzle of 10 year aged balsamic vinegar. The strawberry and basil combine well, and the balsamic adds a tart component that cuts through the rich custard base.
Another favourite from the summer was the Cracker Jacked (also on the fall menu!), which featured a popcorn infused vanilla custard topped with salted caramel sauce and kettle corn from Sugar Creek. I'm a huge sucker for freshly made kettle corn, and the sweet and salty balance in this creme was delightful.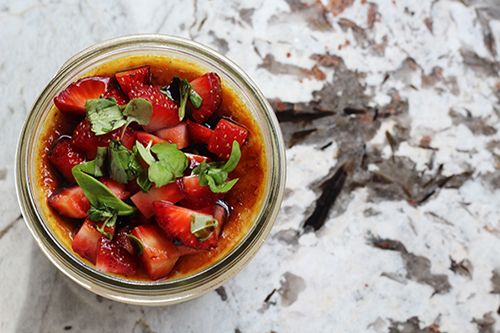 Burnt To Order utilizes local and exotic ingredients and is environmentally conscious by serving the creme brulees in reusable Mason jars. The flavour combinations range from classic to contemporary. and many are innovative flavours I would never think to pair with a classic creme brulee. I've loved all the flavours I've tried so far, and every trip to Calgary now includes a stop at Crossroads Market to pick up a couple creme brulees to enjoy when we are back home in Edmonton. As long as you let the "char-ista" know that you're bringing the brulees elsewhere, the toppings are packaged separately and everything transports incredibly well for later enjoyment.
The fall menu is now featuring an apple pie creme that is totally calling my name. With fall spiced Golden Delicious apples paired with salted caramel custard, it sounds like I need to make a trip down to Calgary. Stop by the market Friday-Sunday each week and get yourself some creme!