Kazoku: Ramen Bowls for the People
October 14, 2015
Over the last few months one thing about Edmonton has become clear: the people in this city are hungry for a good bowl of ramen. While the opening of Prairie Noodle Shop's highly anticipated storefront is still months away, there's a new contender offering up steaming bowls of this Japanese comfort food in the west end of Edmonton.

Kazoku Ramen - 16518 100 Avenue - Edmonton AB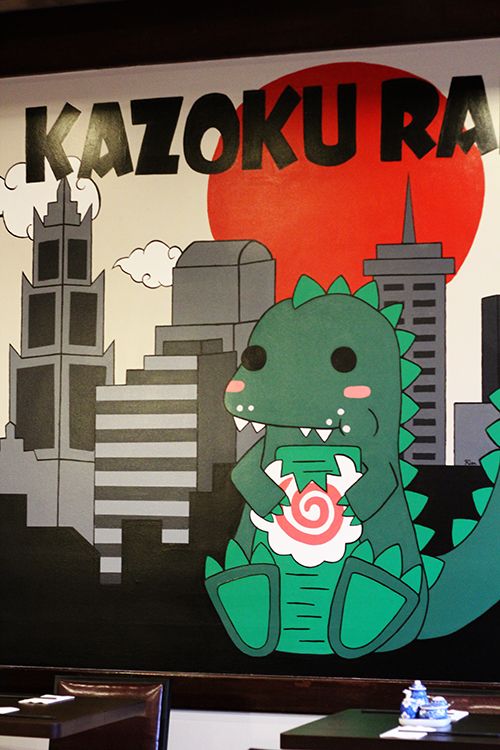 I had the opportunity to attend Kazoku's soft opening last week to get a sneak preview of the new restaurant space. Kazoku is the Japanese word for 'family,' and the team behind this new restaurant strives to serve only food that they would be proud to serve to their own families. When you step into the restaurant you're greeted by Kazoku's very own Godzilla munching on a monster sized narutomaki. This Godzilla isn't just a cute face, he's the mascot behind the giant Godzilla ramen bowl!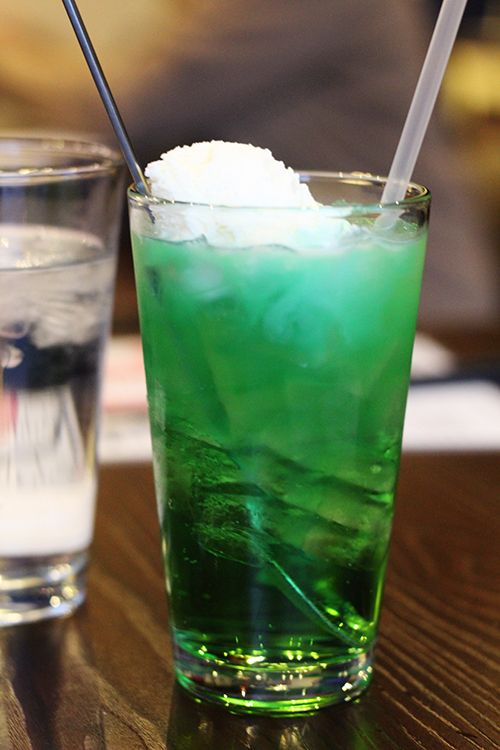 The menu at Kazoku is fairly focused, offering a couple appetizer plates and a variety of ramen bowls and rice bowls. The menu at Kazoku also features a variety of housemade sodas to enjoy with your meal. The Japanese Cream Soda ($5) caught my eye, and I was surprised to see that the soda itself was bright green in colour. You could definitely tell that the honeydew flavour was artificial, but it mimicked the true flavour fairly well. The ice cream gave the drink a nice hint of vanilla flavour and creaminess, so if you're a honeydew lover, this one is for you!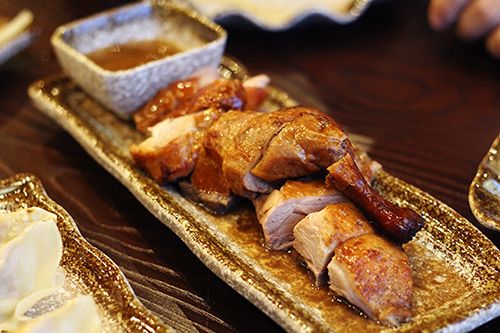 Our table decided to start out with a couple appetizers, trying three of the six available plates. The BBQ duck ($10) is roasted Chinese style in house daily and served with a side of plum sauce. The marinade for the duck was fairly typical of the ones you can pick up from any Chinese BBQ shop, but I found the meat to be quite moist and flavourful.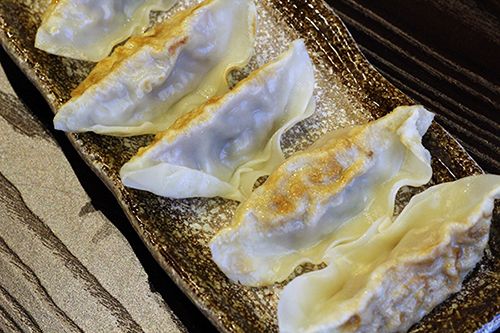 Next we had the pork Gyoza ($7) served as a set of 6. The dumplings were pan fried to a lightly golden crisp, keeping the meat inside juicy and flavourful. While these gyoza were pretty standard, I quite enjoyed the ponzu style dipping sauce as it was both sweet and savoury with a kick of heat.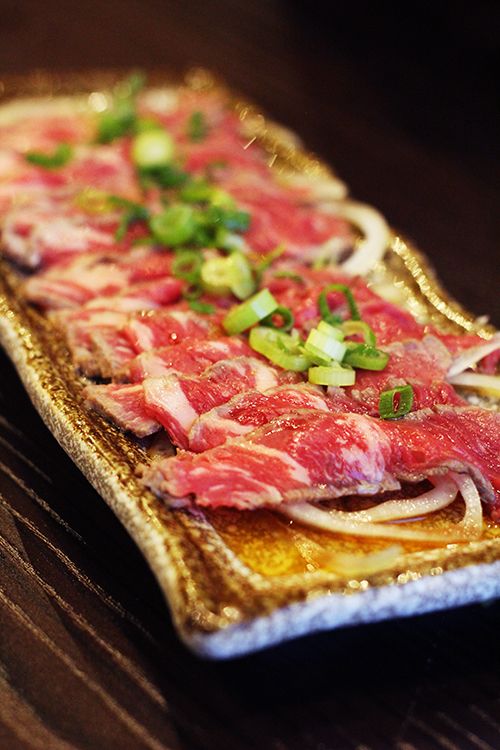 Last but not least we had to try the Beef Tataki ($11). Kazoku's version had beautifully marbled striploin that was tender and sweet, dressed with onions, scallions, and a light but flavourful ponzu sauce. The slices were a fair thickness, and the portion size quite reasonable for the price.
Next came the part we had all been waiting for: hot, steaming bowls of ramen. The menu offers five different options, which include the Kazoku ramen, tonkotsu ramen, miso ramen, shoyu ramen, and shio ramen. The toppings in each bowl are quite similar, so the bowls mostly differ in their soup bases.The first bowl to arrive was the Tonkotsu ramen ($14) topped with slices of char siu, a half soft-boiled egg, nori, bamboo shoots, corn, bean sprouts, toasted sesame, green onion, and narutomaki. The soup was slightly thick and creamy, the way most tonkotsu broths should be. I felt the broth could have used a tiny bit more seasoning, but otherwise it was tasty.
While the broth is made in-house, the wavy noodles are flown in from a manufacturer in Vancouver. The noodles aren't too thick or thin, and once cooked have a dense, slightly chewy texture. While they hold their shape well while you enjoy the bowl, they don't quite have the elastic bite that I prefer.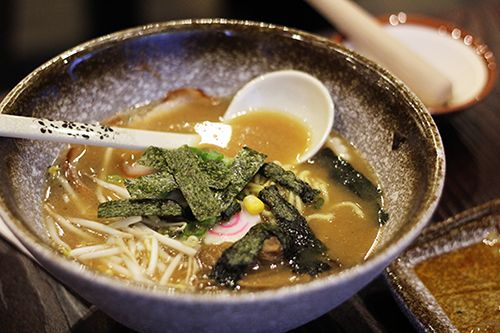 We also got an order of the Miso ramen ($13), which featured the same toppings as the tonkotsu, except with shredded nori. The miso ramen featured the most flavourful broth of all the bowls at our table that evening, and you could taste the subtle nutty flavours in the broth. The char siu in these ramen bowls is equal parts lean and fatty, lending extra flavour to the noodles. The soft boiled eggs are cooked to the perfect consistency with a slight oozing yolk, but they would be made even better with a marinade.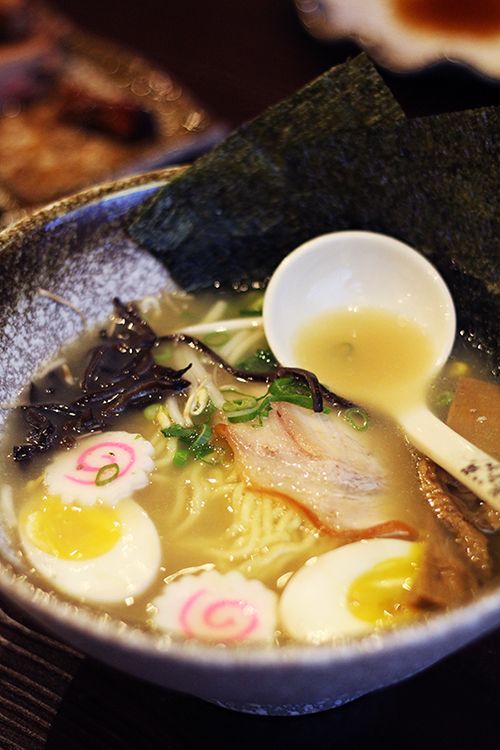 For myself I had to order the Kazoku ramen ($15), which features char siu, a full soft-boiled egg, nori, bamboo shoots, corn, wood-ear fungus, bean sprouts, toasted sesame, green onion, and narutomaki. Basically, all the toppings that Kazoku uses in their ramen bowls. This ramen sets itself apart from the rest by its clear pork and chicken based broth. It's the lightest broth the restaurant makes, and it has very subtle flavour to it. I wasn't expecting this upon ordering, and initially found the broth to be quite bland and underseasoned. If you're looking for a broth that isn't too heavy, this may be for you, but I like my noodle soups to be packed with umami, and this bowl unfortunately didn't do it for me.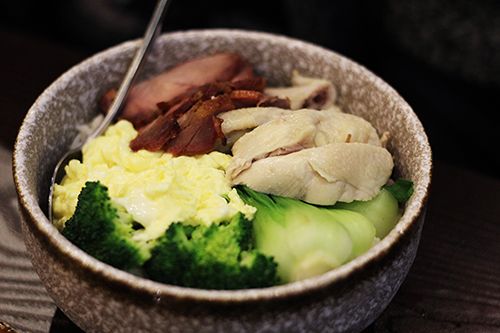 Since Kazoku also offers rice bowls, we needed to try one out for ourselves. Bowls can be topped with BBQ pork, BBQ duck, imperial chicken, or soya chicken, but we chose to get a combination of the BBQ pork and imperial chicken with the 'pick two' option ($14). The large bowl of rice came to the table with a generous portion of pork and chicken, and sides of a soft omelette, broccoli, and bok choy. The rice bowl came as described, but it was quite boring compared to a big bowl of ramen with a variety of toppings. As rice bowls are fairly easy to put together, I would recommend skipping them all together and ordering a bowl of ramen instead.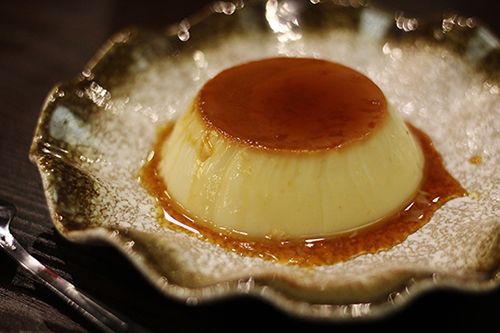 To finish off the meal that evening I chose to try the Purin ($4.50), which is the Japanese version of a creme caramel or flan. I'm a sucker for custards, and this one didn't disappoint with it's smooth, creamy texture. The purin wasn't overly heavy or sweet, making it a perfect end to the meal for me.
The ramen scene in Edmonton is continuing to grow and it's great to finally have an option in the west side of the city for a bowl of this Japanese comfort food. While the noodles at Kazoku aren't what I prefer, the tonkotsu and miso ramen broths lack some depth but have good flavour, making them on par with other bowls in the city. As mentioned above, Kazoku will be featuring a Godzilla ramen bowl, where you can have it for free if you finish it! And to show off your amazing eating capabilities, you get a t-shirt featuring Kazoku's Godzilla on it too. The prices are affordable and on par with other Japanese restaurants, so stop by if you're nearby. Kazoku Ramen was receptive to feedback, and the bowls may change a bit. The restaurant officially opens today (October 15th) to the public, so grab a bowl and let me know what you think!
*Disclosure: Kazoku Ramen invited me as a guest to attend their soft opening. Views expressed in this post are solely mine. I was not expected to feature this restaurant on my blog, nor obligated to do so. This post is 100% my opinion, and as always, my priority is to you, the reader, to present an unbiased, thorough review.