Recap: 27th Annual FEASTival of Fine Chefs
October 01, 2015
Every Fall, an assortment of Edmonton's restaurants come together to create a one of a kind gourmet dining experience at the FEASTival of Fine Chefs. FEASTival has been organized by the Alberta Food Processors Association (AFPA) for the past 27 years, and I was lucky enough to attend as guest of the organization this year amongst other local bloggers.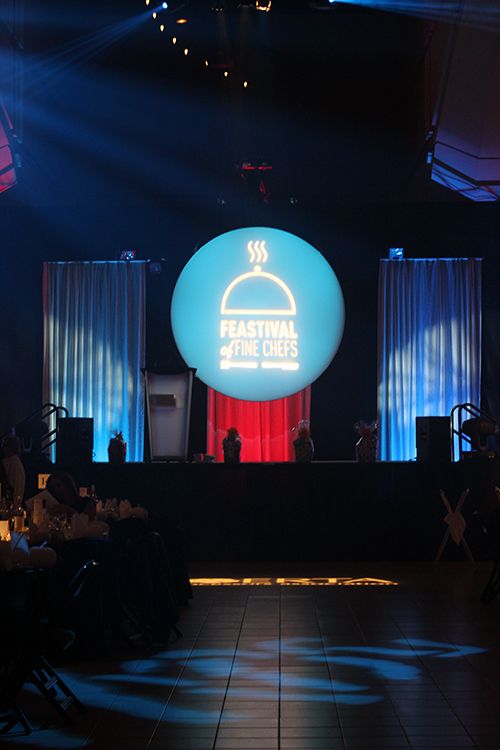 The AFPA is a non-profit organization that has members representing all sectors of the food and beverage industry. From food growers to processors to retailers, the AFPA hosts the annual FEASTival of Fine Chefs at the Shaw Conference Centre and showcases the culinary talents of chefs around the city.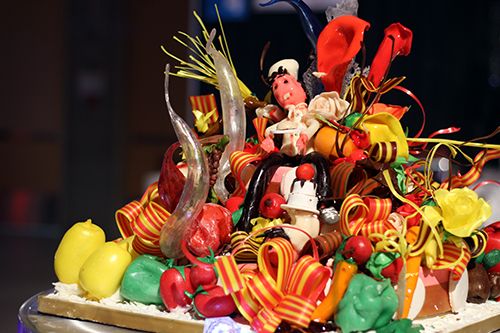 FEASTival
is not only a gourmet culinary experience, it's a night that apprentice chefs get the chance to show off their culinary skills and meet others in the industry too. Tickets to the annual event are $125, which includes wine and a four course meal prepared with ingredients grown or processed in Alberta. A silent auction also runs for the evening and proceeds go towards the Stan Ballard Endowment Fund, which provides scholarships and funding for apprentice chefs at post-secondary institutions like NAIT and SAIT.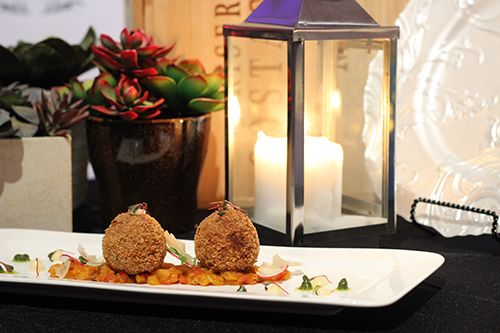 This food extravaganza is unlike any other - it's almost like a scavenger hunt of sorts! While most dining events feature seated service with plated meals, FEASTival throws all certainty out the window and you have to search for your courses throughout the evening. When you arrive, you're given a number which designates where you will be getting your courses for the night. For me, that was #21. Once you enter the hall, you can peruse the restaurants/organizations to find out where your night will begin. As each course changes throughout the evening, so does the number corresponding to the restaurant/organization. The change is completely random, so you can't even predict where you'll go next. With this dining format, all four of your courses will be served from different restaurants, so there's an element of surprise and excitement!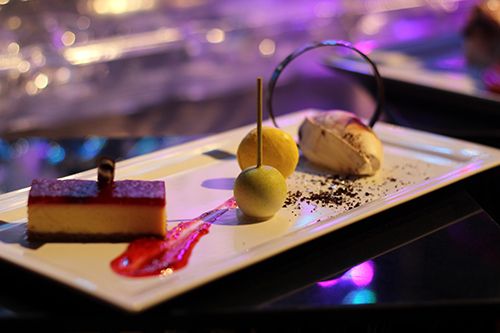 The excitement isn't just for the attendees though, the chefs are notified of the proteins they will be using just days before, and they receive a box of mystery ingredients to use 24 hours prior to the event. The chefs are encouraged to be creative and have fun with what they are given.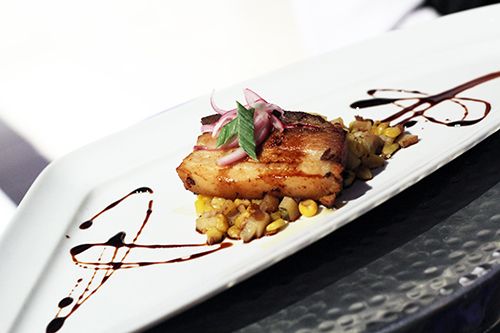 After a quick walk around the hall for hors d'oeuvres and checking out the amazing displays, my ticket brought me to
Zinc Restaurant
for my appetizer course. Chef Dave Omar put together a dish of roasted pork belly with a corn and potato hash. A pomegranate molasses jus, pickled red onions and scallions rounded off the dish, making it a solid start to the evening.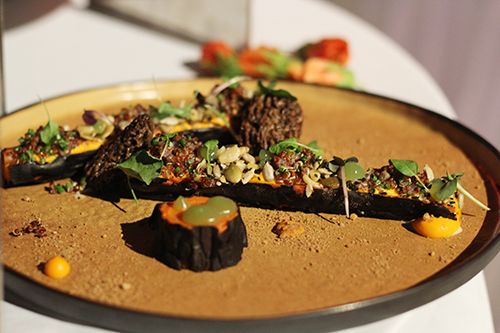 Beautiful plate from SHARE at the Westin
One of the great things about eating with a table of friends is being able to taste a variety of plates for the evening. As each one of us returned to our table from retrieving our plates, we inevitably ended up passing around the ones we were most interested in sharing. Lucky for us Chef Chris Short, FEASTival Committee Chair, was dining with us for the evening and snagged a couple extra plates for us. Like I always say, sharing is caring!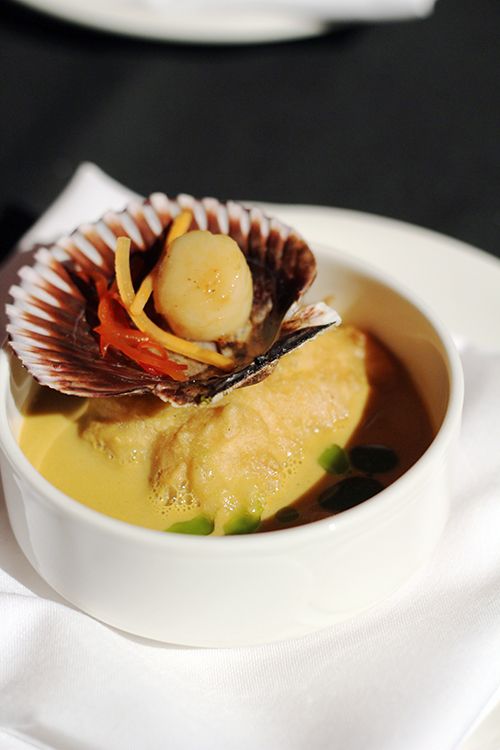 My soup for the night came from the
Executive Royal Hotel
, and it was the most beautiful soup at our table. The chefs put together a five onion bisque served with a tempura battered oyster, a pan seared scallop, and was finished with a drizzle of chive oil. While the bisque was creamy and flavourful, I was disappointed to see that the soup didn't adhere to the theme of local ingredients. Scallops and oysters are nowhere to be found in the prairies, unless you think of prairie oysters *winkwink*.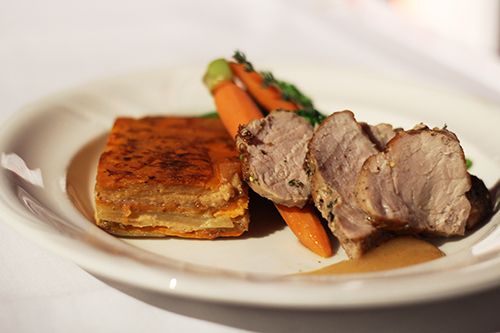 For the entree round,
Stages Kitchen & Bar
of the Double Tree Hotel was my destination. On my plate was a thyme and grainy mustard smoked pork loin with a sweet potato and rutabaga pave, spiced apple fluid gel and local vegetables. The pork was seasoned well and the pairing with the apple was delicious. However, the pork loin was incredibly dry and difficult to eat. Given that the food is prepared in advance, it can be very difficult for some of these organizations to cook proteins perfectly, and pork is one of those proteins that dries out quickly after cooking. It was unfortunate, but lucky for me, there were other entrees at the table that I happily dug into!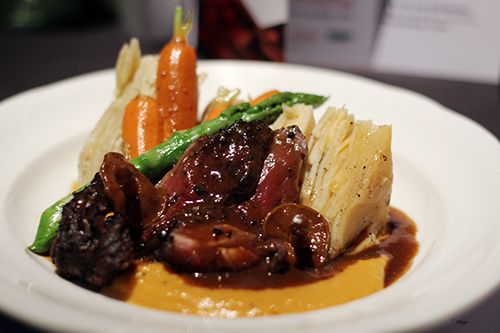 Seared venison sirloin from Madison's Grill
Braised lamb fore shank from the Royal Glenora Club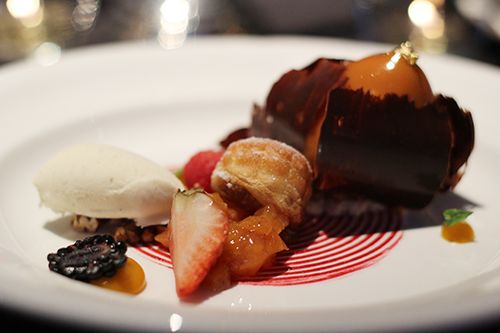 My last dish of the evening was a beautifully plated dessert from the
Shaw Conference Centre
. The dessert consisted of a caramelized white chocolate hazelnut mousse served with a hazelnut financier, sour cherry gel, bourbon ice cream, and a caramel brioche beignet. The gel-like consistency of the caramel around the mousse was a welcome surprise, and I absolutely loved the ice cream. It was delightful in presentation and flavour!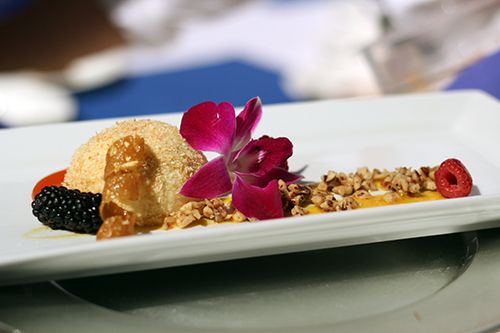 Valrhona white chocolate mousse with coconut from NAIT (recipe here)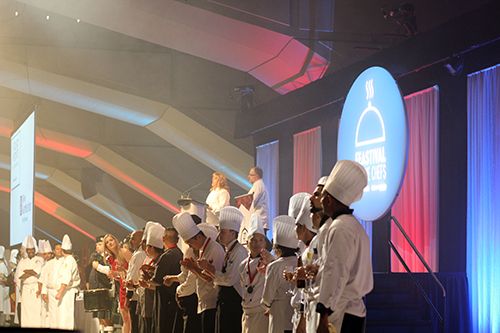 Introducing the chefs and apprentices for the evening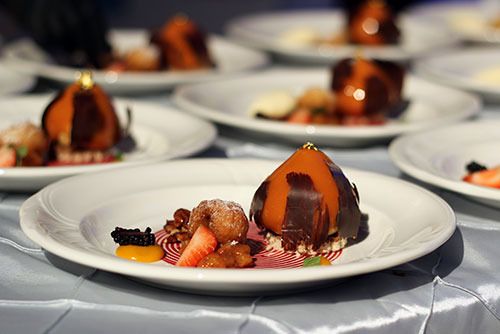 For my first FEASTival experience, I had a great night! I really enjoyed the element of surprise throughout the evening and it was great to catch up with some other local bloggers. Although some dishes can be hit or miss, it's really fun to hunt for your food and share with others at your table. Given the price tag to this event, it can be on the more expensive side, but you are also supporting local food and up and coming chefs! It is a fun night out where you get to dress up and try a variety of different foods. It really is a one-of-a-kind event, and I hope to see you there next year! Big thanks to the AFPA for the invitation and being great hosts!
*Disclosure: I attended FEASTival as a guest of the Alberta Food Processors Association. Views expressed in this post are solely mine. This post is 100% my opinion, and as always, my priority is to you, the reader, to present an unbiased, thorough review.