Malaysian Delights: Island Cafe & Bistro
October 07, 2015
I've said it once, and I'll say it again: good Malaysian food is hard to find in Edmonton. Just recently a new Malaysian spot opened up, and I just had to stop by.

Island Cafe & Bistro - 9923 170 Street - Edmonton AB


Island Cafe & Bistro opened up just over two months ago in the west end of Edmonton on the ever-busy 170th Street. It's easy to drive by without noticing it, but it seems like that isn't an issue for this restaurant, as the space was just about full at 5:30PM on a weeknight. This cafe declares itself to be a place "where the taste of the east meets west," having a menu featuring traditional Malaysian dishes and other plates to suit the Western palate.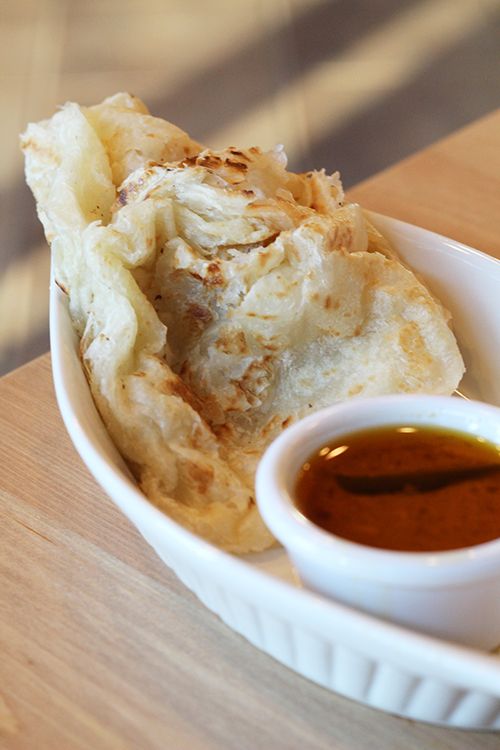 The menu offers a decent number of Malaysian dishes, and we chose to go with our favourites. Roti Canai with Curry Sauce ($3.95/2) is something I cannot go without when it comes to Malaysian food. A crisp exterior and fluffy, pliable layers is what this roti is known for, and the version here does not disappoint. Crunchy and chewy textures contrasted one another, and the wonderful buttery flavour definitely came through. The side of curry sauce was unfortunately coated in a heavy layer of oil, and needed a quick stir in order for the flavour to come through with each dip.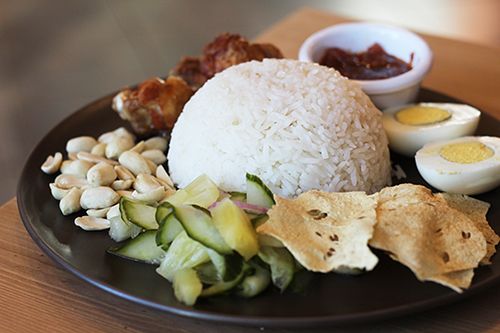 Our next dish was the Malaysian Style Nasi Lemak ($12), which featured steamed coconut rice, spicy sambal sauce, 3 chicken wings, a hard boiled egg, peanuts, pickled cucumbers and pineapples, and papadum-style prawn crackers. Everything mixed together resulted in a dish with a pleasant heat, slight sweetness, tang from the pickles and a wide range of textures from all the components. However, given the price tag and the ingredients on the plate, we felt the dish would benefit from having a bit more chicken as the wings were quite small.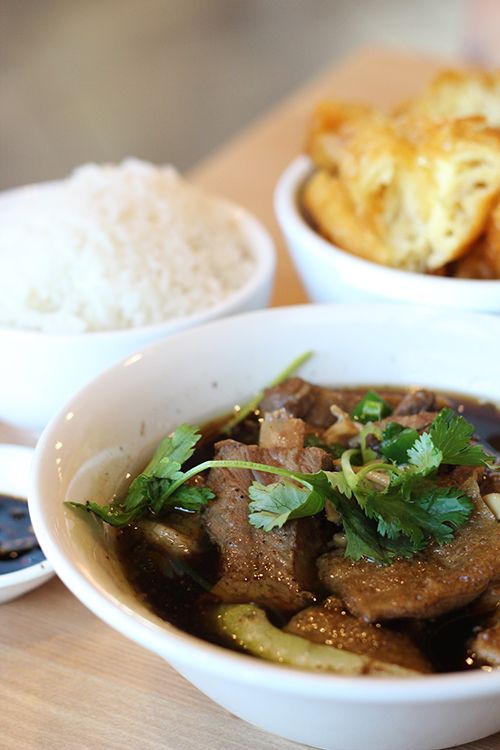 Bak Kut Teh, which literally translates to meat bone tea, is a dish consisting of pork ribs braised for hours in a broth of Asian herbs and spices. Ironically enough, the dish itself doesn't contain any tea at all, but rather tea is typically served alongside this stew with the belief that it aids in digesting the fat in this dish. The version here at this restaurant ($15) features pork ribs, pork belly, mushrooms and vegetables in the herbal soup, served with a side of rice and Chinese long donuts. The pork in this is stewed until fall-apart tender, and the herbs used in the broth were fragrant, but the soup was watered down and lacking seasoning. Had the flavours been more prominent it would have been great.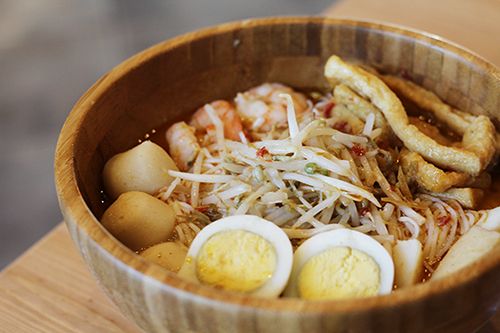 The last dish to our table was the one I was most looking forward to having - Laksa Curry Noodles ($12). This dish is pretty iconic when it comes to Malaysian cuisine, featuring vermicelli in a curry-based soup. The Laksa at Island Cafe features thin vermicelli with fried tofu, fish cake, shrimp, fishballs, a hard boiled egg, and bean sprouts in a spicy coconut soup. The toppings were abundant and the vermicelli al dente, but like the bak kut teh, the broth was lacking a depth of flavour and felt watered down. The broth was missing the creamy consistency and thickness to coat the noodles that I expected. With some improvements in the broth, this could also be a well done bowl of laksa.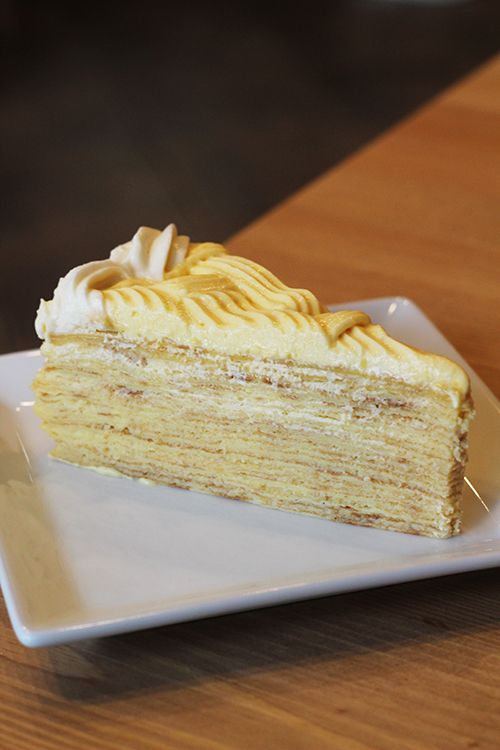 Mango Creme Mille Crepe Cake
When I walked into the cafe that evening my eyes immediately drifted to the dessert case, which contained a couple of classic French mille crepe cakes. Mille, translated to 'thousand' in the French language, implies that this cake is made with multiple layers of crepes separated by light pastry cream. To my knowledge, Island Cafe is the only spot in Edmonton to serve this dessert, so I was absolutely excited to try their housemade version. At $7 per slice, the cake is available in a multitude of flavours, including classics like vanilla and maple walnut, and exciting flavours like pandan kaya coconut, dark chocolate banana cream, and creme brulee cheesecake. Flavours can change daily, and you can even order a whole cake to wow guests at your next dinner party (7" for $60 / 10" for $80).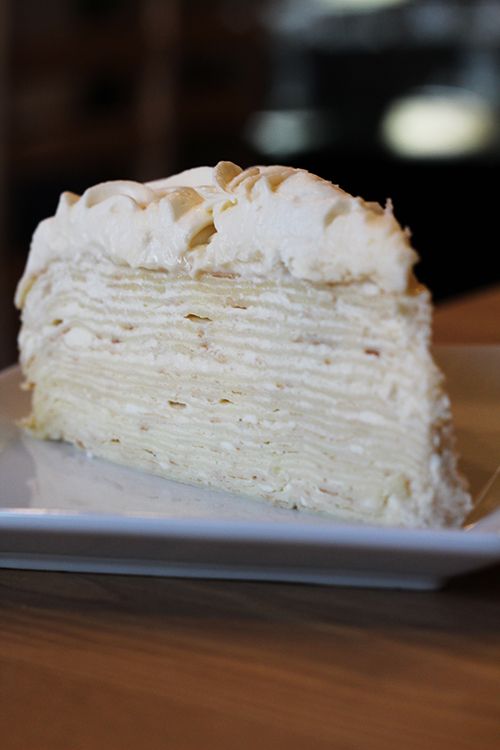 Considering that it takes 2 days to make one full cake, the $7 per piece price point is very reasonable for this labour-intensive dessert. We ordered one slice of the mango creme flavour and one of the creme brulee cheesecake flavour, with a white coffee ($3) on the side. It was hard to detect the delicate creme brulee with the cream cheese being the predominant flavour in the creme brulee cheesecake mille crepe cake, but the fragrant mango really came through in our other slice. The layers are soft and you can really appreciate the effort that go into producing the cake. I'd definitely give the pandan kaya coconut a try on my next visit!
I love when small, family-run restaurants pop up in the Edmonton food scene, and it's even better when they serve food that isn't commonly found in our city. I can appreciate that everything in the restaurant is made from scratch, and the restaurant is open until 11PM for late night eats Tuesday through Sunday. While some dishes require some adjustments, the food is decent and I'm hoping the Malaysian classics will improve by the time I make my next visit. That roti canai is already calling my name, and I can't wait to get my hands on another slice of mille crepe cake!