Malaysian Delights: Banana Leaf Tropical Cuisine
June 05, 2015
I don't know about you, but I find it difficult to find good, authentic Malaysian food in Alberta. Very few restaurants in Edmonton serve Malaysian food, and for those that do, I find that the food isn't overly impressive or consistent. Instead of being frustrated by the local options, I took my search to Calgary and found a great spot thanks to a recommendation from a friend.

Banana Leaf Tropical Cuisine - 3330 32 Street NE - Calgary AB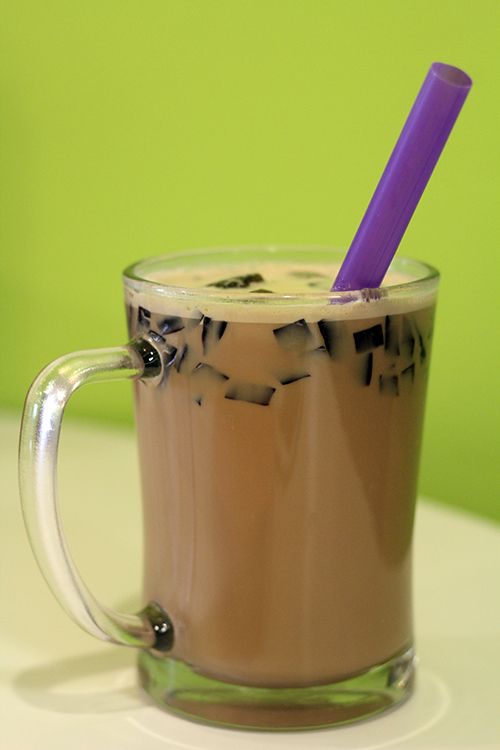 Milk Tea with Grass Jelly
Tucked away near the industrial area of Northeast Calgary, Banana Leaf is in an obscure location but is well worth the effort to find. I stopped by with my parents for an early lunch on a weekday and snagged the last table in the busy restaurant. The restaurant is brightly lit and has a fair amount of seating, but given the small space it fills up quick during the lunch service.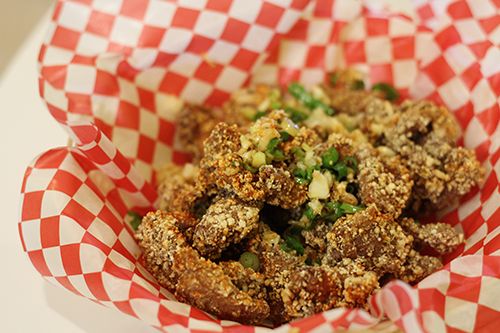 To start our lunch we ordered the Deep Fried Crispy Chicken Nuggets with Garlic and Onion ($8.95). These aren't your McDonald's chicken nuggets, they're a cut above. Chunks of chicken thigh meat are battered and deep fried, then tossed in a mixture of garlic, onion, and green onion. The result is a mountain of crispy chicken nuggets full of flavour that you can't stop eating.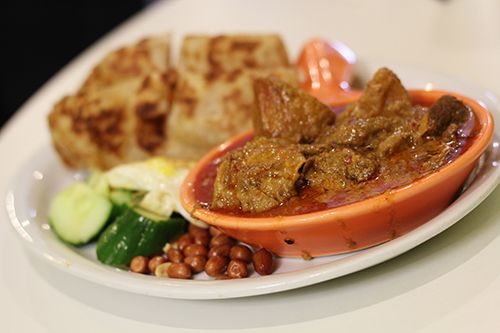 We ordered the Roti Canai with Curry Beef ($13.95) which came with some peanuts, sliced cucumber and egg. For those of you unfamiliar with this version of roti, the dough is made with copious amounts of clarified butter in flour and water. The dough is stretched into an extremely thin sheet before being folded and fried, and the result is a crispy, puffy, layered roti. The roti canai at Banana Leaf was golden in colour, and crispy with just the right amount of layers. The curry beef was rich and fragrant, delivering a good amount of heat with each bite. The beef cubes were tender and flavourful, making this a solid dish overall.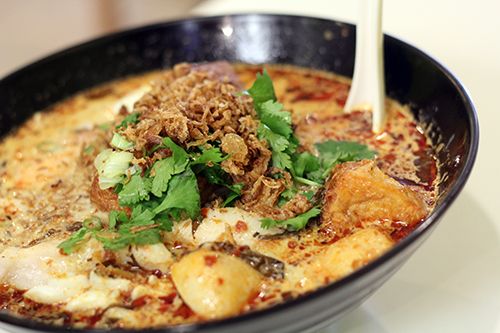 The dish I was most looking forward to ended up being the star of our meal: Seafood Curry Laksa with Vermicelli ($11.50). A generous portion of fish, fishballs, egg, and puffed tofu swam in the fragrant curry and coconut milk broth, and the layer of red chili oil gave a punch of heat with each bite of noodles. The laksa was authentic and is the best I've had in Alberta. This noodle soup alone is worth the visit to Banana Leaf.
It's great to know that Calgary has a restaurant serving up delicious, authentic Malaysian dishes. Banana Leaf is definitely a hidden gem, the prices are affordable, and I can't wait to be back to try out some more dishes on the menu. If you're in the general area, it warrants a visit! If you don't want to wait for a table, make sure to arrive early and get a big bowl of laksa!