Passion for Pork: June is Pork Month
June 17, 2015
June is one of my favourite months of the year. There's (mostly) no more snow, the temperatures are rising, and Summer officially starts! But another reason to love June is that it is Alberta Pork month. For the month of June Passion for Pork has collaborated with numerous restaurants in both Edmonton and Calgary to feature a pork dish and provide diners with the recipe to take home to replicate. Fun, right?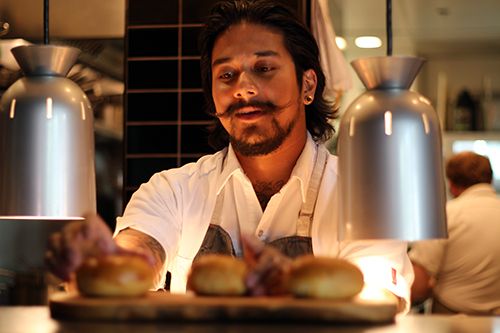 Josh Dissanayake, North 53
Sharman Hnatiuk
is Edmonton's Passion for Pork blogger and she rounded up
Linda
,
Chris
and I for a crawl to a few Edmonton restaurants last week to check out their featured pork dishes. If this doesn't inspire you to have a pork crawl of your own, I don't know what will!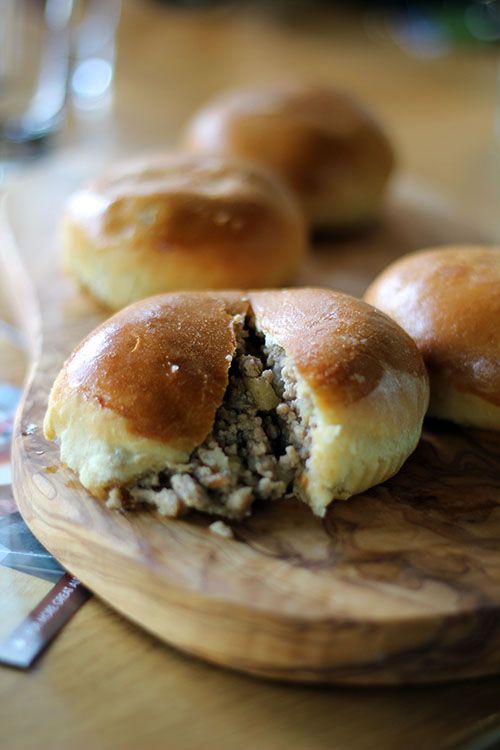 We started the evening at
North 53
, where Sous Chef Josh Dissanayake is serving up Alberta Pork buns inspired by those his mother made when he was young. Although he loved them, Josh would often take these buns and trade them for other snacks out on the playground. These sweet milk buns are filled with a savoury potato, onion, and ground pork mixture that reminds me of a shepherd's pie. It's a small morsel of comfort food, and at $4 per bun I'd eat a few of them in a sitting!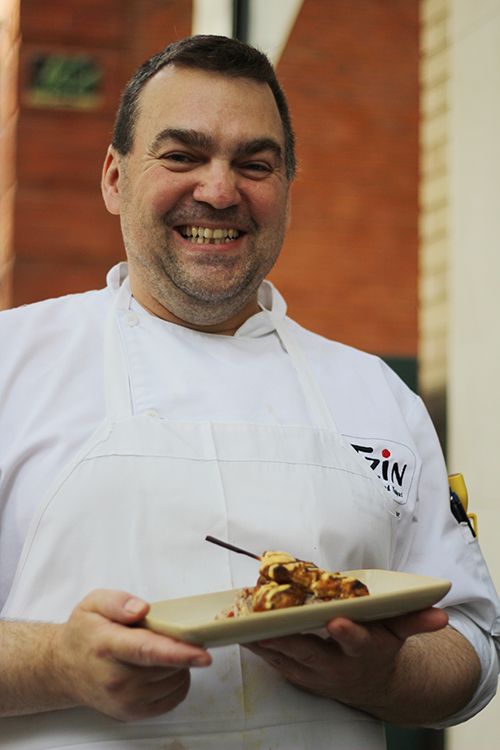 Our next stop on the crawl was at
Tzin Wine & Tapas
, where Chef Corey McGuire is serving up Pinchitos Morunos (Moorish Pork Skewers - $17). Pork loin skewers are seasoned with spices like saffron, cumin, and coriander to bring North African flavours to the plate. The skewers sit on a bed of dirty rice and are great to enjoy out on the patio.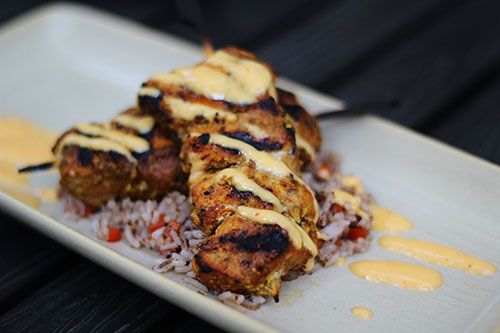 Pinchitos Morunos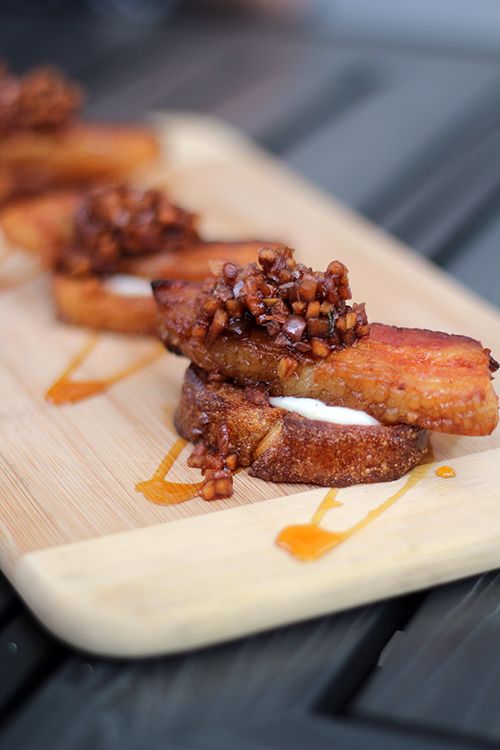 Although it isn't the feature for June, every visit to Tzin warrants an order of their Bacon ($16). A glorious chunk of bacon sits on a crostini with maple balsamic compote, apple mayonnaise, and a Calvados gastrique. This dish is arguably my favourite pork dish in the city. Tender, crunchy, sweet, savoury - this dish has it all.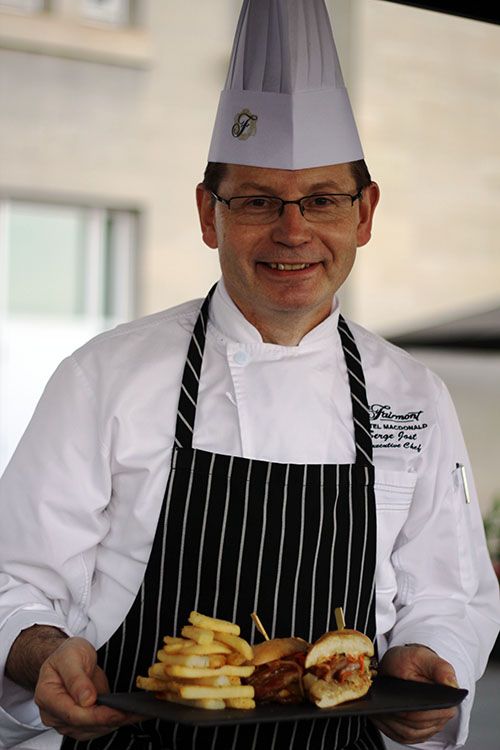 After Tzin we headed straight to the
Fairmont Hotel MacDonald
to visit Executive Chef Serge Jost. With both the Confederation Lounge and Harvest Room under his watch, Chef Jost actually has quite a few pork dishes on the menu for guests to enjoy in the restaurants, or outside on the best patio in Edmonton.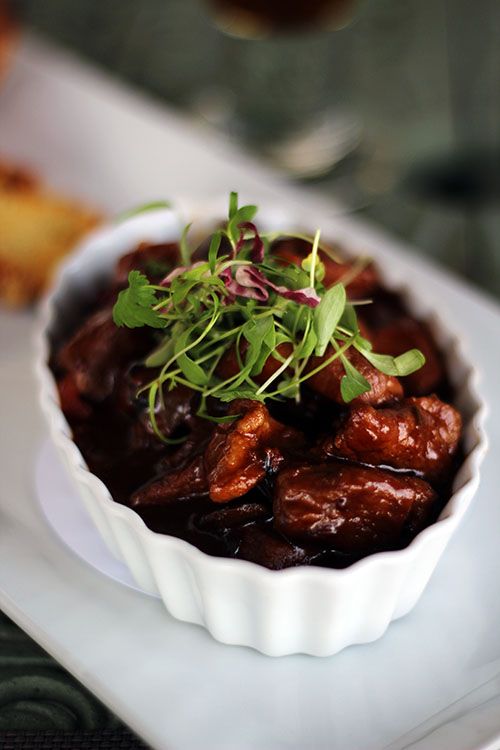 The first dish of the three we tried that evening was the award-winning 1915 Stew. As the Fairmont Hotel MacDonald prepares to celebrate 100 years of history, Chef Jost put together this Alberta pork stew to celebrate the centennial. It's only fitting that it costs $19.15! A generous portion of tender pork with hints of chocolate is perfecty paired with the lightly charred cornbread and a beer of your choice. It's unbeatable value for the price.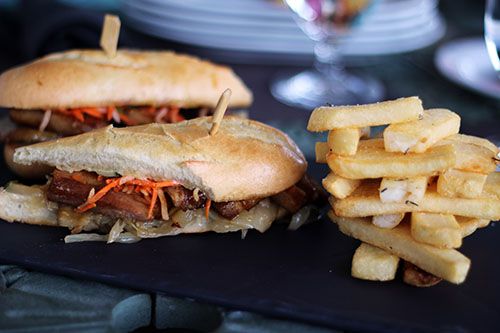 Next up was the Soy and Maple Glazed Pork Belly Sandwich ($17) available at the
Confederation Lounge
. Seemingly inspired by Vietnamese banh mi, the sweet and savoury pork belly sits with pear & sweet onion jelly, pickled cucumber, daikon slaw, and cilantro inside of a baguette. While the side of fries wasn't much to write home about, this sandwich was substantial in size and full of flavour. I did find myself wanting more vegetables to contrast the heaviness of the sandwich, so perhaps skip the fries and replace it with a salad for lunch!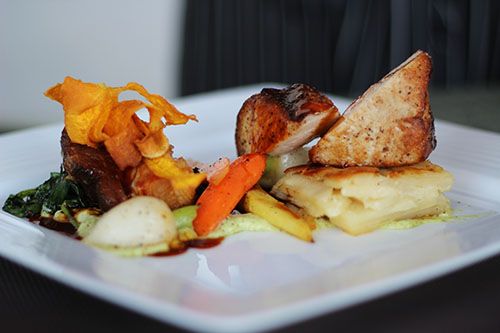 From the
Harvest Room
came the feature Pork Duo ($36) with cardamom crusted nagano pork tenderloin on a yukon gold potato pave and slow cooked caraway citrus pork belly on mustard greens. The entire dish was refined, presented beautifully on a bed of cilantro yogurt, and each component worked well together. And for all you pork belly lovers, Chef Jost is your guy. As he said himself, he "loves to put pork belly in everything!"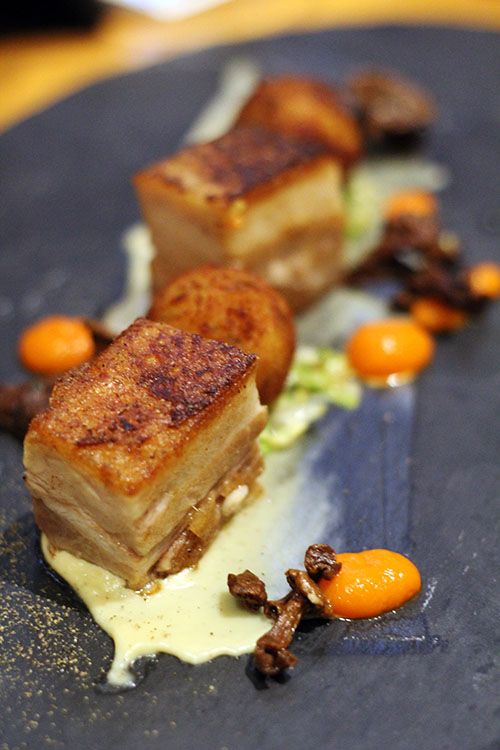 Our second last stop of the evening was a visit to
Share restaurant
inside of the
Westin
. For pork month, Gold Medal Plates winning Chef Ryan O'Flynn created an appetizer, pairing pork belly with arancini and smoked morel mushrooms ($22). The pork belly was well seasoned and the arancini was golden and oozing with cheese, but I did wish for the morels to play a bigger role on the plate.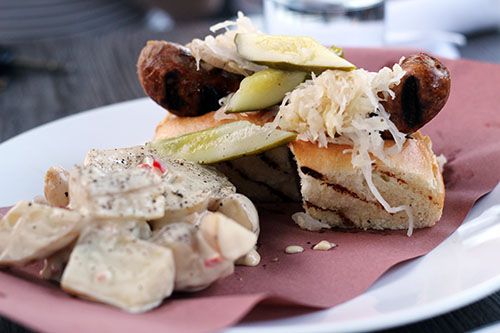 With our bellies at the point of bursting we drove across the river to
Packrat Louie
, our final destination for the evening. Chef Andrew Cowan recently took the helm at Packrat, and he put together a Pork & Foie Gras Bratwurst. Not only is the foie mixed into the sausage, but the bratwurst is served on a bun with sauerkraut, pickles, and more foie slices on top. Talk about indulgence! The tang from the sauerkraut and pickles were more than welcome to cut the fat of the bratwurst, and the cold potato salad on the side made this dish quite substantial in size.
So there you have it, a pork tasting crawl to five restaurants spanning a five hour timeframe. You bet we were ready to pass out in a food coma! Hopefully this crawl inspires you to have one of your own this month, or at least gets you to try out some of the fantastic pork features available in Edmonton until the end of this month. On top of the 5 restaurants we visited, 11 others are participating: Ampersand 27, Canteen, Hart's Table, Hardware Grill, LUX Steakhouse & Bar, Red Ox Inn, RGE RD, Rostizado, Solstice, The Marc, and Zinc. Check them out and collect those recipe cards!
While Alberta is known for beef, it's time for pork to shine too! In conjunction with Pork Month,
Porkapalooza
is happening this Friday, Saturday, and Sunday June 19/20/21 at Borden Park. The event is free to attend and there's lots of great events going on. Bring the family down for some fun and enjoy the weather!
*Disclosure: Alberta Pork/Passion for Pork invited me to attend and sample Pork Month dishes. Views expressed in this post are solely mine. I was not expected to feature this crawl on my blog, nor obligated to do so. This post is 100% my opinion, and as always, my priority is to you, the reader, to present an unbiased, thorough review.