Recap: Indulgence 2015
June 10, 2015
If there's one major food event I look forward to each year, it's Indulgence, which celebrates Canadian slow food and wine. Each year this sold out event brings together Alberta chefs, food producers, and Canadian VQA wines. Chefs are given the task to create a dish highlighting the products from a specific producer, and additionally the wineries/breweries suggest a beverage pairing for the dish.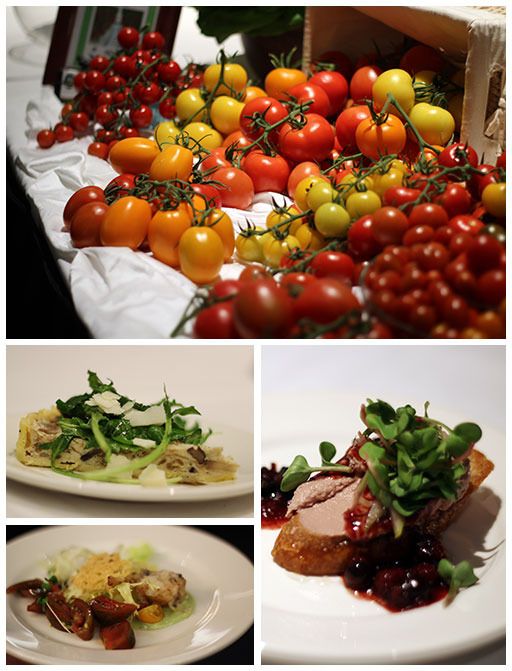 Clockwise from top: Gull Valley Tomatoes | XIX Nineteen x Four Whistle Farm chicken liver pate
The Marc x Gull Valley pan seared frog leg | NAIT x The Cheesiry Fresco tart
Tickets for Indulgence this year went on sale at 9AM sharp on May 1st. The Junior League of Edmonton has been the beneficiary of ticket sales for the past few years, supporting the incredible work they do in the community. Tickets typically sell out within the hour, and I'm not surprised! At $80 per person for unbeatable food & wine pairings, and supporting a local organization, it's hard to say no to buying a ticket.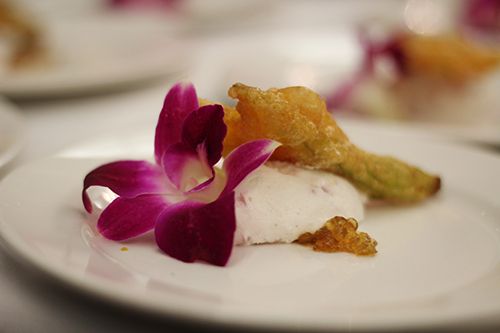 Throughout the evening there were may dishes eaten and wines tasted, but a few dishes stood out above the rest. The prettiest dish for the evening for me was from
4404 Delta
who was paired with
Rock Ridge Dairy
. Onion confit infused goat cheese was served on a bed of truffle honey caviars and a tempura fried zucchini blossom, and garnished with a beautiful orchid.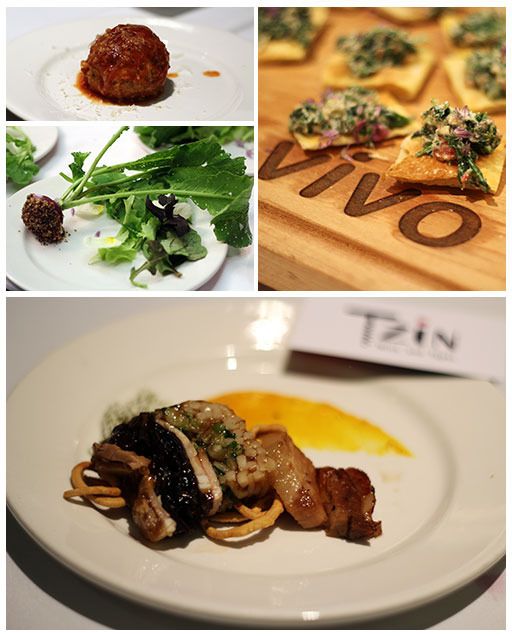 Clockwise from top: Kitchen by Brad 'Bubbles & Balls' - Irvings Farm Fresh bacon & pork ball
Vivo x Sundog Organic Pizza Rustica & Italian savoury tart | Tzin Wine & Tapas x Nature's Green Acres ramen terrine | Slow Food Edmonton x Reclaim Urban Farm greens & radishes
The most unique dish of the evening would have to go to Chef Corey McGuire of Tzin Wine & Tapas. Taking the hot ramen trend and turning it into a terrine was something I didn't imagine I would ever eat. Marinated bamboo, pickled wood ear, scallions, handmade noodles, Tamworth pork broth aspic, smeared marinated egg yolk, pork belly, and a smoked porkfat and nori dust all made it onto the plate. This was definitely a labour intensive dish!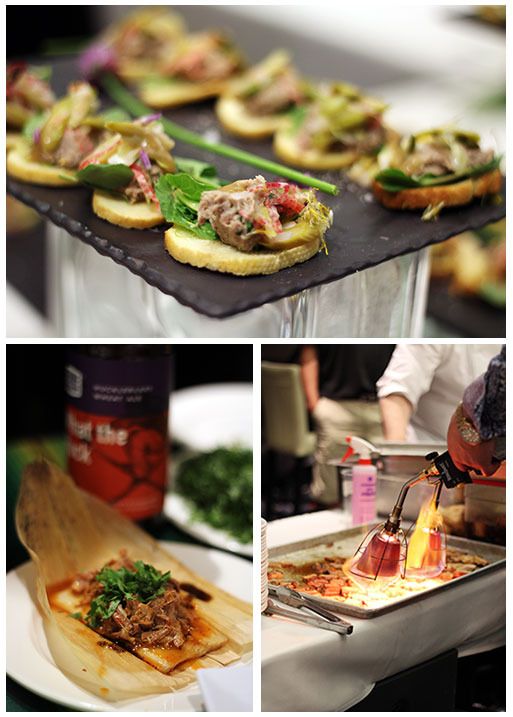 Clockwise from top: Royal Glenora Club x Vesta Gardens duck & greens crostini | Searzall action
Rostizado x Tangle Ridge Ranch Tamales de Barbacoa y Queso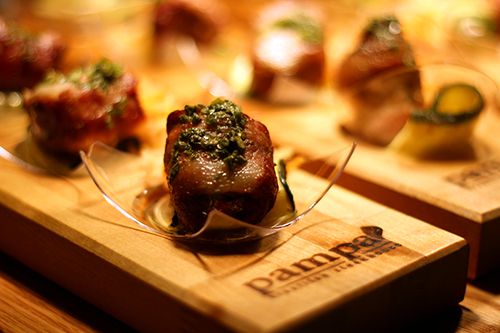 Pampa Brazilian Steakhouse x Strawman Farm Bison - bacon wrapped bison top sirloin steak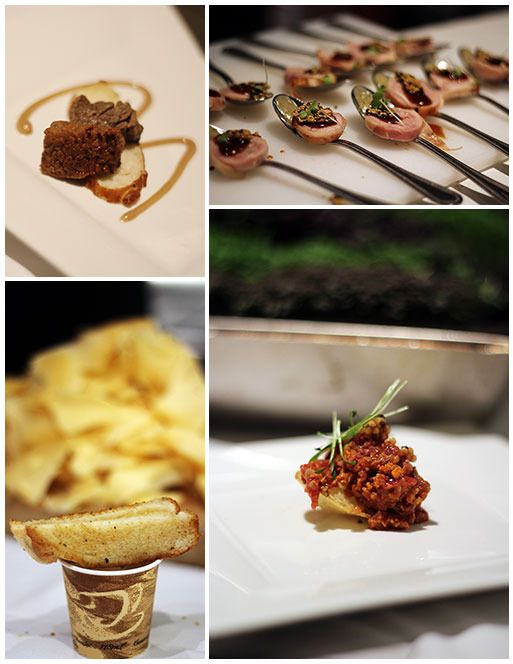 Clockwise from top: Hundred Bar Kitchen x Crooked Lake Farm seared outside round on pretzel crostini
Ampersand 27 x Sunworks Farm chicken galantine | Lux Steakhouse + Bar x Alberta Bison Ranch striploin tartar
Zinc Restaurant x Sylvan Star Cheese Farm gouda grilled cheese
So what was the best dish of the evening? I had a few favourites, but the people's choice award for this year went to Ampersand 27 for their chicken galantine with char siu sauce, charred scallion aioli, sweet sesame snap and micro coriander. As the winners of Indulgence, $500 was donated on their behalf to Camp fYrefly - another fantastic organization here in Edmonton. I also quite enjoyed the pate from Nineteen, gooey grilled cheese from ZINC, and the fresco tart from NAIT!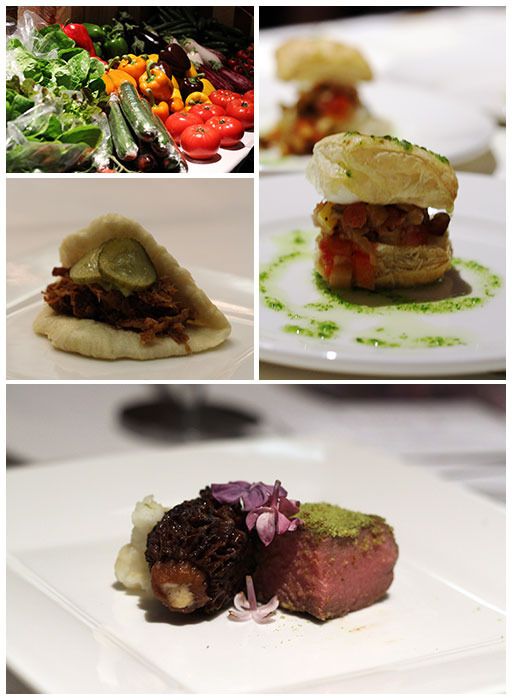 Clockwise from top: Doef's Greenhouses | Belgravia Hub x Doef's puff pastry vegetable napoleon
Toast Fine Catering x Mo-Na Foods Alberta lamb with smoked morel mushroom
Red Ox Inn x Greener Pastures BBQ pork steam bun
With so many different dishes to eat throughout the evening, I was absolutely stuffed at the end of the night. Congratulations to the Indulgence committee for hosting this fantastic event for 15 years, and thanks to all the chefs, producers, wineries and volunteers that made this night possible. Indulgence really is a must-go-to food event, and if you missed out this year, keep an eye out for tickets for 2016 and I hope to see you there!