Bold New Flavours: Shaw Conference Centre Launches East Indian Menu
October 27, 2015
Imagine having to prepare the food for an event hosting hundreds of guests. How many people would it take? What would you serve? How much food would you need to make? Those are the types of questions that Chef Simon Smotkowicz has to think about on a daily basis as the Executive Chef at the Shaw Conference Centre.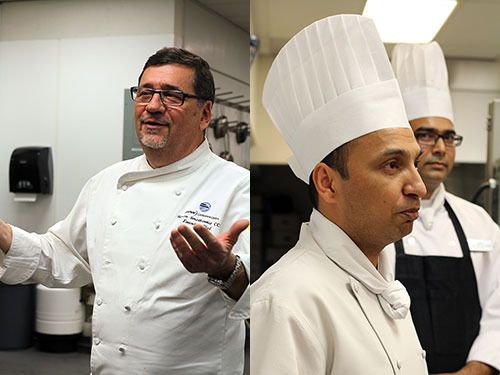 Executive Chef Simon Smotkowicz / Sous Chef Lalit Upadhyaya
There is no doubt that the Shaw Conference Centre is the city's largest venue, and plays host to everything from conferences and conventions, to parties and festivals. The list goes on, and the Shaw Conference Centre can literally transform the halls into any venue you desire. With big events come big crowds to feed, so Chef Simon works alongside a talented group of individuals on his team. Two weeks ago I had the opportunity to go behind the scenes to check out the kitchen at the Shaw Conference Centre and honestly, I can't believe that a kitchen that size creates thousands of plated meals!
The Shaw Conference Centre is moving towards utilizing as much fresh local produce as possible in their cooking. Since they put the money into acquiring quality ingredients, all the produce is treated right and processed by hand. That means every single vegetable on your plate is hand chopped and prepared. Just imagine how many people would be needed for prep work alone! The kitchens have also moved towards baking their pastries and bread in house (with the exception of white sandwich bread), which means those dinner rolls with your meal are baked fresh the day of the event.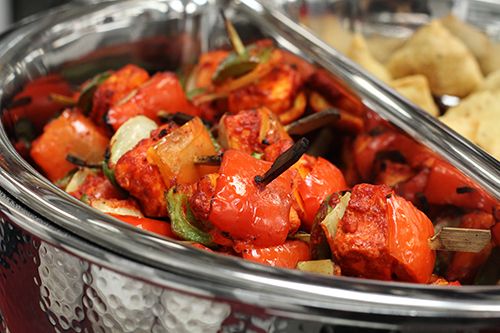 Paneer Tikka
Following the kitchen tour we were given an introduction to the new East Indian Menu, and sampled over 30 of the dishes available on the menu. While I do eat Indian dishes from time to time, I am in no way an expert on the names and origins of the dishes. Thank goodness for Chef Lalit who gave us all a run down of each dish - after all, he was in charge of menu development, and you could really tell he poured his heart and soul into the creation of the menu. According to Chef Lalit, East Indian dishes are defined by three distinct factors: region, religion, and climate. Scroll on through to see for yourself!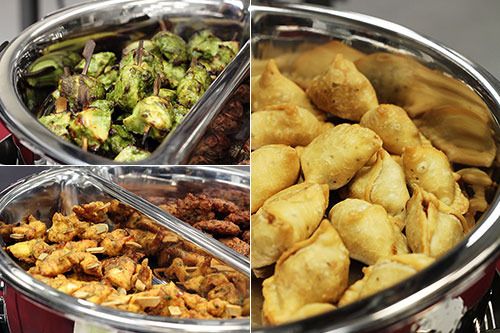 Chicken Hariyali / Fish Amritsari / Samosa
Paneer Tikka - chunks of paneer marinated in Tandoori spices and grilled. I love that paneer has a firmer texture and neutral flavour, allowing it to easily take on the flavours of marinades and sauces it is cooked in.
Vegetarian Samosa - fried pastry with a savoury filling made with spiced potatoes, onions, peas & traditional spices. As typical as this will sound, I love samosas. The filling packed a flavourful punch, making it one of the most memorable bites of the evening for me.
Shami Kebab - ground beef & chick pea patties marinated with fresh herbs & hot spices.
Chicken Hariyali - chicken breast meat rubbed with an aromatic paste made with cilantro, mint, and other distinctive flavours. If there's one thing Indian food does well, it's pops of colour!
Fish Amritsari - named after the city where it originated, batter fried fish is spiced with Indian flavours of garlic, ginger, cumin and chaat masala.
Vegetable Pakora - vegetable fritters.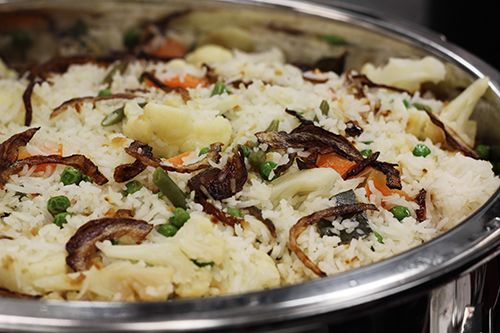 Similar to other cultures, rice can either be prepared in various ways to complement the flavours and spices in different dishes, or it can stand alone.
Veg Pulao (above) - spicy rice dish prepared by cooking rice with various vegetables and spices.
Nimbu Chawal (below) - refreshing and tangy lemon-flavoured south Indian rice. This rice was so fragrant and I loved the hint of lemon!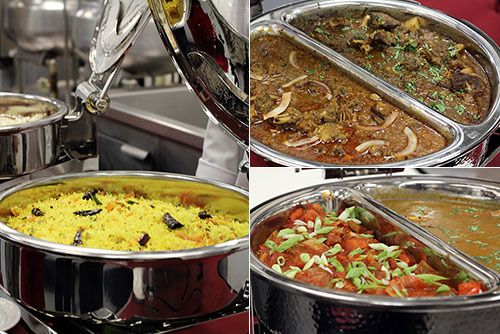 Nimbu Chawal / Goat Nariyal / Goat Vindaloo / Chilli Fish / Goan Fish Curry
Goat Nariyal - braised goat meat in a coconut milk curry. Coconut milk is commonly used in south Indian cooking to neutralize the spice in a dish, whereas onions are used for the same purpose in north Indian cooking.
Goat Vindaloo - a flavourful Goan inspired goat dish that is hot, sweet, sour and spicy.
Chilli Fish - Indo Chinese style marinated tilapia that is batter fried then cooked in freshly made chili sauce. Contrary to the name, this dish isn't spicy, but rather takes on a sweet chili flavour.
Goan Fish Curry - a fish curry that blends together spices and coconut to bring out the mild sweetness of the tender, fresh fish.
Aloo Chaat / Rasmalai / Rajmah Dal / Pancharatni Dal
Aloo Chaat - a savoury potato side dish. Basically the Indian equivalent of a potato salad!
Rasmalai - Bengali dessert of soft paneer balls immersed in chilled, creamy milk. Indian meals are typically served as one course, so desserts are not usually served. Desserts are relatively "new" to Indian meals, as sweets were usually only cooked for festivals.
Rajmah Dal - a popular Indian vegetarian dish made with red kidney beans in a thick gravy. Dals (lentil curry/sauce) are a staple in Indian cuisine served alongside roti, naan, or rice. I love dals for their complexity in flavour and high protein content - they are absolutely delicious and filling!
Pancharatni Dal - a classical recipe of Rajasthani cuisine. Pancharatni (meaning 5 Jewelled) dal is a mix of 5 lentils cooked with masalas to make a creamy dish.
As many spices are utilized in Indian cuisine, raitas are dishes made with yogurt that are intended to cut the heat in spicier dishes. Chef Lalit introduced us to three different varieties:
Boondi Raita - side dish made with tiny fried gram flour balls seasoned and soaked in yogurt. It's almost like having tiny fritters soaking up flavours in a bowl of yogurt.
Pineapple Raita - sweet and sour raita with pineapple pieces, curd and cumin powder.
Cucumber Raita - famous Indian raita where yogurt is flavoured along with a hint of spices and cilantro.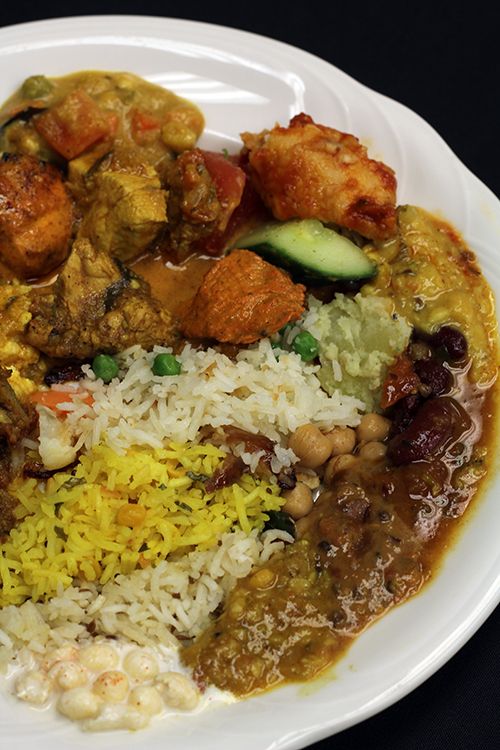 I've only listed a portion of the food we indulged in that evening, so I'm sure you can imagine just how stuffed I was by the end of the night! I managed to fit tasting portions of all the dishes on a plate and finished it all, so I would call that a win! Despite having all the dishes on my plate, it was amazing to see how different one dish was from another in terms of taste and texture. Lesson learned: not all Indian food tastes the same! If you're interested in the menu,
take a peek online
and host your next event with the Shaw Conference Centre. It was a fantastic evening of learning and gaining a new appreciation for East Indian cuisine, and now I just have to figure out how I can host a big enough party at the Shaw Conference Centre to enjoy the dishes off the menu again!
*Disclosure: I was invited to a media preview of the East Indian menu at the Shaw Conference Centre. Views expressed in this post are solely mine. This post is 100% my opinion, and as always, my priority is to you, the reader, to present an unbiased, thorough review.