Rostizado: New Flavours, New Menu
November 14, 2015
When a restaurant has a popular menu and dishes that customers rave about, it can be hard to make a change to the menu that people love. But with time comes inevitable change, and seasonality of ingredients often dictates what you can and cannot have on a menu.


Rostizado
is one of the popular Mexican restaurants in the downtown core and was recently a contender for enRoute Magazine's Best New Restaurants for 2015. Rarely is there an evening where the seats in the restaurant are empty, and for good reason: Rostizado houses an upbeat environment and the food is tasty. Good Mexican food can be hard to come by in Edmonton, so when Rostizado asked me to taste some of the dishes on their new menu, I was more than willing!
The evening started out with the Scallop Aguachile ($21), where diver scallops were lightly cured and served in a cucumber-lime bath, then topped with a combination of thinly shaved pear, red onions, cucumber, jicama, tomatillo, radish and a light sprinkle of habanero chiles. The fresh scallops had a delicate flavour enhanced by the pear and cucumber, while the other elements offered a crunchy texture. Scooped up onto a tortilla chip, the components work harmoniously to bring a refreshing dish to your palate with a punch of heat. This light dish was my favourite of the evening and I could have eaten just it all night.
The Costillas en Salsa Verde ($19/gluten free) are a nice change from the typical BBQ ribs that you'll find in Alberta. This substantial dish featured Alberta baby back ribs simmered in salsa verde until tender, and were garnished with pico de gallo. Although the meat didn't fall off the bone, it was flavourful and spicy!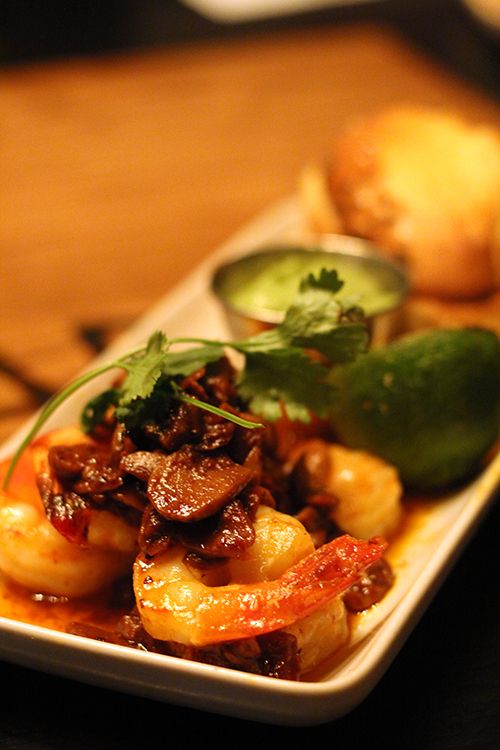 Next to the table was the Camarones al Mojo de Ajo ($21), a dish where prawns are sauteed with a generous amount of extra virgin olive oil and lime juice. The prawns are then topped with slowly caramelized garlic and toasted guajillo chile. A cucumber-based guacamole is served on the side to cut the heat, and thick cut toast is intended to soak up the rich, fragrant oil. The meaty prawns were spicy and garlicky, and I really loved the refreshing guacamole!
The Sope de Rajas ($16/vegetarian) was the most popular dish at the table that evening. A dough of corn and smoked potato is baked into the shape of a tart and filled with a combination of poblano chiles, onions, butter, kale, and white truffle cream. The raised edges keep all the ingredients in, resulting in a sope that is creamy and decadent. The crust is wonderfully crisp and the heat is strong, but makes you want more and more!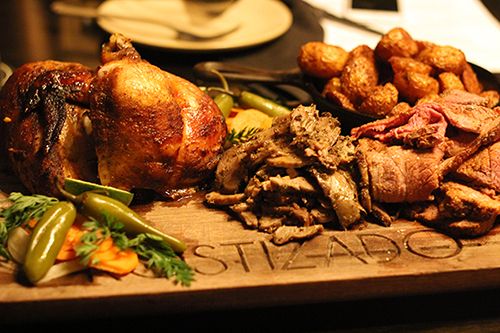 It may just be me, but I believe that every dinner at Rostizado should include a platter of their rotisserie. While the chicken and pork are classics, the new menu is introducing slow roasted Sterling Silver AAA New York striploin to their protein lineup. The beef is slow roasted to a beautiful medium rare and is available as an option for all of the platters.
As an accompaniment to your meal, Roasted Fennel ($8 Half/$16 Full) is a great side which almost acts as a palate cleanser between bites. The fennel is grilled on the flat top and served with a honey-serrano glaze, serrano chiles, and olive oil.
Vegan dishes are uncommon in Mexican cuisine, but after many people have asked for a vegan option, the Vegetables Rostizado ($8 Half/$16 Full) are now on the menu. Roasted portabella mushrooms, zucchini, poblano chiles, garbanzo beans, fennel and onions are roasted and served on Sikil Pak, the Mayan answer to hummus. Sikil Pak is a puree of pumpkin and sesame seeds, roasted tomatoes, fresh habanero, and cilantro. It's smooth, nutty, and creamy like hummus would be.
One of the major changes to the Rostizado menu is to the rotisserie platter, which now comes in multiple sizes. The platters can be portioned for groups of 2, 4 or 6, or 1/4 size platters can be ordered for a single person. This is a great change, as I remember the previous platter for 2 being impossible for two people to finish given all the accompanying sides (roasted potatoes, tortillas, pickled veg, salsa). The updated price points for the platters are very reasonable too.
Although the churros at Rostizado are a must-have, the new Pastel de Tres Leches ($10) is a strong contender. Slices of butter sponge cake are soaked in a mix of three milks: evaporated, half and half, and condensed milk. The resulting cake is rich, moist, and not overly sweet. The dessert is made even better by chunks of pineapple soaked in the honey, made specially for their coffee, and dollops of corn ash whipped cream.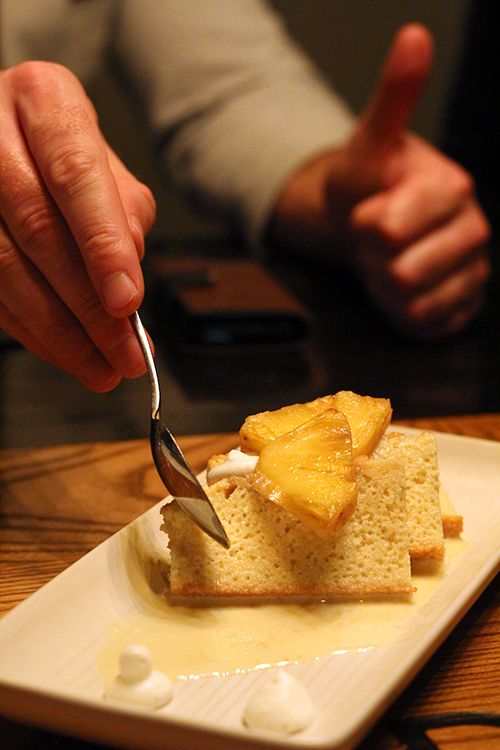 Although some old favourites have left the Rostizado menu, the new dishes have proven that they were worth the switch. Rostizado continues to bring modern Mexican dishes to the Edmonton food scene and keeps us excited with new flavour combinations. Stop by the Mercer Warehouse for a taste of the new menu - and say hi when you see me eating plates of the scallop aguachile!
*Disclosure: I was invited to by Rostizado to sample the new menu. Views expressed in this post are solely mine. This post is 100% my opinion, and as always, my priority is to you, the reader, to present an unbiased, thorough review.