Giftspiration: Who's on Your List?
December 04, 2013
Christmas shopping can be one of two things: fun or stressful. For me, Christmas shopping is typically fun. But when it comes to finding a gift for the one person that has everything, it can be so stressful! So I decided to put together a list of things that you might want to consider gifting this holiday season.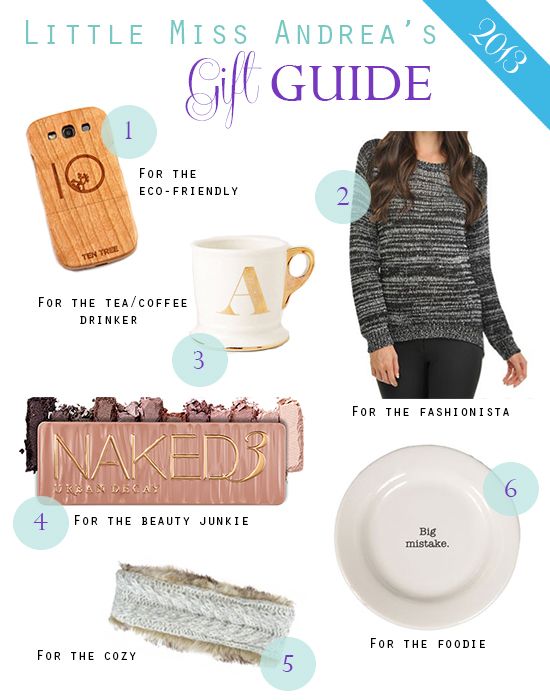 1.
Wood Phone Case from Ten Tree Apparel
- Ten Tree Apparel is a Canadian-based company that promotes sustainability and ensures that all their products are produced responsibly. For every item purchased, ten trees are planted in different areas around the world. How cool is that?
2.
Zipper Back Pullover from Bianca Nygard
- Nygard is one of the largest clothing manufacturers in the world. When I was young I remember my mother buying from their line, and I never took notice again until recently. The products are great quality and I love how fashion forward a lot of the items are. This sweater is definitely on my wishlist - it's cozy, the marled grey knit is so popular this season, and it's got the high low hem and zipper back to boot. Love it.
3.
Golden Monogram Mug from Anthropologie
- what's better than a personalized gift? A personalized gift that is useful! I'm loving the gold monogrammed mugs from Anthropologie this season (along with a
ton
of other housewares). Check out their black & white version too!
4.
Naked 3 Palette from Urban Decay
- this season's most wanted eyeshadow palette belongs to Urban Decay. Gorgeous rose-toned hues lie inside the case, and it is a must have if you have Naked 1 and Naked 2 already.
5.
Fur Lined Headband from Ardene
- Ardene is a Canadian-based fashion forward company, bringing girls style at affordable prices. Staying warm in the winter months is a must in Edmonton. I always find I'm the warmest when I'm wearing a hat or earmuffs, and I'm loving this headband! Fur is a popular trend right now, and its downplayed by the grey knit. Plus, when you buy from Ardene you support their involvement with charities. I love companies that give back.
6.
Side Plate by Invention-ware
- How comical is this?? Can you imagine serving a dish to a guest, and have them finish only to find this message? Genius. I would be so anxious just seeing people's expressions!