Korean Pop Up Dinner @ The Common
October 05, 2012
Pop Up dinners. I'm a big fan. There's just something I love about not knowing what menu is being prepared, something I love about trying something new in a familiar setting. Back in August, The Common (which I think is notoriously known for hosting pop up dinners - my last one was Filistix) hosted a four course Korean meal, featuring the talents of their new Korean chefs Jake & Julie Kim.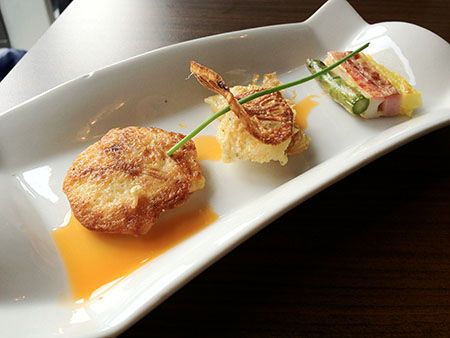 Our first course was Modeumjeon, a trio of meat, vegetable, and seafood Korean pancakes. First off, how ingenious was it to garnish this plate with a deep fried piece of lotus root? This sparked conversation at our table, about how we should make chips out of them. Definitely need to try this out soon. Anyway, this dish was a nice light start to the meal, and my favourite had to be the faux crab combined with pickled radish & asparagus. The vegetable portion added the different texture that made it so much better.
Next up was Bibimbap, a traditional dish consisting of beef and assorted veggies atop of a bed of rice, all mixed together with a red chili paste. I had been wondering exactly how big this course would be, since bowls of bibimbap run quite large, so the small bowls were something new and cute. I discovered that the bits of ground beef weren't sitting in the bowl with the other toppings, but rather was being incorporated into the red chili paste - therefore it was hard to find in the dish. The beef was there, just in minute proportions. Unfortunately, the amount of red chili paste wasn't enough to give the whole dish flavour, so our server gladly ran to bring out a big bowl for the whole table. More sauce, more flavour, great dish.
The star of the night, in my opinion, was the third course: Galbijim, soy braised short ribs. The beef was so flavourful and fall off the bone tender, while the vegetables braised along with the beef also fully absorbed the flavours. The kimchi wasn't very spicy, but hadn't been fermented for long enough to have that sour zing to it that I love. I really only wished that this dish was served along with a bowl of rice, as eating the dish alone was saltier with each bite, given the nature of the sauce.
Finishing off the night was our dessert: Gyung Dan & Maejakgwa, crispy rice balls in fruit juice & crispy pastry with honey. Wow, I really had no idea what to expect, and I have to say the presentation was lovely. The mixture of the warm reds and orange contrasted with the blues was really pretty! Upon eating it, I was completely surprised. Watermelon, canteloupe, raspberries and blueberries were floating in a grapefruit juice, which made the seasonal fruits a little bit sour - something I'm definitely not used to. In reality, the "crispy rice balls" were soft, but chewy, and the honey pastries were quite hard to bite into. Not the best dish for me, but it was my first time being exposed to Korean dessert (unless you count Melona? Mm.)
At the end of the night, I wasn't full, but my stomach was content and happy with the meal. Chef Jesse Morrison-Gauthier stepped out of the kitchen along with Jake & Julie to give us their story and background - which I was surprised to learn that the duo had just moved to Canada from Korea a mere four months earlier. Prior to the dinner I had wondered exactly who these two chefs were and where they were coming from, so it was great to have this introduction, and it is so wonderful that The Common was able to give them a chance to showcase their talent!
The next pop up dinner at The Common is coming up on October 16 -
Occupy Common 2
. If you're interested, follow the link to get your tickets - hope to see you there!