V Sandwiches
October 24, 2012
Banh mi, anyone? Who doesn't love a good Viet sub? I feel like Vietnamese subs are just a great food to have anytime, anywhere - I've never turned one down and don't think I ever will.

V Sandwiches - 10460 82 Avenue NW - Edmonton AB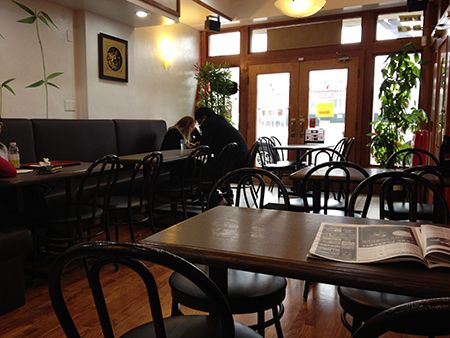 V Sandwiches is located in the middle of the busier part of Whyte Avenue, easily accessible by foot or car. The interior of the establishment is a little dim, but warm, comfortable, and big enough to accommodate a rush during lunch or dinner hours. I don't know about you, but usually when I buy my subs, its pick up and go.. I never eat inside the place itself! Perhaps I'm just weird in that way? So it was a little different of a feeling having my meal inside V's.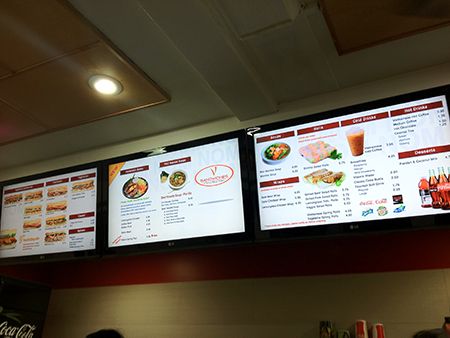 The style of service at V Sandwiches is a self serve concept, where you go up to place your order and wait to pick it up. From what I understand, there are 12 different types of subs you can order, all served with cilantro, onions, house sauce, cucumbers, lettuce, and pickled carrots. In addition to their sandwich offerings, they also make salad rolls and soups for those colder days when you need to warm up.
For lunch I went with the Vietnamese cold cut sub, which is my usual order at my go-to sub place. At $5.75 for the sub, it was definitely more expensive than what you find in Chinatown (usually $3.50 - $4.00), but the price was compensated for by the amount of ingredients inside the sub. Look at it, it's bursting full of meat and veggies! My subs typically don't have onions or lettuce in them, but they were welcome additions, and how funny looking is that long strip of cucumber? Love it. The baguette was crisp and warm, and my lunch tasted great. Although more expensive than your typical Vietnamese Sub establishment, I would return if I was hungry and in the area.