Pizza & Pop: Urbano Pizza Co.
July 16, 2015
Back in my Junior High days the cool thing to have for lunch was pizza and a can of pop from the pizza store across the street. Now that I'm an adult, my pizzas are usually paired with wine or another fun drink. But now there's a new pizza place in town bringing back the old school pizza and pop combination.

Urbano Pizza Co. - #110, 10220 103 Street - Edmonton AB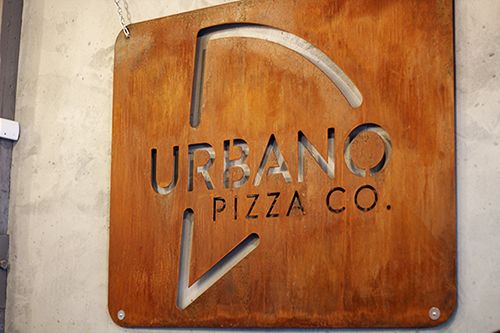 Just over a week ago Brittney LeBlanc, Gastropost Alberta Community Manager, invited a bunch of pizza-loving bloggers out for a pizza and pop party at Urbano. Urbano is brought to the city of Edmonton by Christian Mena and Lino Oliviera, the duo behind
Sabor Restaurant
and
Bodega Tapas & Wine Bar
. It makes sense that this pizza spot is just a couple steps down the Boardwalk Building from those two spots.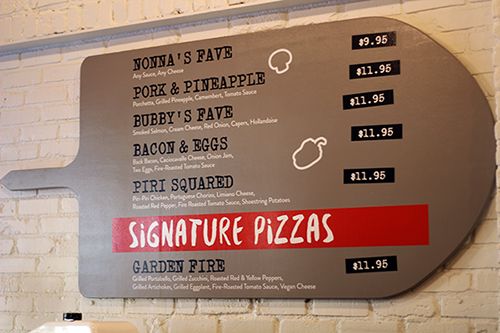 At Urbano you have the choice of ordering from one of the six signature pizzas or building your own from the seemingly endless list of available ingredients. This is awesome news because that means the pizzas can cater to dietary restrictions. So whether you're celiac, vegetarian or vegan, there's a savoury pie that can be built just for you.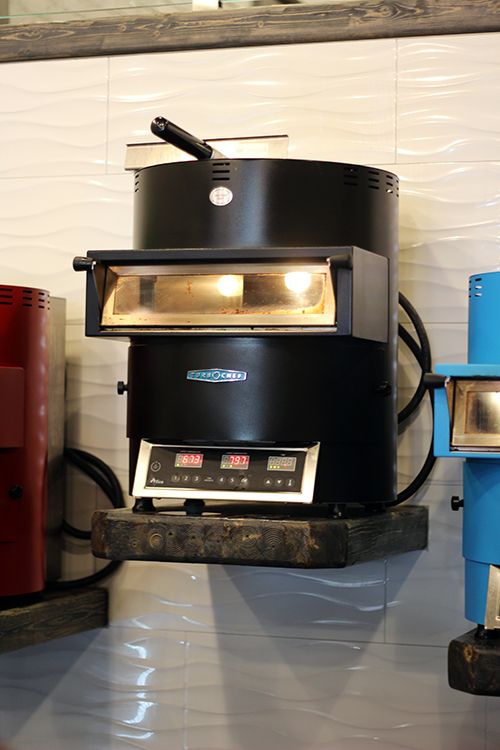 The space inside Urbano is small, but still large enough to hold four powerful Turbochef Fire ovens capable of cooking a pizza in 90 seconds flat. The colourful ovens remind me of Bender from Futurama - cute right? Of the four, one is dedicated to firing up gluten free pizzas, and all four are portable, meaning Urbano Pizza parties can happen around the city.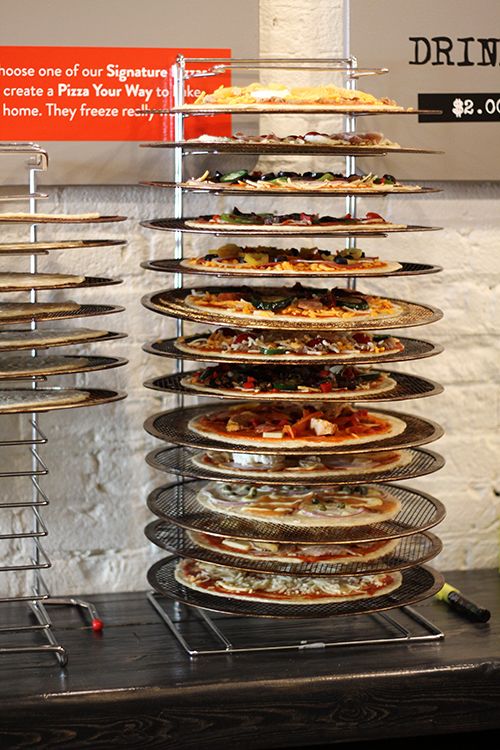 As I have mentioned, Urbano is small and has space for about 15 people to enjoy pizzas on the second level seating area. There is additional seating available outside on the boardwalk, but based on the layout it seems to be best suited for grab & go pizzas. That really isn't a problem, given that you can honestly be in and out in under five minutes. Each pizza is priced at $11.95 (with exception to Nonna's Fave for $9.95), even if you build your own. When building a pizza your way the sauces available are made in-house, and the toppings are unlimited and included in the price, with exception to premium toppings (shrimp, prosciutto, etc.) for $2 each.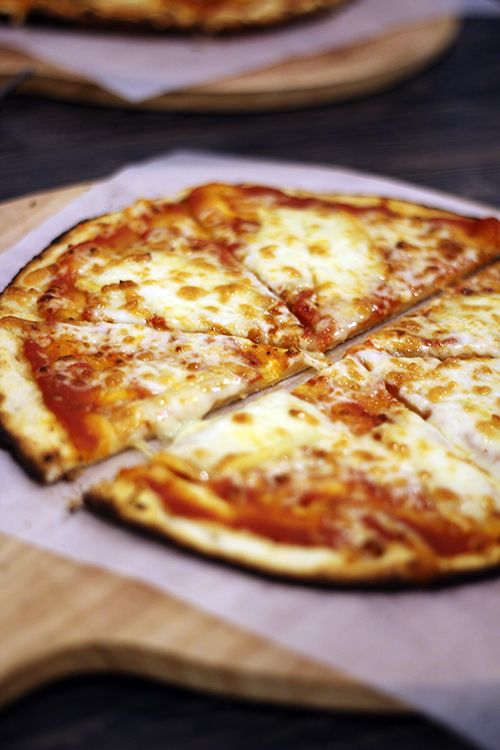 Our pizza party started off with Nonna's Fave (any sauce, any cheese), the good old combination of tomato sauce and cheese. From that point on it seemed like the pies were arriving one each minute, before thirteen of them sat at the table before us. I'm telling you, those ovens work hard and fast! Our night was full of a mix of signature pizzas and staff creations, and as much as I wish I could say I tried a slice of each pizza, my stomach isn't quite big enough to accommodate that yet!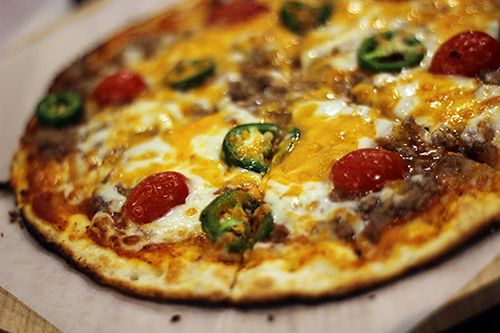 Staff Pick: Empanada beef, tomatoes, jalapenos & cheese
Bubby's Fave brings together smoked salmon, cream cheese, red onions, capers, and hollandaise. It's a classic flavour combination that I didn't think I would ever find on a pizza, but it works. I do think the pizza could work better with the salmon thrown on after cooking, but regardless it remains a tasty pizza.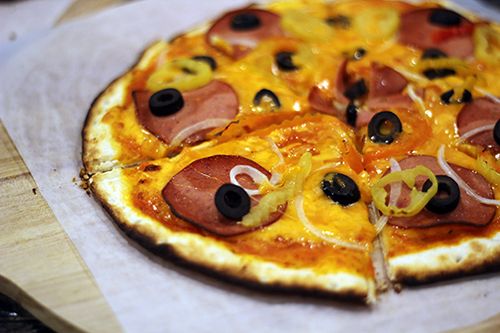 Staff Pick: pepperoni, peppers, black olives & cheese
The Piri Squared pizza was the one I was most looking forward to, as it ties Urbano to Sabor Restaurant's popular Piri Piri Prawns. Piri-piri chicken, Portuguese chorizo, Limiano cheese, roasted red peppers, fire roasted tomato sauce, and shoestring potatoes were a nice flavour combination, although I found the chicken to be a bit dry.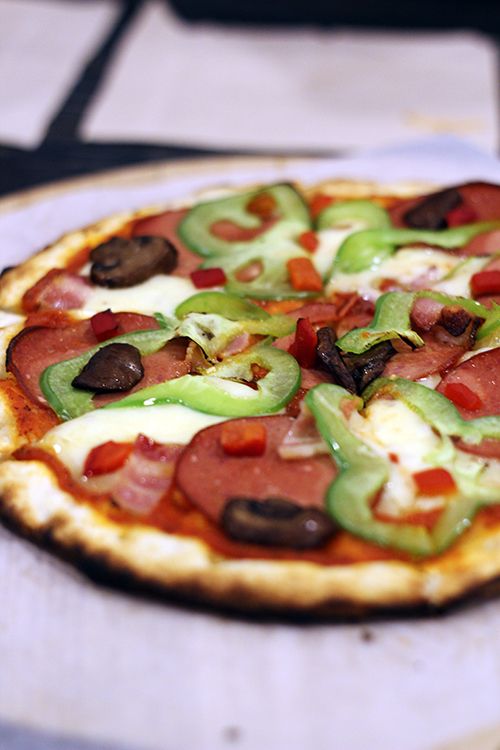 Staff Pick: Pepperoni, green and red peppers, sauteed mushrooms & cheese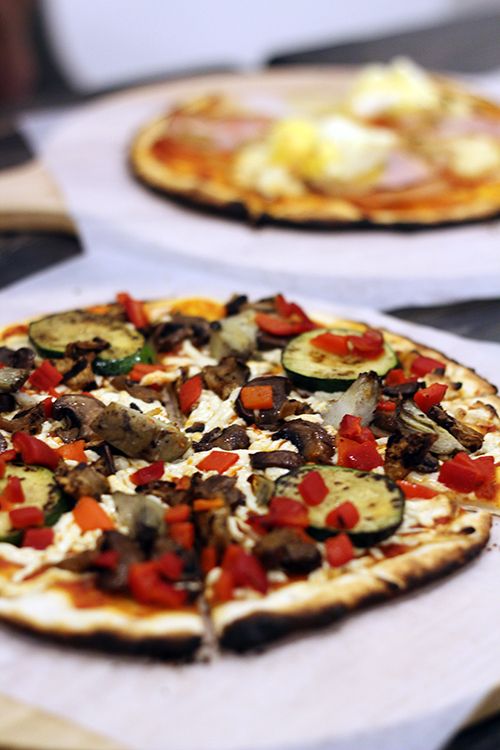 Urbano didn't forget the vegans, as the Garden Fire features fire roasted tomato sauce topped with grilled portobellos, zucchini, eggplant, artichokes, roasted red and yellow peppers and vegan cheese! This pizza is loaded with vegetables and could easily fill you up like any other pizza on the menu.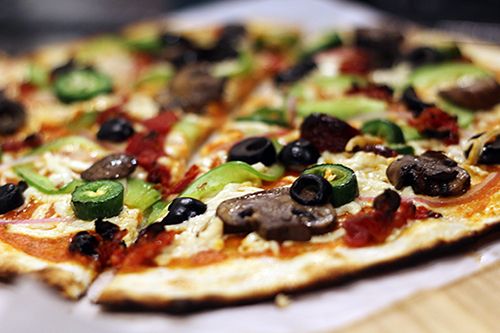 Staff pick: green peppers, roasted red peppers, black olives, jalapeno, sauteed mushrooms & cheese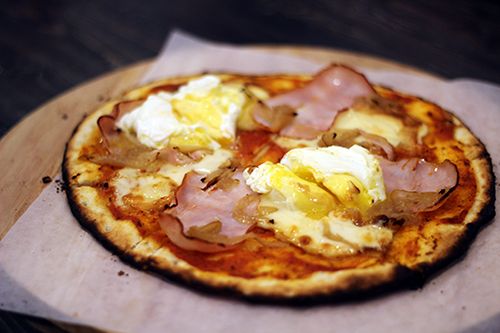 The Bacon and Eggs pizza offering is a fun play on breakfast for dinner (or lunch I suppose). Back bacon, Caciocavallo cheese, onion jam, and two eggs sit on fire-roasted tomato sauce, and it really resembles breakfast on a pizza. It was nice to see that the eggs weren't extremely overcooked, and the components worked well together.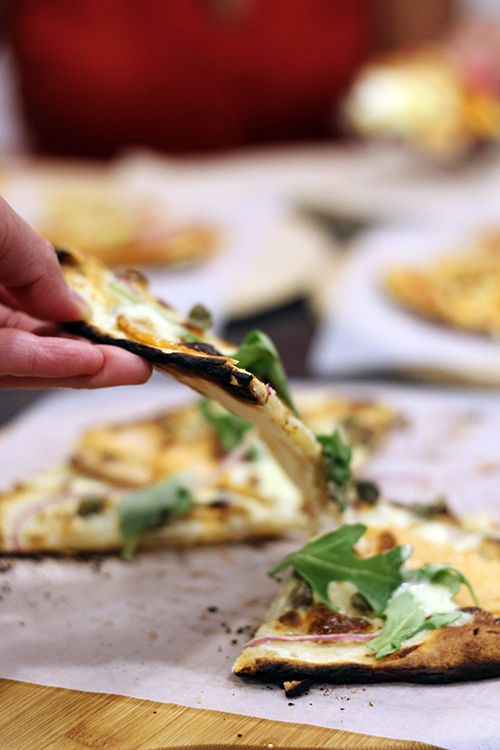 So how are the pizzas overall? The thin crust recipe cooks evenly and the TurboChef ovens give the crust the char it needs. If there's a pet peeve of mine, it's crust that flops and drops all the toppings once it is lifted, but that isn't the case here. Urbano's dough cooks up similar to that of a flatbread, so it is evenly dense and crispy across the entire slice of pizza. Everyone has a different preference for pizza, and I've come to love pizzas made with Neapolitan dough. Soft, risen crusts and a bubbly, blistered cornicione are my favourite, and although Urbano's crust isn't quite for me, I know others would disagree.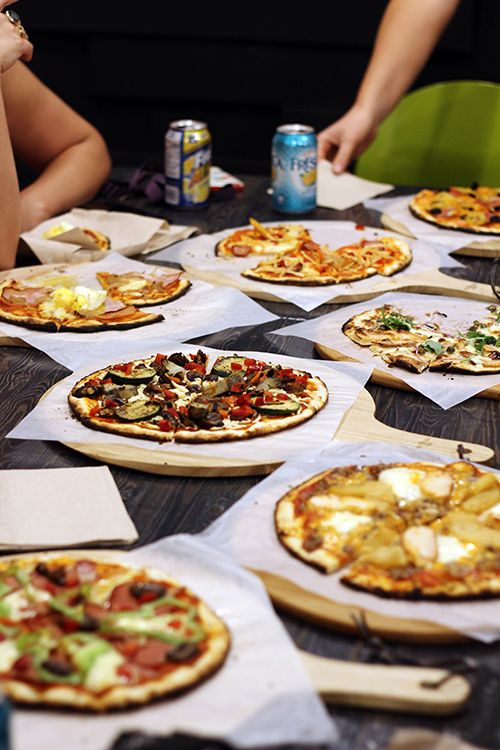 It's nice to see that another quick food option has popped up downtown, and it will definitely become a go-to for many that work and live in the heart of the city. Service is quick, you can fully customize a pizza to your liking with high quality, fresh ingredients. And most importantly, it's very affordable at $11.95. Don't have time to sit and eat? Urbano also offers pizzas that you can take home and bake yourself. And here's a lunch time tip for you: everyday there is a different pizza feature created by the staff. If you order the feature pizza, a can of pop is also included for $11.95, so you can have your own pizza and pop party!
Big thanks to
Gastropost
& Urbano Pizza Co. for hosting a fun pizza and pop party - I think I need to have them more often.
*Disclosure: Gastropost invited me to attend the pizza party at Urbano Pizza Co.. Views expressed in this post are solely mine. I was not expected to feature this event on my blog, nor obligated to do so. This post is 100% my opinion, and as always, my priority is to you, the reader, to present an unbiased, thorough review.