All You Can Eat: Sushi Garden
November 09, 2013
All you can eat (AYCE) sushi that is good is so hard to find in this city. Actually scratch that, good sushi is hard to find in this city. Edmonton is surrounded by fields with no large bodies of water nearby so it's hard to get fresh fish. And if you get fresh fish, it's going to be expensive. So a while back when friends were telling me they went for all you can eat sushi in Edmonton, I had to try it out for myself.

Sushi Garden Japanese Restaurant - 10401 Mayfield Road - Edmonton AB


Located in the west end of Edmonton, Sushi Garden is a large restaurant kind of tucked away from the main road. My boyfriend and I decided to drop by for a quick lunch to see what their all you can eat menu was about.
We entered the restaurant on a Thursday around noon to find the place just about empty. A huge restaurant with tons of tables and only one had other patrons seated and ordering food! We ended up being seated close to the kitchen and were provided with an AYCE menu right as we sat down.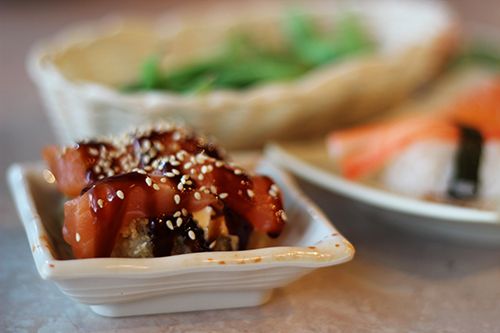 Salmon Pizza
AYCE at lunch runs from 11:00-3:00 pm, costing $15.99 per adult and $10.99 per child (aged 3-10) from Monday to Thursday. Weekends and holidays have a $2 surcharge added to the individualized price. For the dinner AYCE, adults cost $24.99 and children cost $16.99 with the same $2 charge on weekends as well.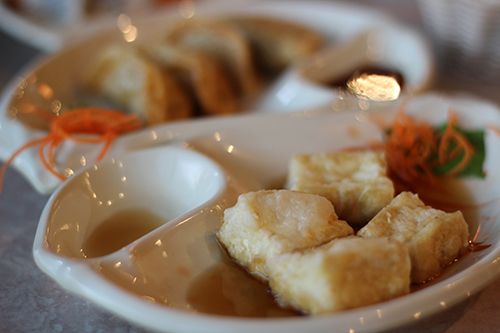 Agadeshi Tofu
Looking through the menu it seemed like there were lots of choices available to order. Different sections on the menu indicated that they did have a wide variety of dishes available: Soup & Salad, Sushi Rolls, Sushi Pizza, Hand Rolls, Vegetarian Sushi, Nigiri, Tempura, Appetizers, Stir Fry, Teriyaki and Noodles in Soup. However, I felt that everything was very repetitive. The same combinations were available in rolls and hand cones (for example, California, spicy salmon, volcano, spicy tuna, etc.). The greatest variety available was in the selection of cooked foods - everything sounded great, but I don't go to AYCE sushi so that I can eat cooked food. And I think a majority of people would tend to agree.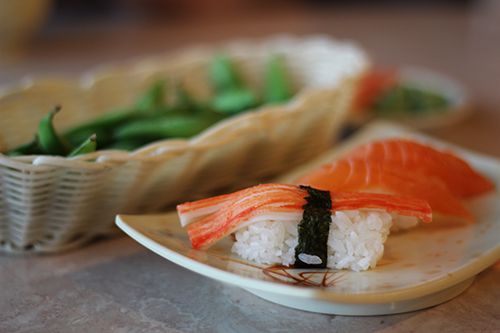 Nigiri
For lunch AYCE, Sushi Garden does not offer any sashimi on the menu. None! I was surprised as other places will often offer it but limit the quantity that can be ordered at lunch. So we had no choice but to order nigiri for raw fish, but had to force ourselves to consume the rice that came with it. And as I mentioned, there wasn't much variety within the sushi section so we ended up ordering quite a few items off the cooked food menu.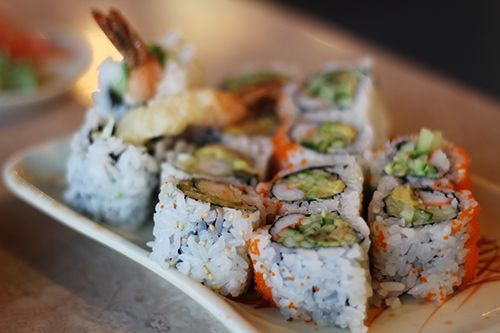 Assorted Sushi
The food at Sushi Garden is alright, but if I'm going to have AYCE I expect to be able to eat the fish I want and not have to order a ton of cooked side dishes to fill the void in my stomach. The sushi available to order was very typical and boring, and I didn't even feel excited to order anything. By my standards, the AYCE menu is pretty poor and makes Edmonton's all you can eat options look pretty bad. The upside? The lunch menu is cheap if you're looking to fill up on a variety of cooked Japanese dishes. For me, I'm going to save my money and appetite for better AYCE options outside of the city - be it Sumo Sumo or out in Vancouver. Otherwise, I would much rather pay more money to sit down and have quality sushi a la carte at another Japanese Restaurant in Edmonton. The dinner AYCE may be a different experience, but I can't say the lunch menu exactly gave me a reason to check out the dinner menu.