Manicure Monday: CND Vinylux Dark Dahlia
November 11, 2013
Happy Monday! It's another long weekend for me, so I'm staying warm indoors today away from the snow! Hope everyone had an awesome weekend and you're all recharged for this new week!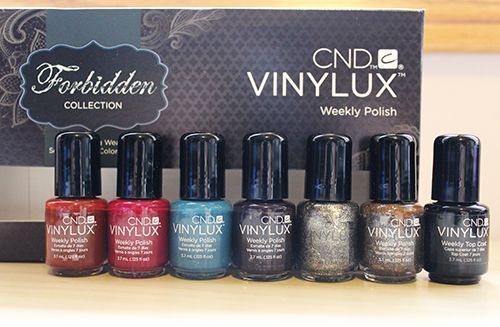 Has anyone head of the CND Vinylux nail polish line? I heard about the polish when it first came out but never really cared about it since I'm pretty loyal to my favourite OPI & Essie nail lacquers. However, the lovely team at Nail Polish Canada sent me the
CND 7 piece Forbidden Mini Collection
to try out and review!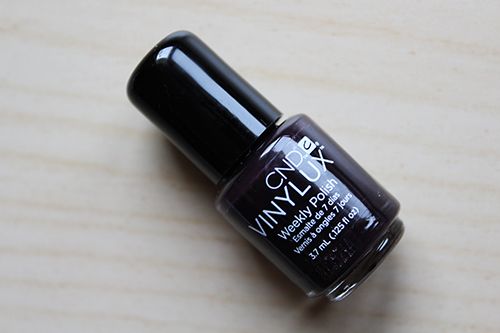 The CND Vinylux polish was is marketed as a weekly nail polish - meaning it should last on nails perfectly chip free for a week. Crazy, right? The CND Vinylux polishes don't need a base coat and have a special top coat to use with all of their polishes. Apparently, exposure to natural light overtime actually strengthens the polish, increasing the resistance to chips. Again, crazy! But oh so intriguing. So I decided to take the polish on a wear test.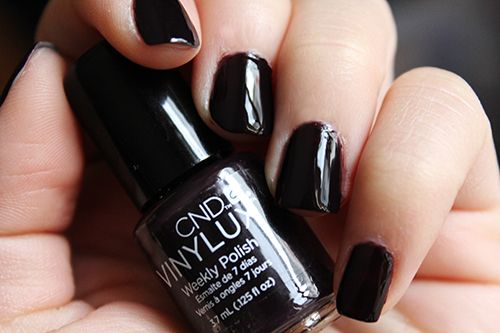 The 7 piece set I received comes as a box of six nail polish shades and one top coat. The first one I tried from the collection is called Dark Dahlia. It
looks
black, but actually is a very dark blueberry purple shade which I love! Those almost-black finishes get me everytime. So above, I applied two layers of polish without a base coat, and finished off with the supplied top coat.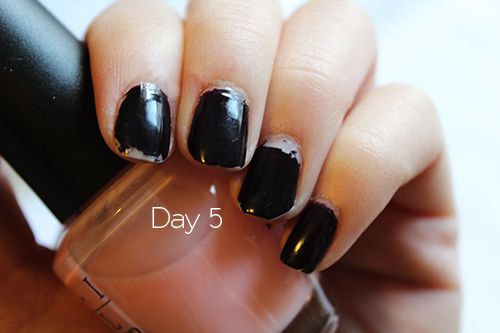 So on Day 7 I took a picture of the progress of my nails and you can see that this polish isn't perfect. My index finger had quite a bit of chipping, while the remaining fingers had very subtle chipping which I can let slide. On my ring finger there is a substantial amount of chipping at the nail bed, but that is totally my fault. I had cut my finger on day 2, and the application and removal of bandaids throughout the week removed the polish. Oops!
On day 7, you can see that the chips on my index and ring fingers both progressed, as did the small chip on my pinky finger. But honestly, I'd have to say this polish did pretty well for one full week of wear. Had I not had to apply bandaids to my ring finger, I'd think my manicure would have looked pretty good with exception to my pointer finger. Upon removal, the polish was surprisingly easy to remove, and there was no staining of my fingers without the use of a base coat.
So for being marketed as a one week chip free manicure, the claims weren't true, but the results were way better than I would have expected. The CND Vinylux polish system is a great alternative to the Shellac manicures, as you're able to have prolonged wear without the exposure to UV light setting. I'll be wearing and testing the remainder of the polishes in this collection - we'll see if maybe one polish does better than the others! In the meantime, if you'd like to purchase Dark Dahlia in full size, you can do so here
via Nail Polish Canada
.
*Disclosure: This product was sent for consideration of a review.