Naan-Sense at Naan-o-licious
November 16, 2013
I don't know if its just me, but I think fusion restaurants can be really scary places. Not all cuisines are meant to be mixed together, so you can have some pretty disastrous results. Case in point: a vietnamese restaurant that serves pho & pizza. What? Yeah, they exist. Anyway, when NaanOLicious first opened up in Edmonton, I heard that it was a Indian fusion restaurant. Naturally I was curious and had to find out what it was all about.

NaanOLicious - 10331 82 Avenue - Edmonton AB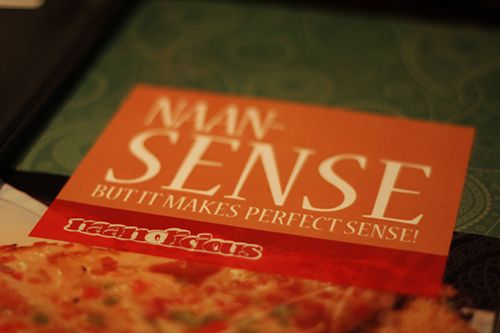 Opened by New Asian Village, NaanOLicious was introduced with the intention to deliver casual, Indian fusion dishes in a modern/bar atmosphere to live up to it's neighbours found on Whyte Avenue. This fusion restaurant is the first of its kind in the city, making it stand out above the rest of the restaurants that serve traditional fare.
A few months back, my boyfriend and I decided to stop by for an early dinner on a weeknight around 5:30. To our surprise, the restaurant was just about full! After being seated we perused the menu and it took us
so
long to decide what we wanted. The menu descriptions were hip and witty, but the array of options had me confused and unsure of what to order, as nothing necessarily stood out to me. After ordering off the diverse menu, we were each presented with a cone of Masala Popcorn. The popcorn had a light dusting of a mix of spices and hint of salt, so I picked at it slowly and savoured each bite. Lo and behold another hand reached into my cone because my boyfriend finished his too quickly - but I definitely tried my best to make sure all the popped kernels made their way into my stomach and not his!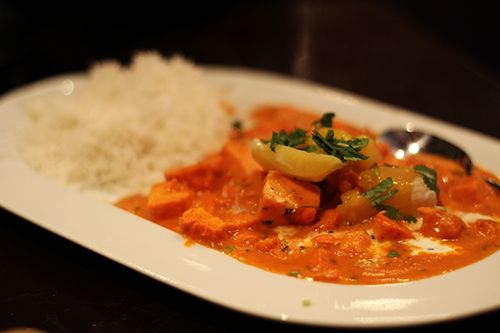 First dish to arrive to our table was my choice for the night, which was The Mango Butter Chicken ($19):
your all-time favourite butter chicken complemented with fresh mango purée. Served with basmati rice.
I had ordered this dish because I love the creamy, savoury characteristics of butter chicken, and wanted to see if the mango would truly bring the dish to the next level. Unfortunately, I was pretty disappointed in what sat infront of me. "Fresh mango purée" says to me that there will be fresh mango pieces if they're present, but the texture of the mango in this dish was beyond what I could have imagined. The mango pieces were soft with a powdery texture and basically disintegrated in my mouth. The powdery texture was similar to that of a baked potato, not the soft, smooth texture of a mango. It led me to think either a) the mango had been previously frozen, or b) the pieces were rehydrated dried mango pieces. The butter chicken sauce itself was quite sweet for my liking, but the chicken was tender. If it had been more on the savoury side, I may have liked it a little better, but in all honesty I would never recommend this dish.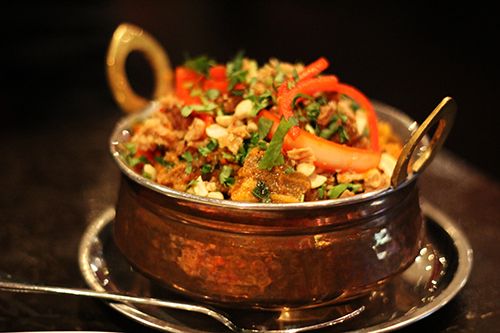 The Lamb Kashmiri Pulao ($19) came up to our table next:
A taste from the Himalayan mountains; lamb cooked with cashew and raisins with a hint of saffron then tossed in our fragrant basmati rice.
This was the clear winner of the night, with tender pieces of lamb and hint of sweetness from the raisins in the savoury sauce. All the ingredients in the dish were fresh, and the portion size was perfect for one.
So my little adventure into Indian-fusion cuisine didn't go too well. If I've learned one thing, it's that my taste buds should probably stick to traditional flavours. Looking back, I actually wish I would've tried out one of the Panaanis - their interpretation of a panini using organic cucumbers, tomatoes & basil and the ingredients of your choice stuffed inside naan before being grilled on a panini press. Service for the night was good given how busy they were, and I have to say that their dishes do fall on the expensive side when considering you're having Indian cuisine. The uniqueness of their dishes may make up for the price, and I'll make that judgement when I make a trip back another day to try out some other interesting offerings. Hopefully they'll be better experiences.