Tutti Frutti Yogurt Update
November 12, 2011
A couple days ago, the owner of Tutti Frutti was kind enough to invite me to try out some of their new flavours. The lovely crew there treated me to yogurt on the house for my birthday, so thank you again!

I had the chance to try out the new cheesecake flavour, and unfortunately it isn't for me. I'm a tart yogurt fan, and the cheesecake flavour is sweet & creamy, resembling more of an ice cream. While it definitely has the hints of cream cheese flavour, it's missing the tanginess of cheesecake that I love.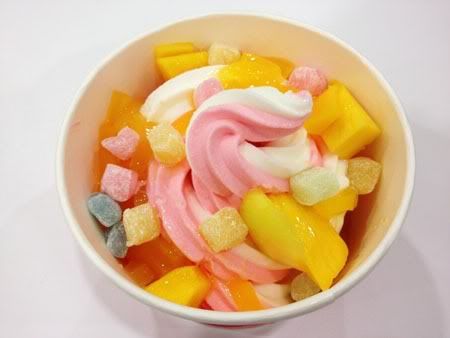 Watermelon & Tart swirled yogurt with mango chunks, mango jelly & rainbow mochi
On the other hand, I love the new watermelon flavour! It's tart, and has a fresh watermelon quality to it. I chose to go with the TF tart swirled with watermelon. Definitely try it out if you're a tart fan!