Drinking Chocolate Flights [CLOSED]
November 25, 2011
Last Saturday, Kerstin's Chocolate extended an invitation out to the public to join them for a tasting of chocolate flights! Seeing as I love my hot chocolate, well, I love anything chocolate really. Now you know how to bribe me.

I hadn't personally ventured to this little chocolate shop before, so this was a perfect excuse to peruse their offerings.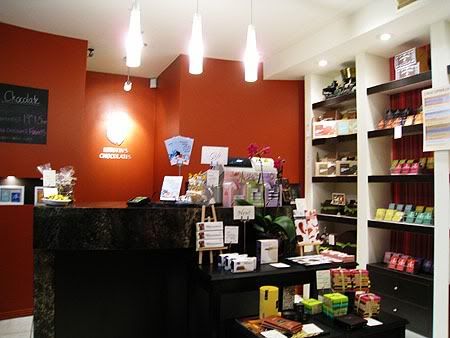 The shop itself isn't very big, but they definitely have enough room to showcase all their offerings. Various types of chocolate bars and drinking chocolate tins grace the walls, while other chocolates look beautiful by themselves, siting in cases to be admired. There are also various chocolate samples to indulge in. Get to know the chocolate.. I totally mixed up everything I tried out.
On this particular day, they were offering a flight of three different drinking chocolates:
Amedei's "For You" Classic
– Straight from Tuscany, 63% percent chocolate with finely ground hazelnuts, almonds and a little vanilla bean.
Vosge's Bianca Couture Cocoa
– The lightest of the three. White chocolate, lemon myrtle and lavender.
Chocophilia Spiced Drinking Chocolate
– House version of theMayan classic, with a hint of cayenne to warm up cold fingers and toes.
Trying out the chocolates was definitely a unique experience. The most "wild" hot chocolate I've ever had was probably candy cane.. I'm pretty boring. But when given the opportunity, why not try out something new? Although I didn't end up taking anything home with me, I think the spiced chocolate was my favourite. It was warm when sipped, but I definitely felt the spiciness and heat of the cayenne as I drank it down. It's just so different! I think I'll stick with my white hot chocolate for now :)