The Classic
November 23, 2011
I'm no Filipino cuisine connoisseur, but I think I can put my opinion down on the chicken adobo made by Filistix!

I stopped by during my lunch break Monday to try out their popular poultry dish, and was so impressed by the flavours. Filistix uses a chicken thigh braised in a tangy soy garlic marinade to bring the flavours together. In my snack size, I got one perfectly cooked, tender chicken thigh over jasmine rice and a side of the signature slaw. The sauce used for the chicken is perfect. Not overly salty, and a well portioned amount is added overtop the rice for a flavour boost to plain rice. And unlike my last trip, the dressing for the slaw was thicker this time, complimenting the flavour and freshness of the slaw. Yum!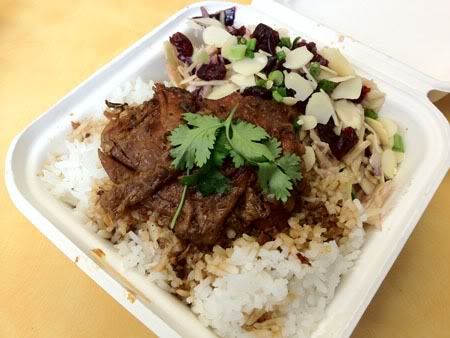 I've been asked whether I think the prices at Filistix are worth it for the food. And in all honesty, if you haven't tried the food before, you may think that the food is overpriced. But think about it. Food on campus is quite expensive to begin with - your $4 - $5 coffee at Starbucks, $5 waffles at Eva Sweet, pastas, soups, and salads for upwards of $5.. Their prices are competitive. You're getting quality, delicious food that will fill you. Need more for me to convince you? Filistix also has a punch card program, where you are entitled to a free order after you purchase 5. That's saving $1.40 per order when you get the snack size, and $2.20 saved if you order the full size. So try them out, let me know what you think!