Sephora VIB Appreciation 2011
August 09, 2011
Anyone go and pick up the VIB appreciation box for this year? I'm glad that I got the actual appreciation gift this year! Last year they went so fast, I wasn't able to get the original, and got a ton of makeshift samples which really did not measure up...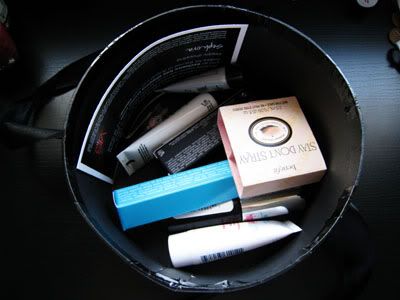 This year's box was full of fun goodies to try out - Stila's tinted moisturizer, Buxom mascara, Tokidoki perfume, NARS primer, and Benefit Stay Don't Stray, just to name a few. I find that these gifts are really only worth it if you know that you can use the items that come in them.
In order to receive the beauty box, a minimum $35 purchase had to be made, so I decided to pick up Benefit's latest stain: Cha Cha Tint. It's supposed to be a mango coloured lip & cheek tint, and seeing as I am obsessed with peach & coral, I really wanted to pick it up.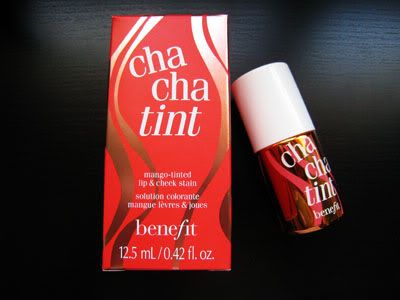 The stain itself is packaged like Benetint & Posietint, in a bottle with a brush attached to the screw off lid. Unlike the others though, Cha Cha Tint seems to be on the thicker side of things. It almost reminds me of nail polish formula.
Looking into the bottle, the colour is intensely orange. I was scared to try it out at first just looking at the colour! But upon application and blending out, you achieve a beautiful peachy hue on cheeks & lips. The colour is buildable, and very easy to control using either your fingers or a brush. Because my lips are a darker shade to begin with, I don't see much of the colour showing up, but I love it on my cheeks! So pretty :)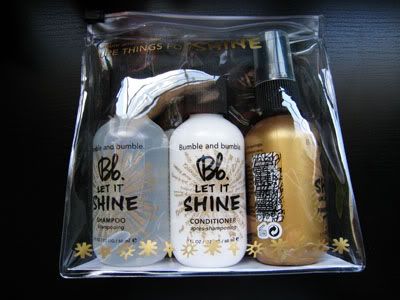 Also - the most recent 500 point perk available at Sephora is fantastic! I personally haven't tried the Bumble & Bumble line of hair care products yet, so I'm pretty stoked to have gotten this set for free! It's the perfect size for travelling, and includes shampoo, conditioner & finishing spray. I'll let you know how things work out! The reusable bag the bottles come in on the other hand is not that great.. mine is already broken and I opened it once.. heh