Changing Up the Routine
August 12, 2011
Tonight I went out for a shopping & dinner date with a couple of my lovely friends. What better way to spend a Friday night? :)

For dinner, we headed over to Cactus Club - surprisingly, for 830 on a Friday night, we only had to wait 15 minutes for a table. I was prepared to wait 30 mins! Guess we just had good luck!


To start, we shared the Korean style BBQ pork lettuce wraps -
braised pork shoulder shredded,asian slaw, kimchi, chopped ginger and green onion, korean chili bean sauce, spicy yogurt
. So GOOD! This is one of the newer signature Rob Feenie dishes, and I think it could be considered a main dish for one person. The meat resembled pulled pork, reminiscent of the flavours found in the sandwiches from
Filistix
, while the crisp lettuce was refreshing enough to offset the spiciness from the kimchi. I can't wait to have them again the next time I'm there!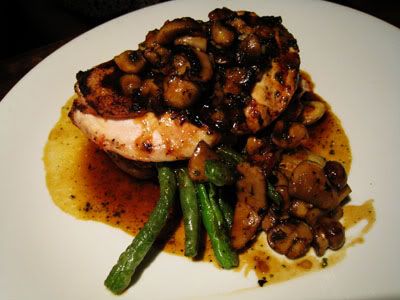 Rob's Hunter Chicken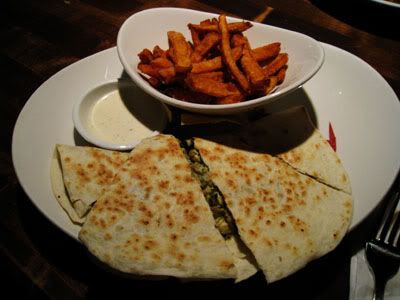 For my main, I deviated from my norm. No jambalaya today! Shocker, hey? I decided to go with the pesto chicken quesadilla to make sure I wouldn't be overstuffed, considering the size of our appetizer. The quesadilla was unique, in that it contained sundried cranberries to give a different flavour and texture. The sweetness wasn't overwhelming, and was actually quite pleasant. My only complaint would be the dry factor of the dish - the tortilla was on the dry side, and I wish there was more cheese melted inside! Otherwise, a very nice dish :)
Can't wait to go shopping with these ladies again! So much fun!