OPI Touring America: Mmm Lobster
August 08, 2011
With the transition to fall, OPI is starting early, and released it's Fall collection early this week. Their director, Suzi Weiss-Fischmann was so inspired by a recent road trip across America, that she decided to dedicate the fall collection to just that.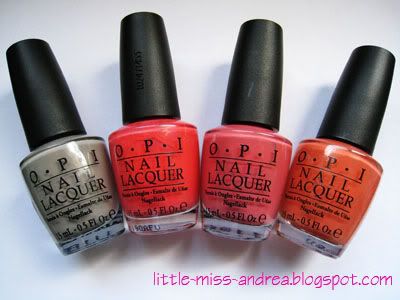 A lot of the polish names are inspired by different cities and states in the US, but some of them don't quite ring a bell in my head. Of the shades in the collection, so far I've picked up the four shades above - French Quarter for Your Thoughts, I Eat Mainely Lobster, My Address is Hollywood, and Are We There Yet?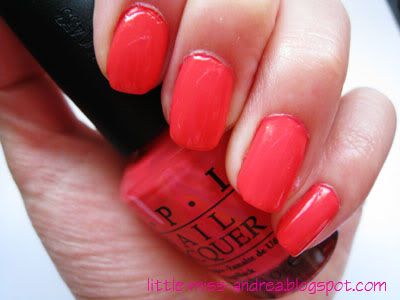 This week I tried out "I Eat Mainely Lobster" on my nails, and instantly fell in love. The polish description is stated as so:
We "clawed" through crowds to catch this coral for you.
On first application, it seems like this polish is just your run of the mill coral coloured creme polish.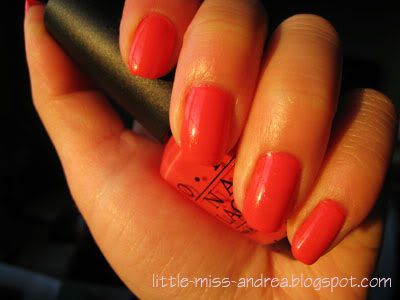 But upon further speculation, ie. when the polish is in the sunlight, this colour somes to life! The polish is packed with gold microshimmer that really glistens in the sun. I'm so in love with this shade right now and don't want to take it off!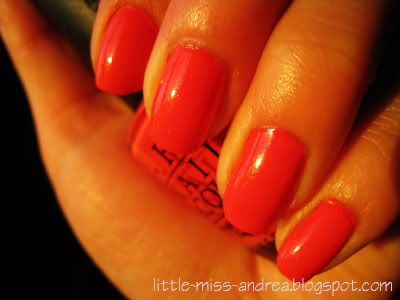 Look at that shimmer!
This particular coral leans to the red/pink side of the spectrum, and is opaque in 2 coats. Polish application was a dream - highly recommend this shade if you're still hunting for coral!