Last night, I went out with my family to treat them to a nice sit down dinner. I wanted somewhere classy, where we could sit closely together and have time to just chat and bond.. and since I missed out on my dessert of choice a couple nights back, I brought them to the Melting Pot!

The Melting Pot - 2920 Calgary Trail NW - Edmonton AB

our table was in a dim area of the restaurant, pictures were hard to capture!

I had a wonderful experience during my birthday at this restaurant, and seeing as my parents have never gone out for fondue, I wanted to show them what it was like.

The feature menu at the moment reflects their version of Latin America, served over four different courses: cheese fondue, salad, entree, and chocolate fondue. Despite the set menu for the "Big Night Out" we were a group of four and were able to mix and match the types of fondue we wanted to have at our table, to increase the variety of food we could eat.



Queso Fundido - A fondue version of the classic Mexican dish combining Fontina, Gruyere and Gran Queso cheeses, fresh jalapenos, crumbled chorizo and a hint of fresh lime (Feature)

Fiesta Cheese Fondue - Cheddar cheese with the flavour of Mexican herbs, spices, jalapeno peppers and salsa
As mentioned by our server, the featured cheese fondue had a greater elastic texture to it, making it really fun to dip our food into. It definitely contained cheeses that were more aged than those in the Fiesta Cheese fondue, but both were equally delicious. I chose the Fiesta as our second cheese since I loved it so much on my birthday! Both fondues used beer as a base.
To pair with my meal, I ordered one of their specialty drinks - a mango & lime drink *totally forget the name, sorry! It was extremely refreshing, and perfect to drink inbetween each course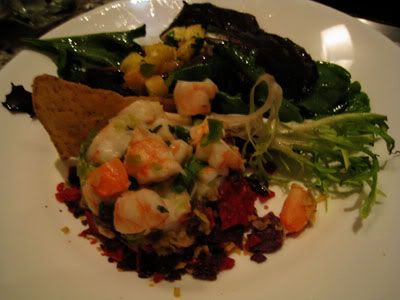 Shrimp Ceviche Salad - A refreshing blend of citrus marinated shrimp atop avocado puree and tortilla chips served with tropical fruit pico de gallo and a side of mixed greens tossed with a lime vinaigrette
This salad was so delicious. The shrimp was perfectly cooked, whereas the avocado was seasoned amazingly to pair with the shrimp. The tortilla chips gave a nice texture, and the mixed greens had a delicious dressing on it. I cannot rave enough about how yummy this salad was!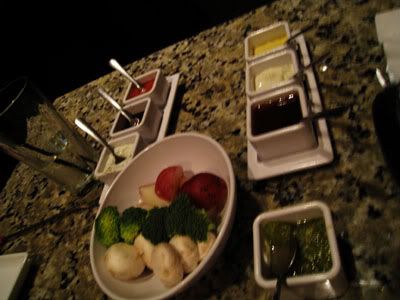 sauces&veggies
It's always funny when the waiters instruct me on how long to cook my food in the broth. Like really, I consider myself a hot pot connoisseur. Just kidding. But yes, I do know how long to cook my food for, but I think they're required to say it, just so that if anyone gets food poisoning, they are not liable.

Fondue Feast - Filet mignon, chimichurri sirloin, garlic piri piri shrimp, mole-marinated chicken breast, cirtus marinated pork tenderloin - fire-roasted corn-salsa ravioli
Of all the available protein to eat for the main course, I'd have to say I enjoyed the pork tenderloin and ravioli the most. The pork was so tender and flavourful, whereas the ravioli soaked up the yummy broth and the pasta remained al dente even after a long cooking time.
My least favourite though.. the chimichurri sirloin & chicken breast. Chimichurri just isn't my thing, because it's full of parsley/cilantro. I seriously cannot stand the taste of that herb :( The chicken, on the other hand, was not what I was expecting. I've never had mole-marinade before, and now I know I don't like it! The marinade has cocoa as on of the ingredients, which made this meat taste sweet, despite being cooked in a salty, citrusy broth.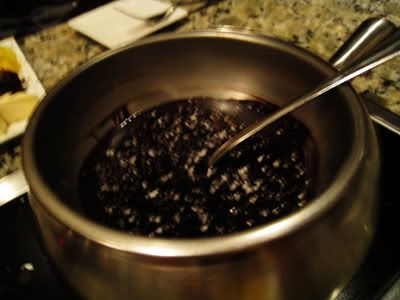 Dark & Dulce Chocolate Fondue - classic flavour combination featuring our bittersweet dark chocolate and sweet, thick dulce de leche accented with coarse sea salt

Creme Brulee White Chocolate Fondue - this was not on the menu, but our waiter offered to make it for us!
Our stomachs were all nearly bursting at the seams, but everyone always finds room for dessert.. am I right? Once again, our number of people was advantageous, and we were allowed to order two different types of chocolate fondue. The creme brulee was fantastic, as it was on my birthday - my only issue is that there wasn't enough sugar sprinkled atop of the chocolate. Between the two, the creme brulee proved to be my favourite, because the garnishing of the coarse salt was overwhelming. My first dip into the dark chocolate was extremely salty, and the salt was impossible to avoid.
All in all, the Big Night Out set menu was worth it. It was a great night out with family, as we talked and bonded over the three hours we spent together dining. While The Melting Pot is not a place I would visit each time they put out a new feature menu, I would probably stop by occasionally for dessert - but max twice a year!